Pre-primary

Primary 1 - 3

Upper Primary and Middle

Higher secondary
For the students of Lower Primary, we at Navrachana Vidyani provide learning and educational activities typically designed to provide students with fundamental skills in reading, writing and mathematics. We also thrive to establish a sound foundation for learning and solid understanding of core areas of knowledge and personal development.

Children should know what is being taught which is why before starting any chapter objectives of the chapter are shared. While proceeding with the chapter a quick recap is done so as to help students sustain their knowledge. A basic prior knowledge helps in teaching and learning.

To make the learning process effective while explaining any topic daily life examples are shared. With this for enhancing visual learning videos are also shared. Peer learning is an important part of the classes.

Project work is part of the teaching learning process. Different projects help the students to bring out their creativity and imagination. These activities help the teacher to see the strengths of the student and identify their weakness and help them overcome their fear.

Activities like communicating with their classmates and friends are enforced and they are asked to share their experience with the class. This helps them to stay in touch with the children of their age and learn about being kind and responsible towards others.

Technology aids in learning further as visual learning is one of the best ways of learning along with hands on activities. Teachers use videos or online games or question bank to make the lesson more fun.

Different teaching aids are used to make it easier for students to learn and understand basic skills. These are ideal when students learn best through hands-on experience, rather than traditional lessons and nonstop repetition. The students do enjoy more when they get to do themselves. Games help in reinforcing the information learned in class. Games provide the opportunity to make the lesson interesting and encourage students to remember the concepts.


Lastly, worksheets, tests and quizzes on various concepts are incorporated. Taking a short test and then grading the test in class helps teachers to assess student understanding.


SUBJECTS OFFERED ARE:
| | |
| --- | --- |
| Std. 1 & 2 | |
| Scholastic | Co scholastic |
| English | Life skills |
| Math | Art & Craft |
| Environmental Science | Performing Arts ( Music and Dance) |
| Computer | Physical Education |
| Gujarati | Library |
| Hindi | |
| | |
| --- | --- |
| Std. 3 | |
| Scholastic | Co scholastic |
| English | Life skills |
| Math | Art & Craft |
| Science | Performing Arts ( Music and Dance) |
| Social Science | Physical Education |
| Computer | Library |
| Gujarati | |
| Hindi | |
An Introduction to the Upper Primary Section (Grades 7 and 8) and Middle School (Grades 9 and 10)School life
The students of Grades VII and VIII (ages 12 to 13 years) are in a state of evolutionnot only from leaving behind the preteen age of the Primary Section but also succeeding into being the new on the path of being catapulted into the secondary Section.

This Section witnesses the sudden growth and intensity in the physical and mental capabilities and development of students. More hours to be spent on self-study are introduced through systematic and exhaustive teaching skills. This results in their independence towards juggling their studies and co-curricular activitiesat the same time.
Students are required to learn a common curriculum till the end of Middle school. This period also happen to be the first time when previously studied curricular subjects like Mathematics, Science, Social Science, General Knowledge and Computer Science take on a newer twist with newer approaches to dealing withan expanding sphere of knowledge. The students in this section study four languages like English, Hindi, Gujarati and Sanskrit too.
Apart from the subjects mentioned above, we offer an innovative approach to the study of Science known as S.T.E.M. (Science, Technology, Engineering, Math) where students are introduced to a completely hands-on-method of learning to develop working models-the result being many accolades in this area by our students. Co-curricular subjects like Physical Education, Library Science, Performing Arts (Dance and Music), Creative Art and Craft are also imparted to students to enhance their ingenuity.
Middle School education is for students of Grades IX and X (ages 14 and 15 years). Are the years that are worked with Public examination which administer the secondary board of examination held at the end of Grade X. Students at this level are taught to be more self-reliant and focused in their sphere of studies. Being trained from the Upper Primary level, they develop a keen insight into the level of work expected of them. They are also trained into a lot of project-based activities where team spirit, leadership, cognitive skills and time management qualities are inculcated.
This section of students are introduced to the learning of bifurcation of Science and Technology into Physics, Chemistry and Biology (taught by different teachers specializing in these subjects) and in Mathematics into Algebra and Geometry. Besides these, the general curriculum for the lower Middle School (Grade IX)continue with the learning offour languages (including English, Hindi, Gujarati and Sanskrit) and Social Sciences, Physical Education, Library Science, Performing Arts (Dance and Music), Creative Art and Craft and a Vocational subject like Computer Science are also taught.
Students taking the Grade X Public or State Board examination usually take seven subjects: English, Gujarati, Hindi or Sanskrit, Mathematics, Science and Technology and Social Science and a vocational subject that includes Computer Science.
We, at Vidyani, emphasize on problem solving, reasoning, rational and critical thinking rather than rote learning in our students. This is imparted through the discussion of H.O.T.S. (Higher Order Thinking Skills) questions, regular training in the preparation of Competitive examinations and continuous deliberations of the world around us (General Knowledge).
Soft Skills, being the need of the hour, are instilled in our students through organizing school events that demand systematic planning skills, shouldering responsibilities, prioritizing tasks, management skills, discipline and dealing with guests. Thus, this section of the school sees many students take on important positions in the Student Council body too.
Overall, the Upper Primary and the Middle Section form the backbone of the school which entails the holistic development of its students thereby transforming them into enlightened human beings.
Higher Secondary – Classes XI – XII (Science, Commerce and Humanities streams): Preparing for the future
The Higher Secondary years are perhaps the most instrumental in defining for students their future direction in life. In these final two years, learners pursue subjects of their choice, based on the particular field of higher education they have decided to pursue and ultimate career goals.
All the previous years of learning culminate in this senior section where students are trained to take the Higher Secondary Board Examination and other competitive entrance exams with a confidence borne out of adequate preparedness. Focussed guidance in key subject areas, communication and IT skills by an experienced and expert faculty builds up core competency while regular evaluation makes for systematic monitoring and follow-up in the form of need-based remedial measures/enhanced learning inputs. Recognising that this is a critical phase in the journey to adulthood, our Higher Secondary educators also seek to put their pupils at ease so that they can perform to their potential. And, since the School is committed to providing a holistic education, diverse co-scholastic opportunities are provided to develop their interests in both sports and the arts even while a structured mental health programme ensures comprehensive student wellness.
Together, all this creates a supportive learning environment that helps Vidyanians step out of Navrachana Vidyani as life-long learners, familiar with 'design thinking', equipped with a growth mind-set and with a strong value system in place.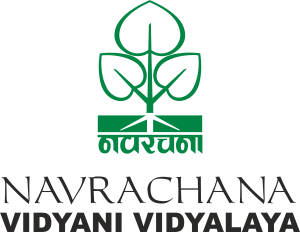 Navrachana Vidyani Vidyalaya School
Address : Near Sama Sports Complex,
Sama, Vadodara 390024
Gujarat ( INDIA )
Tel.          : 0265-2792285, 2780539
Email      : vidyani@navrachana.edu.in
Website : www.navrachana.edu.in
Back To Top