Co curricular Achievements
Co-curricular Achievements
Inter-School/Regional/Zonal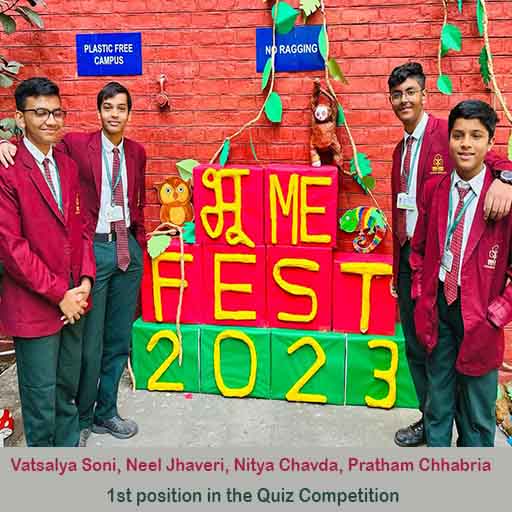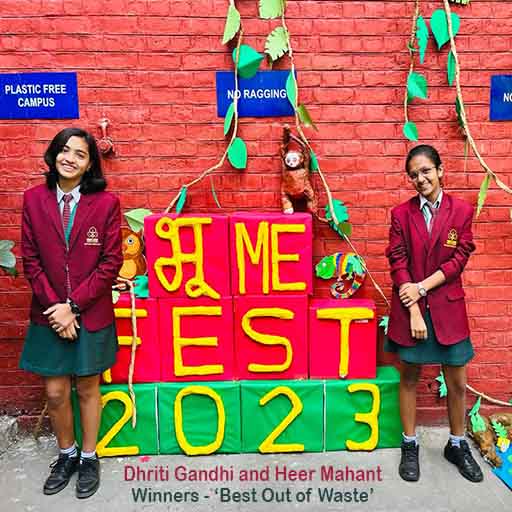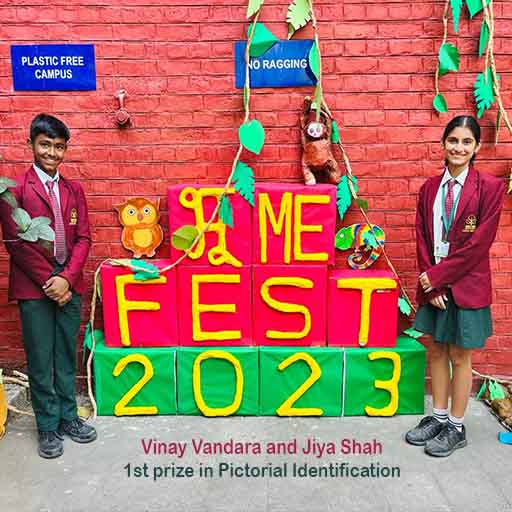 Shining stars of Navrachana Vidyani came up trumps in 'Bhoomi Fest 2023', organised by Prakruti Young Geographer's Club, Department of Geography, MSU, over January 3-4.
While the ardent students from 9B- Pratham Chhabria, Nitya Chavda, Vatsalya Soni and Neel Jhaveri – sealed the 1st position in the Quiz Competition and the enthusiastic team of Vinay Vandara and Jiya Shah (9C) secured the 1st prize in Pictorial Identification, Dhriti Gandhi and Heer Mahant (9B) were declared the winners in the 'Best Out of Waste' event!
Congratulations Champs!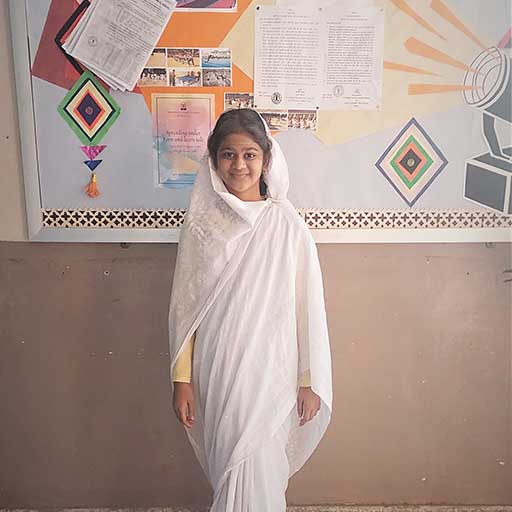 Vidyanian Mahek Shah (5B) clinched the top spot in 'Bharat Ek Khoj' an Inter School Competition organized by New Era Senior Secondary School on December 3.
Mahek's flawless Declamation speech on Matangini Hazra in the 'The Icons of Incredible India @75' category earned her appreciation from both the judges and other organizers as well.
Participation in such competitions provides students with a platform to express their opinions and grow into well-informed individuals.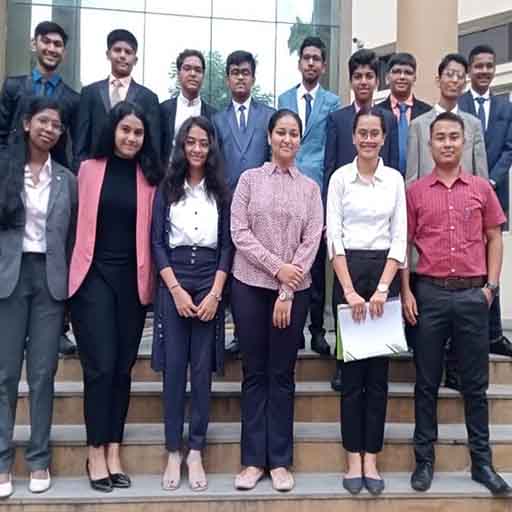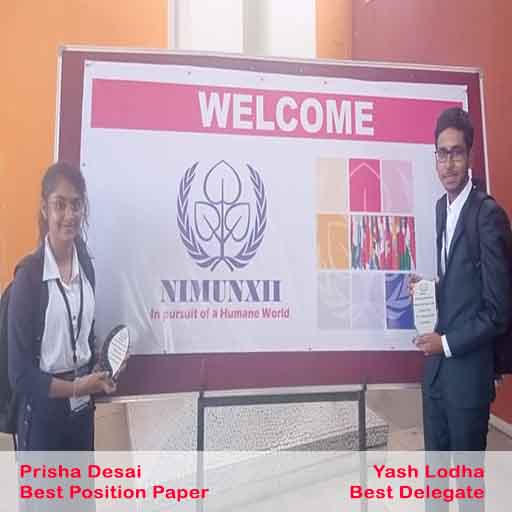 Team Vidyani came out tops in the NIMUN XII (Navrachana International Model United Nations) event held by Navrachana International School Vadodara over September 2 and 3. In the International Press Corps Committee, Prisha Desai's (10C) spectacular paper with 'Press Censoring to support the Government's Political Agenda' as its agenda, earned the title of 'Best Position Paper' while Yash Lodha (10D) clinched the prize for 'Best Delegate'. Further, Shivala Patel (10C) from the UNDP committee with 'Disease Control over the War-torn regions' agenda and Jaanya Shah (12 Gen.) belonging to the ECOFIN committee with 'The Growing Threat of Sovereign Debt to Developing Economies' agenda were especially recognised by their respective Chairpersons for their cogent line of reasoning. Such competitions enable our students to showcase their public speaking skills and also open the window for them to express their views and concerns about contemporary issues, thereby enhancing their communication and leadership skills.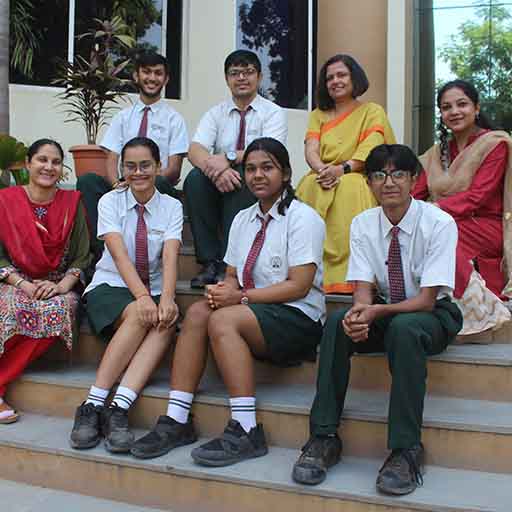 Navrachana Vidyani made a place for itself amongst the Top 12 Stories of Change ('Easy to Replicate Idea'-Health and Wellness category) in the DFC – Unicef Atma Nirbhar Yuwaah Design Challenge 2021.
In their project "Isolation to I = Solution", students of Psychology designed a 4-step experiment to create positive emotions and happiness amongst both teachers and stu-dents. It was indeed a proud moment for the School to be the only one from Gujarat to seal its spot in the Top 12 at the National Level!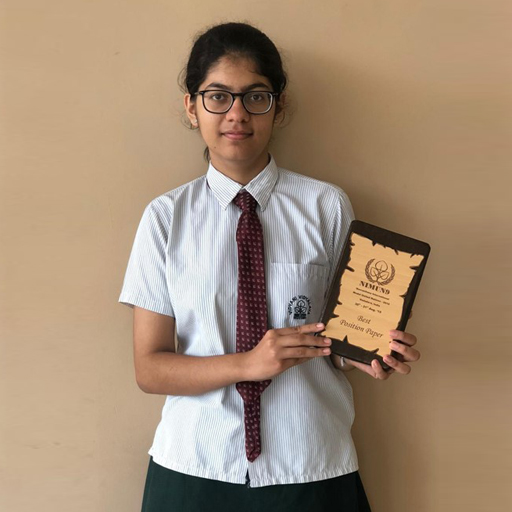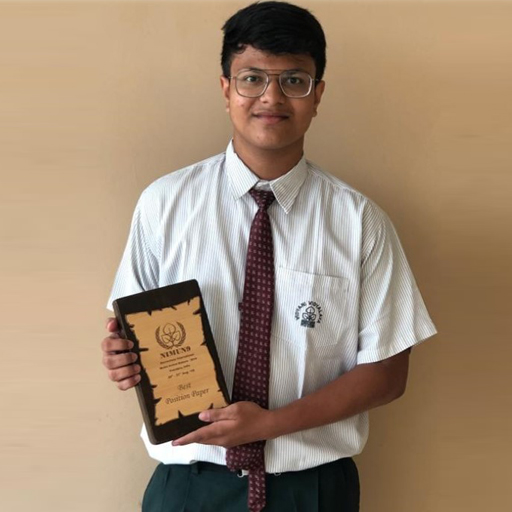 Best Position Paper-Devanshi Thakkar (11 Sci.) and Jitam Dhuvad (12 Gen.) won the 'Best Position Paper' in the SPECPOL and ECOFIN committees respectively at the NIMUN-2019.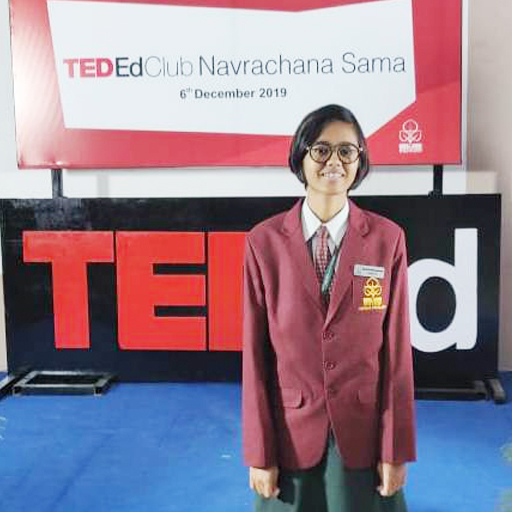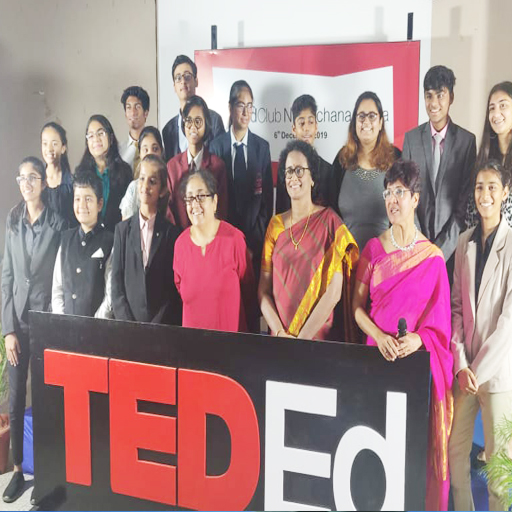 Dhun Navale (XIGen.) was one of the guest speakers at the TedEd Club event organised by Navrachana School Sama on December 6.
Vidyanians were Champions in two out of three categories and First Runners-up in the third at the Inter-School competition "RISE 2019–Innovation & Design Thinking Programme for Sustainable Development", organized by Navrachana School Sama on August 2019.
Emotional Well–being And Mental Health' category-Tithi Soni, Heta Rawat, Gabriel Mistry, Shreya Sehgal and Dhruti Upadhyaya (11 Gen.) 1st Position
Social Upliftment and Community Betterment' category –Shaily Mulani (8 A), Dhairya Kharade (8 B), Shyam Patel (8 C), Pari Patel (8 C) and Aayesha Kawrani (8 B), 1st Position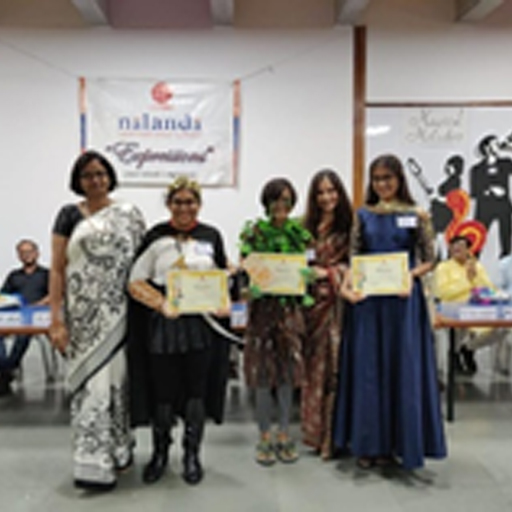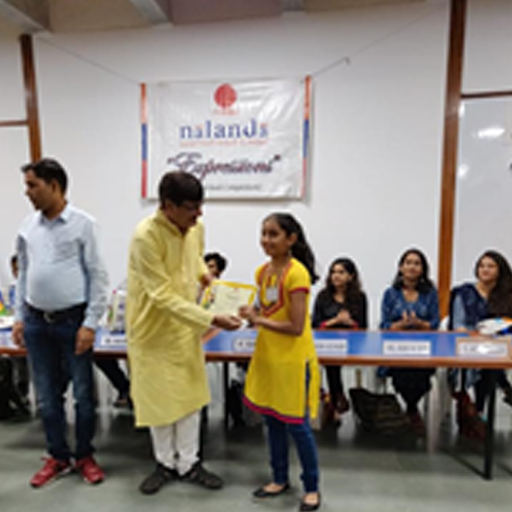 Harshi Patel (6D) and Dhun Navale (11 Gen.) won accolades at the 'Expressions 2019' , the Nalanda Multi-event Competition.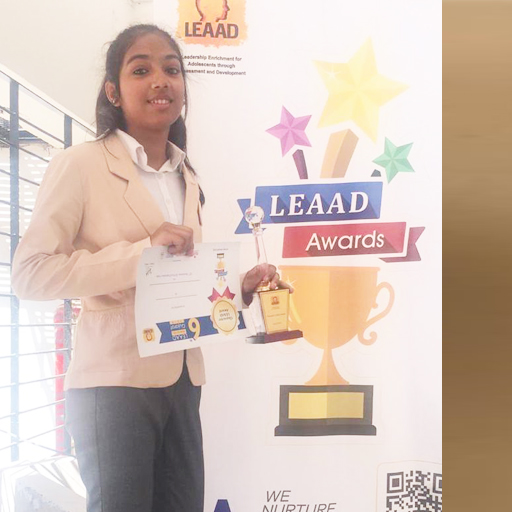 6th LEAAD Awards Gujarat 2018 –School Excellence 'Runner-up Award' for Navrachana Vidyani, 'Excellence Award' for Siddhesh Kaimal-VIIIB and 'Competence Award' for Nirvi Patel-VIIIB. While Siddhesh was awarded a Trophy and Rs. 11000/- for his conservation project aimed at convincing people about the need to car pool, Nirvi's awareness campaign on the government's MA Card initiative won her a Trophy and Rs. 5000/-.
Design for Change (DFC)'Brightest Idea Award' carrying a grant of Rs. 25000/- for the school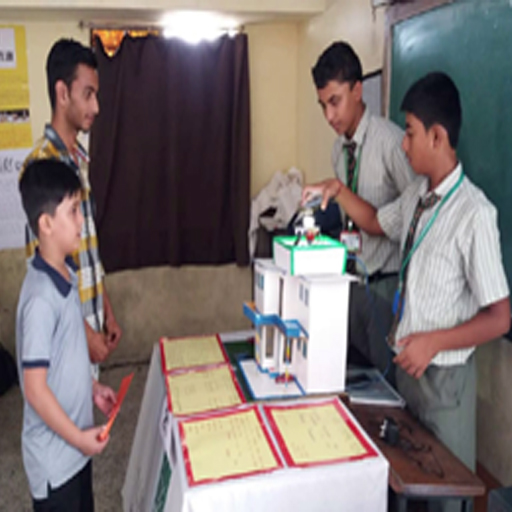 Project 'LOTUS' (Low-cost Organiser Tracking Useful Solar-energy)
Devasya Rajput-IXD, VedantNayak-IXA, Dhruv Desai-IXA and Priyanshu Joshi-IXC.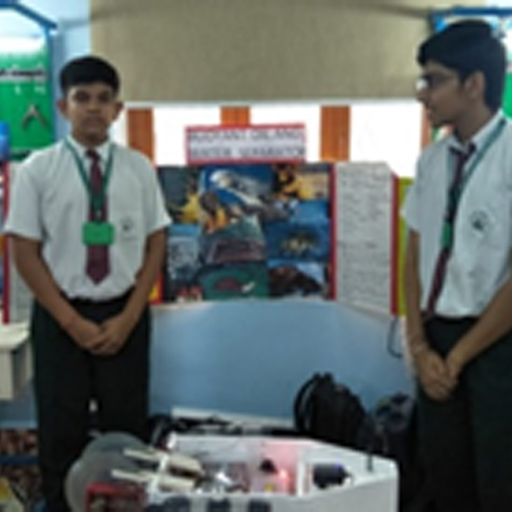 Daksh Patel and Dhairya Shah(11 Sc.)
BOAWST ('Buoyancy Oil and Water Separator'), among the Top 100 amongst 1400 schools from across India at the Atal Tinkering Innovation Marathon organised by Atal Innovation Mission, NITI Aayog in July 2019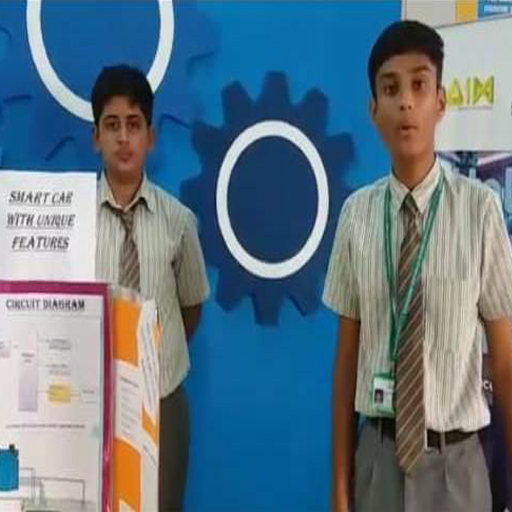 Darsh Kadakia and Abdulqadir Patangwala (8D)
2nd Runners-up ,'Most Popular Project' award for their Smart Car at the Avishkaar Makeathon, New Delhi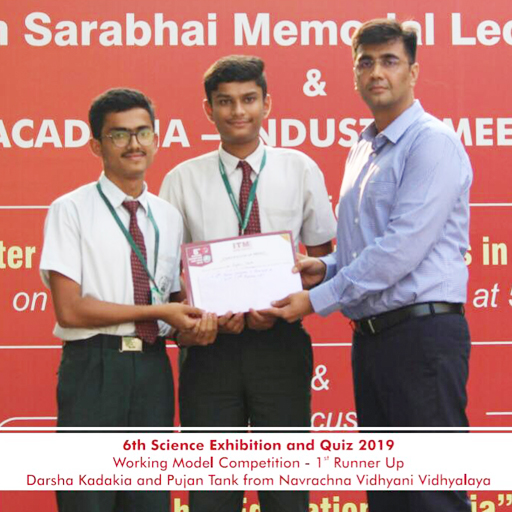 Darsh Kadakia and Poojan Tank (IXD)
Runners-up Trophy and Rs.3000/-
6th Science Exhibition and Quiz Competition by ITM (SLS) Baroda University in November 2019.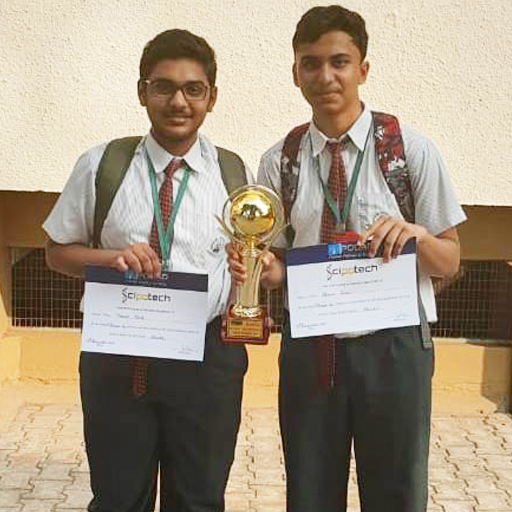 Vedant Naik's (XB) and Dhruv Desai (XA)
1st Runners-up SciPoTech Competition , Podar World School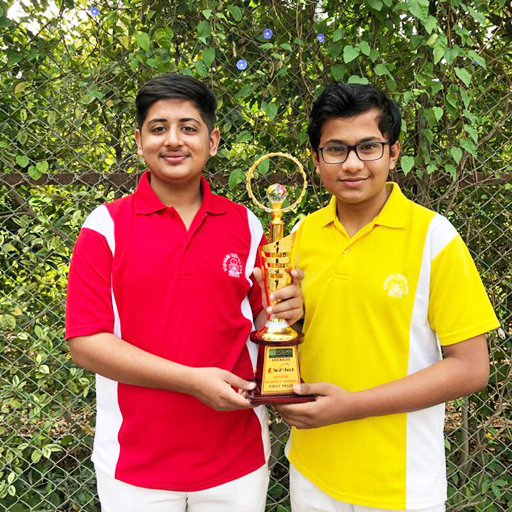 Abdul Qadir (IXD) and Debdoot Manna's (IXB)
Winners SciPoTech Competition , Podar World School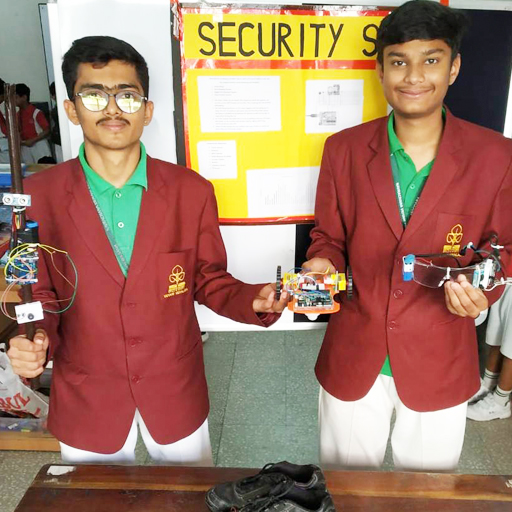 Darsh Kadakia and Poojan Tank (IXD) Winners
Nanu Bhai Amin Award for Innovative Science Exhibit by Community Science Center in January 2020.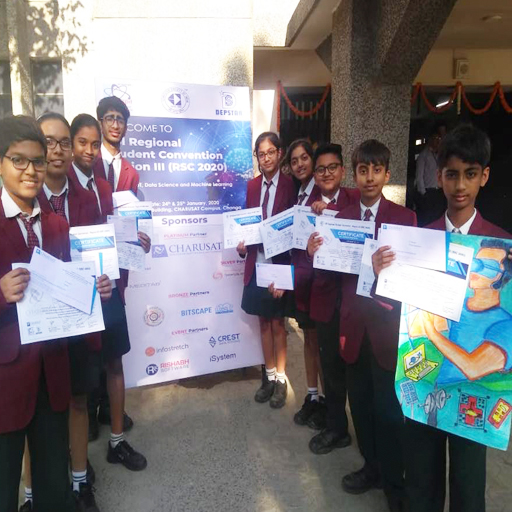 Team Vidyani Winners
'CSI Student Convention Region III' by the Faculty of Technology and Engineering, Charusat in January 2020.
.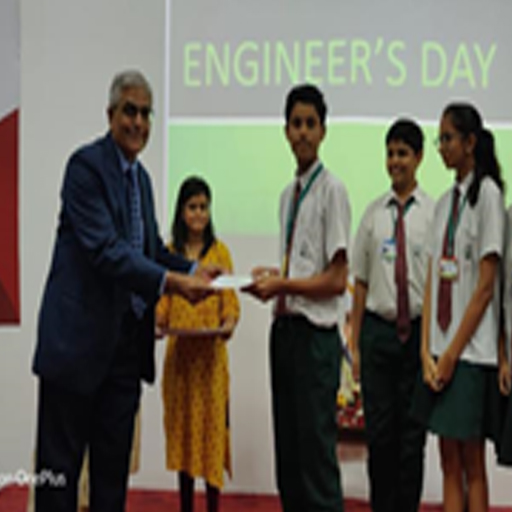 Shubham Singh, Hrishikesh Parte and Jia Haria (9C) and Vidhyani Gandhi (9D)
3rd Position 'Trash into Cash' at the 'Innovative Working Model' Inter-School competition organized by Navrachana University in September 2019.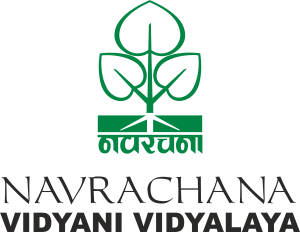 Navrachana Vidyani Vidyalaya School
Address : Near Sama Sports Complex, Sama, Vadodara 390024 Gujarat ( INDIA )
Tel.          : 0265-2792285, 2780539
Email      : vidyani@navrachana.edu.in
Website : www.vidyani.navrachana.in
Back To Top