Independence Day

Guru Purnima

Teachers' Day

Christmas

A Helping Hand

Gandhi Jayanti

Garba

Half Marathon - Ekta Kooch

Mindfulness Days

Republic Day

Smt. Savita Ben Memorial

Spic Macay

Tree Plantation Drive

Vidyani Vibes

Woman's Day

Yoga Day

Academic Prize Distribution

Annual Concert

Annual Sports Meet

Fun Fair

Valedictory
Awakening to life and freedom… forever!
The red-letter day of August 15  brought together, once again, Navrachana Vidyani students, staff, parents and alumni, to celebrate India's 76th Independence Day,  Azadi Ka Amrit Mahotsav.
The event commenced with the hoisting of the Tricolor by Principal Dr. Archana Mishra followed by the symphonious notes of the National Anthem, Jhanda Geet and Saare Jahan se Achha charging the environment with patriotic fervour!
This was followed by an inspirational speech by Head Girl Jaanya Shah (12Gen.) and Head Boy Pratham Raval (12Sc.) who emphasized the potential of our nation to take the centre stage globally  and the role of the youth in realizing that dream.
Then, in an initiative taken by the Gujarat Police to curb all forms of substance abuse,  a pledge to eradicate all forms of addiction was administered to the audience. 
The melodious patriotic songs and exuberant dance performances that followed awakened  feelings of patriotism in each member of the gathering even while Principal Dr. Archana Mishra, in her address, sent out a reminder  that it's our collective duty to uphold the values symbolised by the Tiranga.
Additionally, for the alumni members, there were special 'back to school' moments wherein they revived fond memories by playing friendly football and basketball matces on their old school ground!
All in all, a truly befitting  celebration that marked the important milestone of our nation completing 75 years of independence!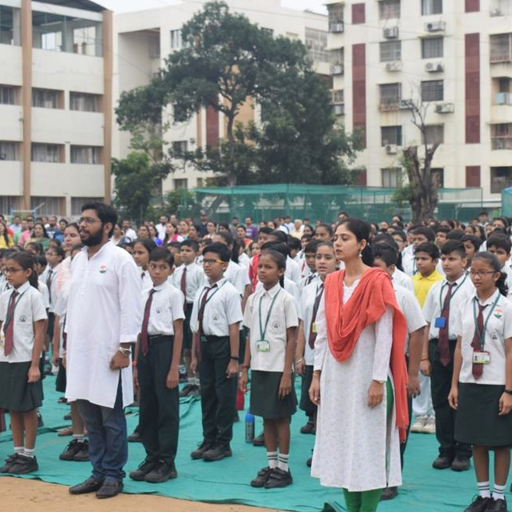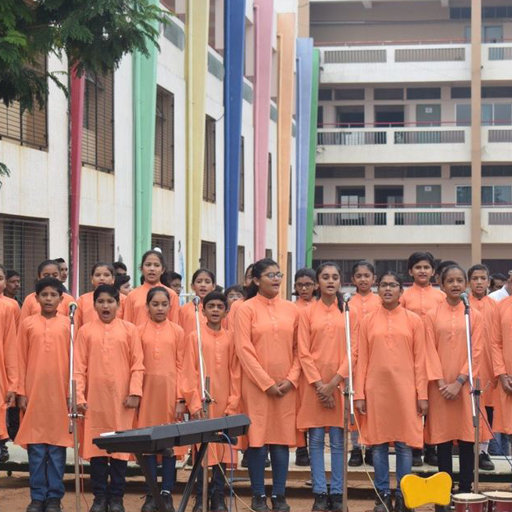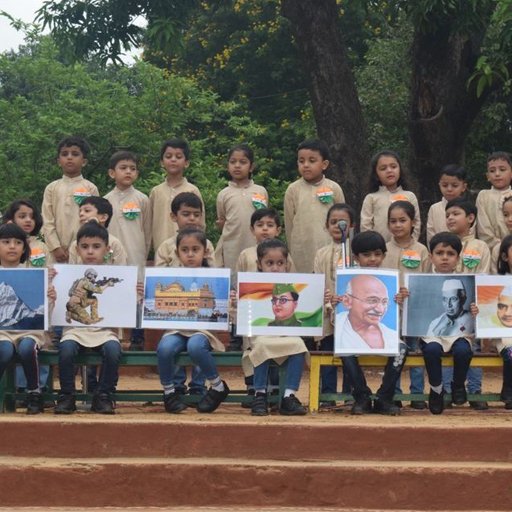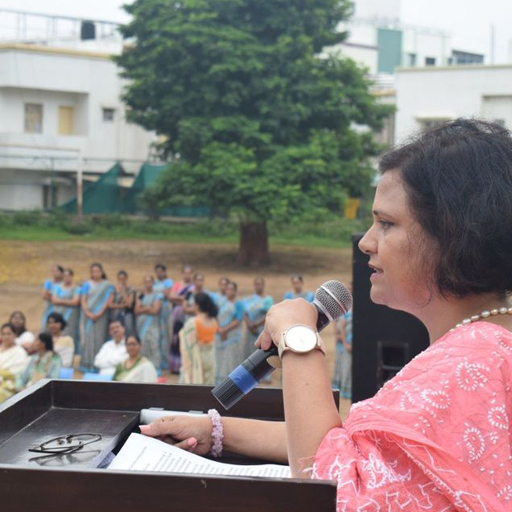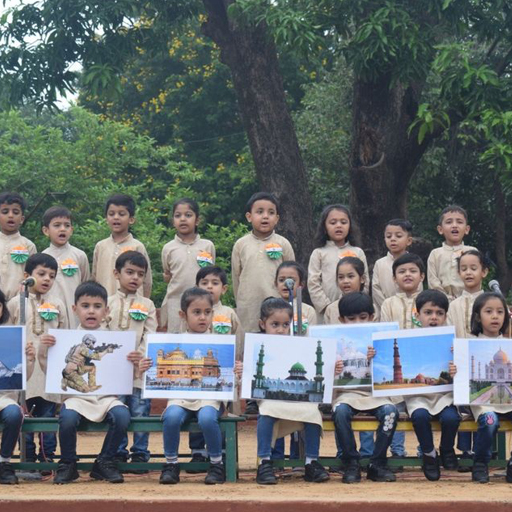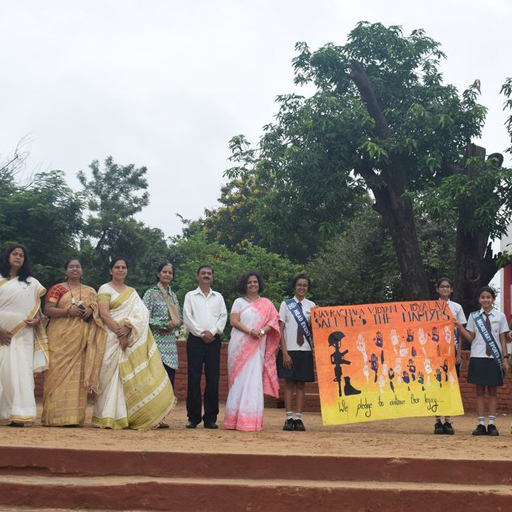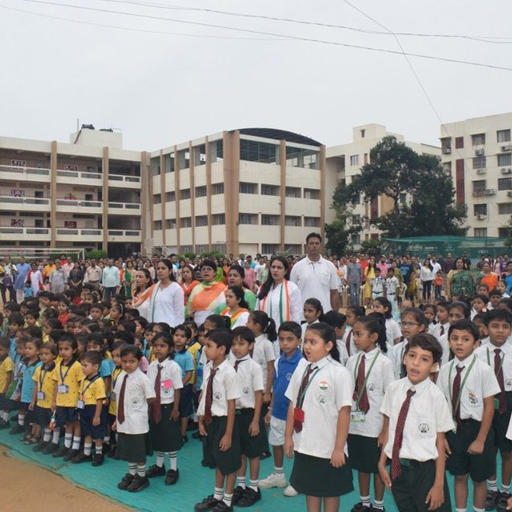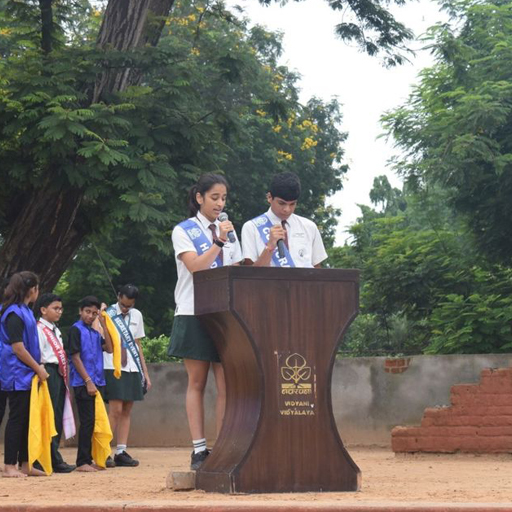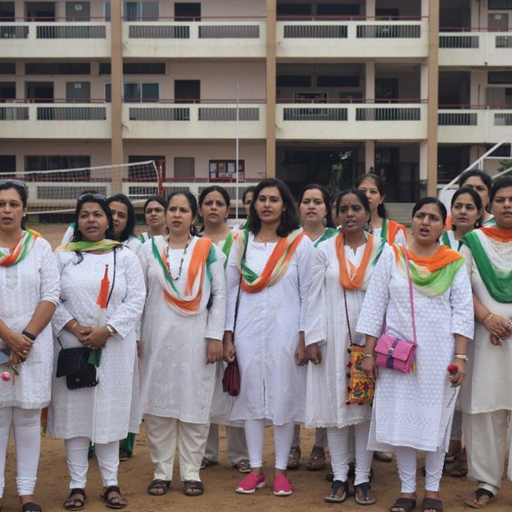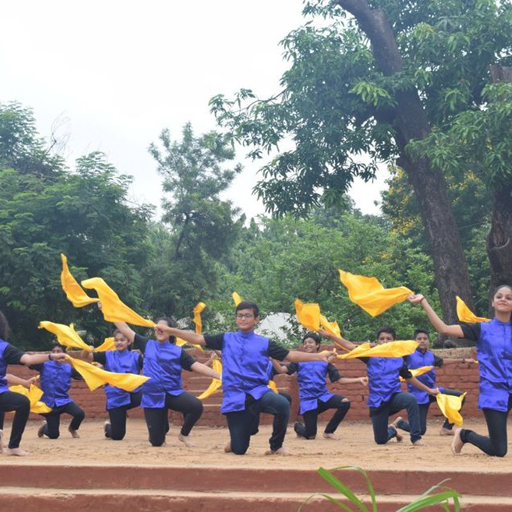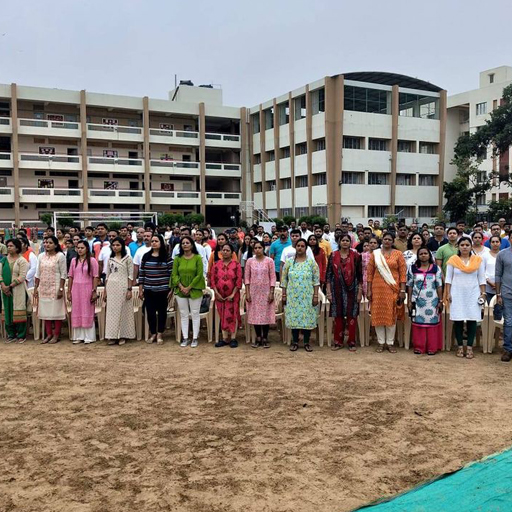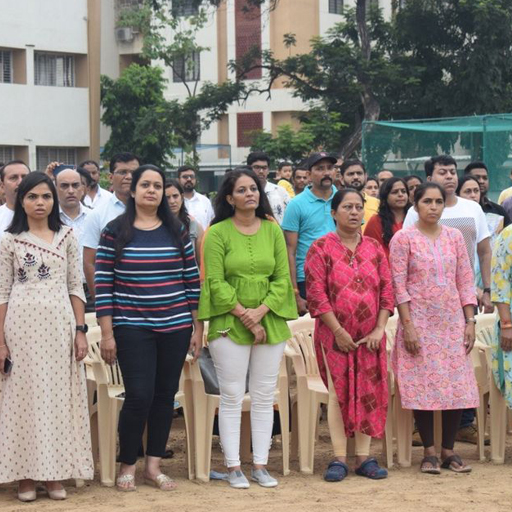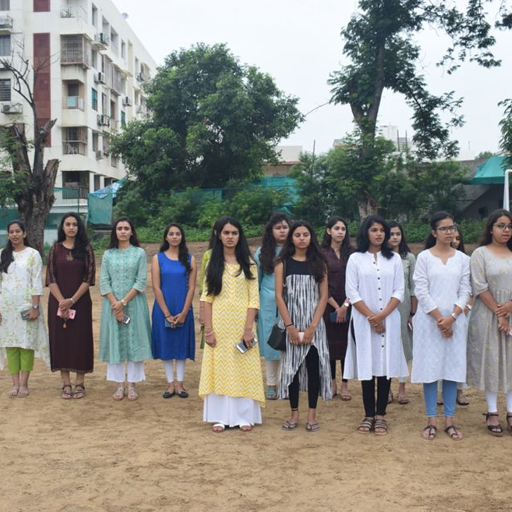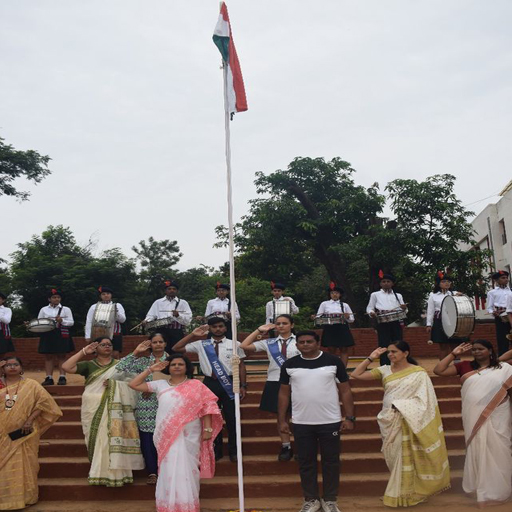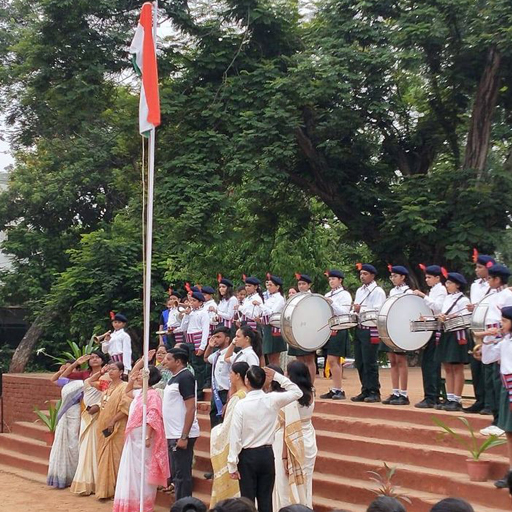 Patriotism in the air …

Navrachana Vidyani students, staff, parents and alumni turned out today morning to celebrate India's 73rd Independence Day together.

The event commenced with the unfurling of the Tricolor by Principal Dr. Archana Mishra followed by the symphonious notes of the National Anthem, Jhanda Geet and Saare Jahan se Achha charging the environment with patriotism.
This was followed by an interactive speech by Cultural President Ayush Patel and Head Sports Affairs Kanjini Soni who recalled the sacrifices of our freedom fighters and soldiers, as also Barodian Arif Pathan, who was recently martyred in cross border firing. They also urged the gathering to strive to make the environment clean and green!
The audience was then treated to the canorous notes of an inspiring patriotic song by the little munchkins of Pre- Primary. Next on the agenda was an exuberant dance performance by senior students that invoked the spirit of nationalism in each one of us. To commemorate the sacrifices of our soldiers, our Principal along with the In-charges, unveiled a beautiful work of art prepared by the Council Members as a tribute to martyrs. Principal Dr. Archana Mishra in her address, reiterated that though freedom gives us the right to make choices but making the right choice only comes through wisdom and reminded everyone that 'Freedom always comes with responsibility'.
In the end, committed to the task of nation building, Council Members, led by our Principal, took individual pledges to make small positive changes which would benefit the community and urged the audience to do the same!
Jai Hind!!!
Celebrating Freedom in a virtual setting!
Navrachana Vidyani Vidyalaya students, staff and parents celebrated the 74th Independence Day today by connecting on-air! We were thus able to show our love for our country and also remembered our freedom fighters, as we do every year, on this day.
In the morning, Principal Dr. Archana Mishra, the co-ordinators, office staff and a few teachers assembled at the school ground to commemorate the occasion. The event commenced with the unfurling of the Tri-colour followed by the canorous cadence of the National Anthem, Jhanda Geet, and Saare Jahaan Se Acha. Then, our Principal , in her speech, urged everyone to continue hoping and praying that a day might soon arrive when we attain freedom from the current invisible enemy called COVID-19 and can extricate ourselves from the shackles of masks and sanitizers so that we can express ourselves by shaking hands and hugging each other without any constraint.
A video of the event was streamed for all the remaining NVV family members who could not make it to the school because of social distancing norms having to be followed. However, students had a really memorable time celebrating Independence Day virtually and their teachers also arranged for them fun-filled activities like a pop quiz, singing patriotic songs, drawing, performing dances etc.
Truly, NVV continues to demonstrate that we are simply unstoppable in our determination to provide as many of the range of experiences that make up 'normal school life' as possible, even in the midst of the pandemic!!
Jai Hind!
Happy Teachers' Day!
In the new normal of online teaching, Navrachana Vidyani Teacher's Day celebration took on a virtual avatar too!
The day began with each class presenting personalized programs for their respective class teachers wherein they performed, gave voice to their sentiments for their teachers or presented videos of shared moments at school. That one hour of emotional connect really transcended the physical gap, bringing teachers and their dear charges really up close and personal!!

Later in the day, Principal Dr. Archana Mishra along with the Co-ordinators, organised a lively virtual gathering for the staff. Being the host for the day, Archana ma'am set the tone of all round bonhomie by appreciating all teachers for working so diligently 'behind the screens' to keep the teaching-learning process on track in these trying times! The feel good quotient remained high with the subsequent item: a heartwarming video from the newly elected Student Council conveying their gratitude towards their teachers. Uniquely, the students used gestures and facial expressions to convey their sentiments about various facets of the pupil-teacher relationship and school life in general!

The Co-ordinators then organised entertaining pop quizzes for their sections, challenging teachers to come up with witty and whacky answers. The teachers too rose to the occasion and participated exuberantly, thinking on their feet to make some really creative responses! Archana ma'am made sure that the Co-ordinators too shared in the all-round merriment by orchestrating a round of Q/Answers for them too! This was followed by the felicitation of teachers who had completed a decade in Vidyani with Archana ma'am commending them for their dedicated service to Vidyani. The virtual happy time culminated with a few of the teachers expressing their emotions in the form of poems.

Thus, although on-air, the Vidyani staff had a whale of a time and together made this Teacher's Day a truly memorable one!
Life has no class… without teachers!
Awakening joy in creative expression is the supreme art of a teacher, as stated by Einstein. And, the staff at Navrachana Vidyani certainly practise what they preach ! Teacher's Day was enthusiastically celebrated on August 5 with fun activities and karaoke. While  the first half of the day saw students shower  love and wishes , in most creative ways, on their educators who teach them the art of living well,  in the next half of the day, our self motivated and 'edu dexterous' teachers engaged themselves in fun-filled activities like pottery painting, sand art, embroidery, bottle art, tavdi painting, clay modeling, jewellery making, canvas painting and best out of waste. And, to perk up the moment, there were melodious Karaoke performances by our very own teachers led by Archana ma'am herself! Thereafter, the school coordinators were awarded various certificated for their report cards bore an A+  in patience, commitment, dedication , innovation, hard work and inspiration!
The day ended with a token of love presented by Archana ma'am on behalf of the  NES Management  followed by a  scrumptious lunch!
Apart from being a memorable day to take away from work, such novel interludes certainly add to the happiness quotient of our faculty members.
Jingle all the way!!!
'Christmas' literally came to visit Vidyani today as children of Grades 1 to 5 squealed with delight at the sight of the 'jolly good fellow'—their favourite Santa Clause all geared up in the traditional red and white. The students, themselves, dressed in colourful attire, decorated their classrooms with festoons, streamers, balloons and paper wreaths to welcome the spirit of Christmas. The atmosphere was further enlivened with everybody dancing to the merry tunes of the festive season and playing games. It was surely was a charged time, filled with jubilation as teachers, too, joined in the euphoria alongside their students!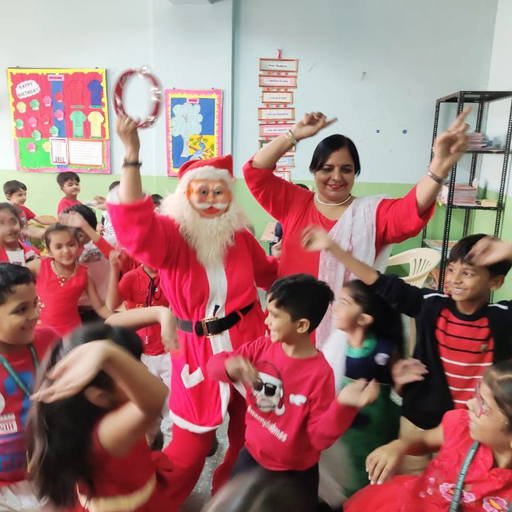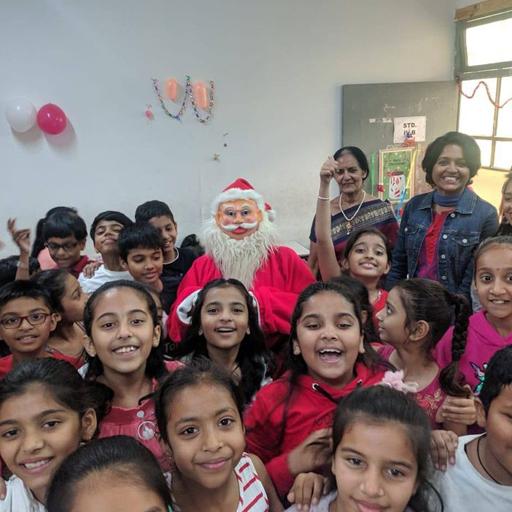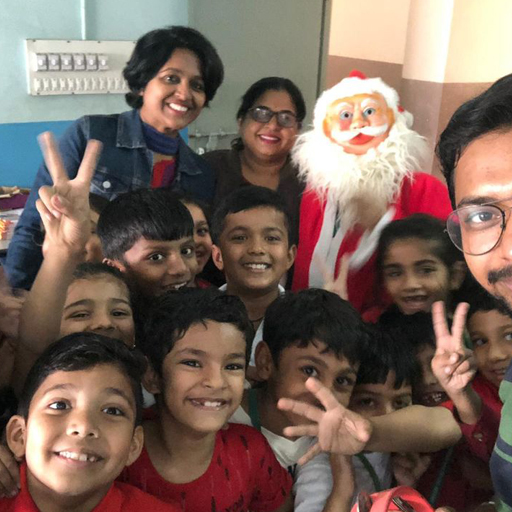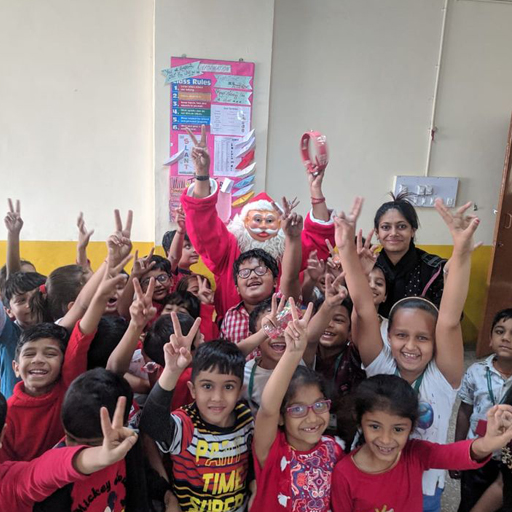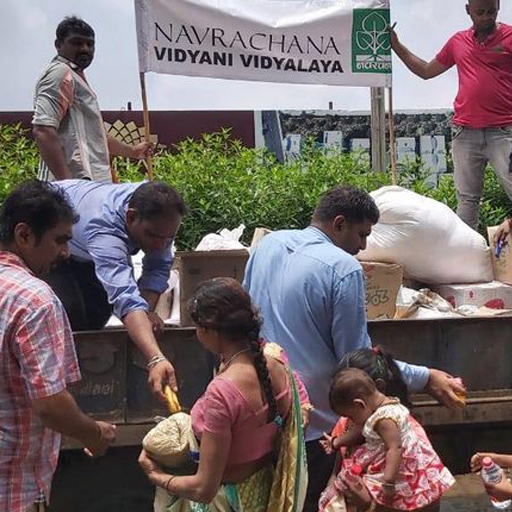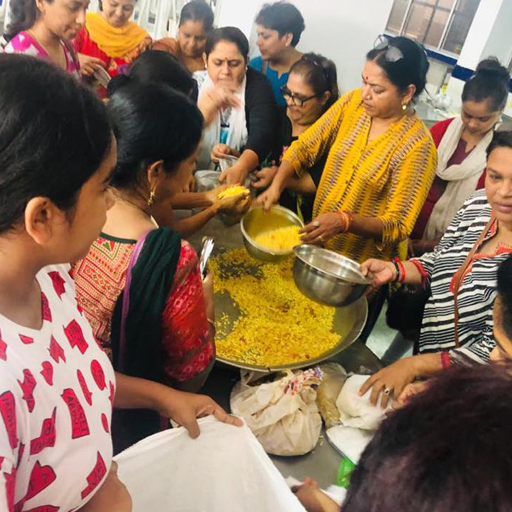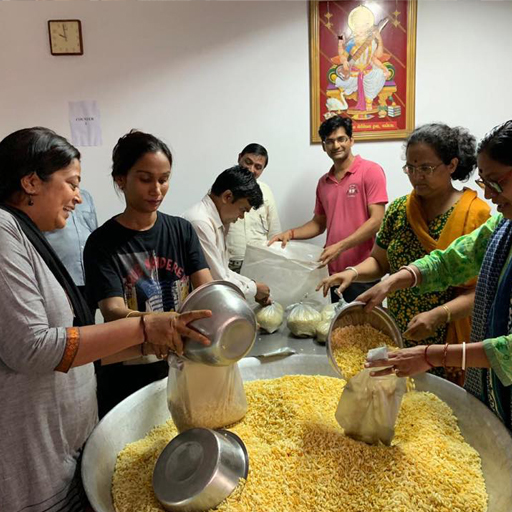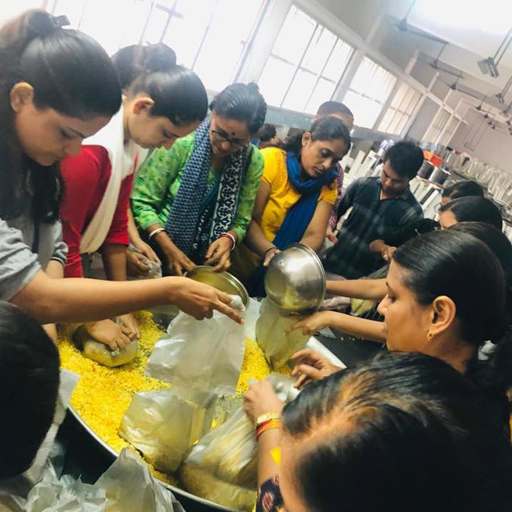 "Caring has the gift of making the ordinary special."
―George R. Bach
Today Navrachana Vidyani Vidyalaya and Navrachana School- Sama joined hands in order to help those people who have been stranded in the water logged areas after the incessant rains that lashed Vadodara this week.
Places like Khodiyar Nagar, Roman Park, Chhani Jakatnaka Canal Road and Sanjay Nagar have been badly affected as the basic needs like food and drinking water are also not available.
The Staff members of the two schools prepared food packets and distributed food, water and fruits in those areas as a mark of solidarity and love for the people.
It was indeed a day where the schools got to exemplify to its students that giving back to the community in whatever way we can leads to complete satisfaction.
'The Great-souled one'- The Only Mahatma
Ethics and values are inculcated into students at Vidyani by honouring great leaders. This year marked the 150th Birth Anniversary of the Father of the Nation. With this in mind, Gandhi Jayanti celebrations started almost a week ago. This is a Government initiative which has continued till October 2nd to not only just commemorate his birthday but also to propagate his message amongst students so that they are inspired to tread on his footsteps. Every day, as part of the assembly activity, various batches of students sing to the soulful tunes of the many songs dedicated to the great leader of the masses; the simple man responsible for teaching the world the values of Truth and Nonviolence. The Vidyani air has been resonating with the melodious renditions of Bapuji's favourite bhajan – 'Vaishnava Janato', Raghupati Raghav Raja Ram, Insaaf ke dagar pe, Dedi tumhe aazadi binaa kadag bina dhaal' and many more renderings. The final day saw a spectacular dance performance on 'Bande mein tha dum.. Vande Mataram' by the students.
It was a week worth honouring the philosophy the 'Mahatma' stood for: 'If I have the belief that I can do it, I shall surely acquire the capacity to do it even if I may not have it in the beginning'.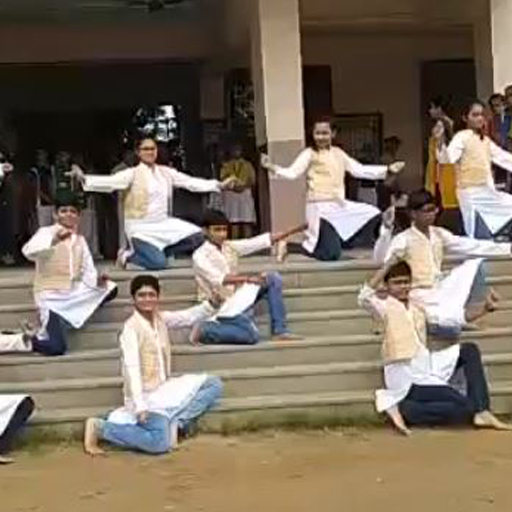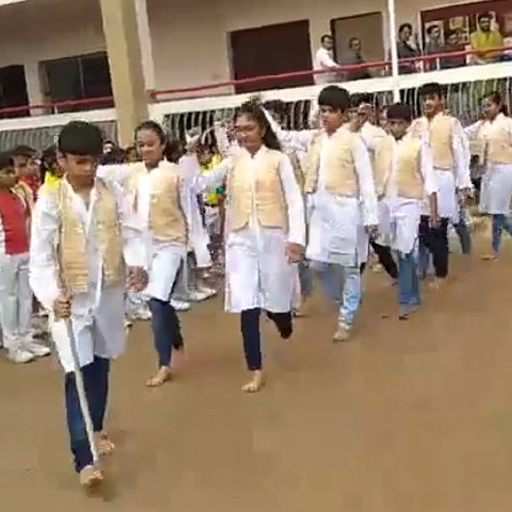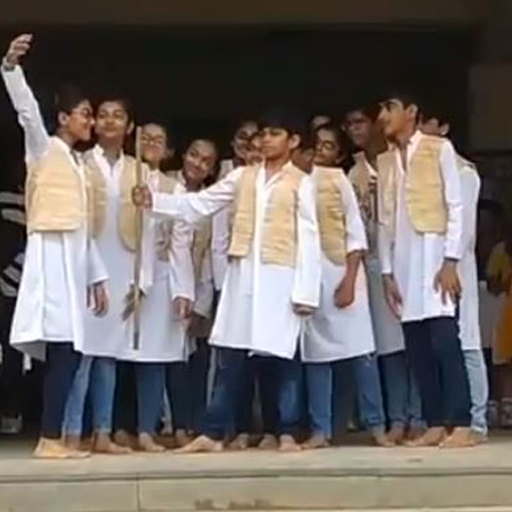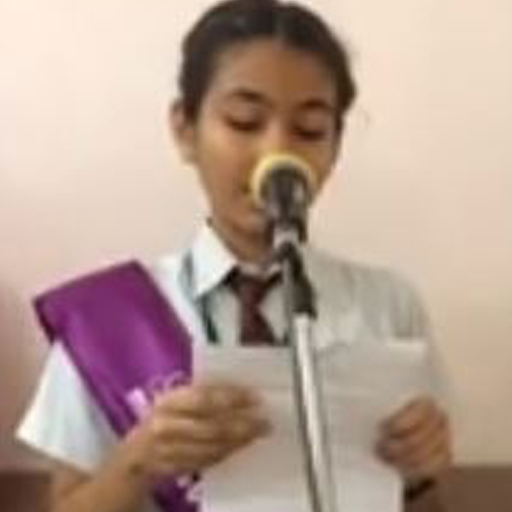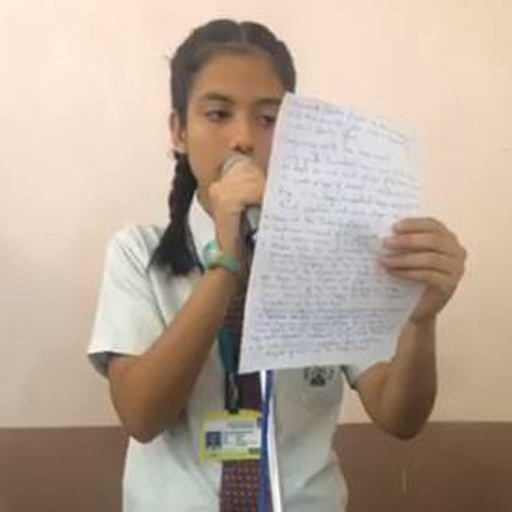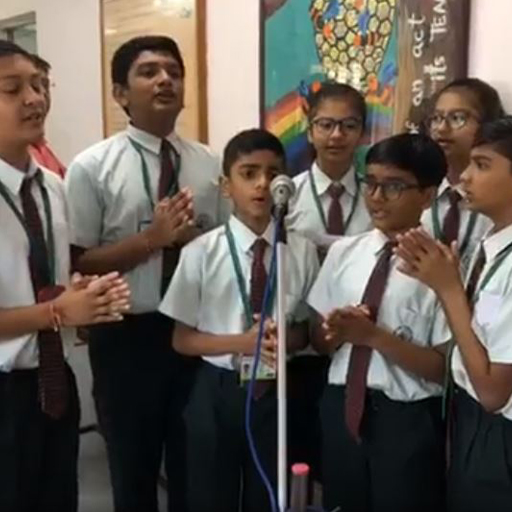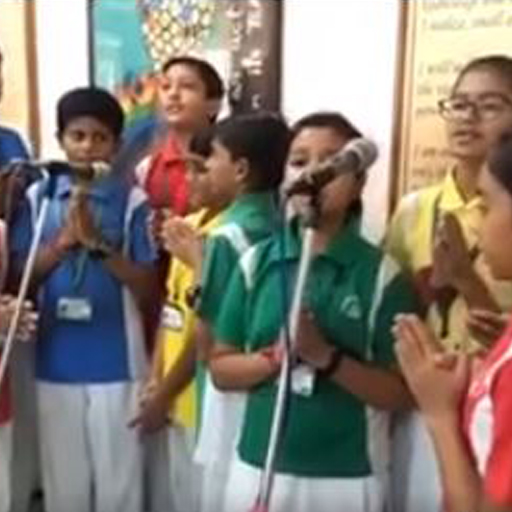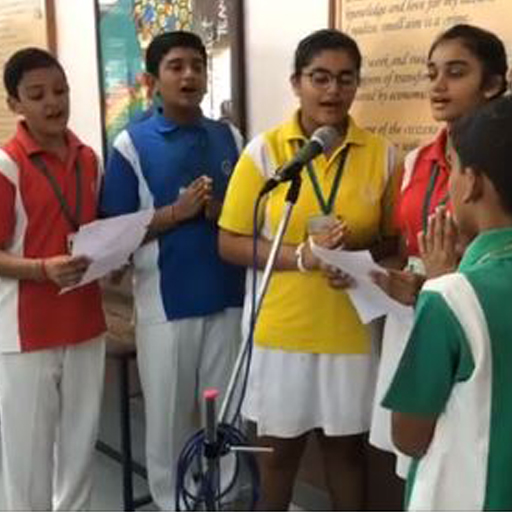 Old traditions die hard !
Respecting and observing the time-honoured traditions is what makes Navrachana Vidyani Vidyalaya stand high above the others. Grades 1 to 12, on October 1 ,  delved deep into the festive spirit as the School organized 'Garba Celebration'  to transform the ordinary into the extraordinary, darkness into light, and agony into ecstasy. The celebration began with prayers after which the students enjoyed Garba – the folk dance of Gujarat- with their peers and teachers in the different venues allotted to them. Vidyanians burned up the dance floor by grooving to the upbeat and dance worthy folk tracks with popular traditional as well as the contemporary forms of the dance.
 The lyrical banter, the musical tempo and the spirit of the season together created a symphonic crescendo for all to cherish.
Grooving to the Dandiya beats…
The festive spirit continued at Vidyani for Grades 1 and 2 on October 17 and Grades 4 to 6, today.
The students came dressed in traditional Garba and Dandiya attire which made for a spectacular visual treat for everyone to see and relish. The children's joy knew no bounds as they danced on the Dandiya folk songs. Their joy doubled when Principal, Dr. Archana Mishra and their teachers too took part in this footloose frenzy!
It was indeed a day full of fun and fervour as the children went back home thrilled to enjoy their holidays!
For a United Nation…
United we stand and divided we fall. To prove this maxim true, Chairperson-NES Tejal Amin called upon all NES institutions to participate enthusiastically in the 'Bharat Ekta Kooch'.
And, spearheaded by Principal Dr. Archana Mishra, Navrachana Vidyani students, parents and staff responded wholeheartedly by turning out in large numbers for the Kooch from Kirti Stambh to Kothi Char Rasta.
The march was to express support for the historic decision of abrogation of Articles 370 and 35 A taken by our Honourable PM in order to unite the nation. In his speech Gujarat Chief Minister Shri Vijay Rupani urged all citizens to remain united and thereby sound a warning to neighbouring countries that Indians are resolute in their efforts to keep their country together!
The Vidyani family, too, stands committed to support this effort to build a strong and unified nation and today's show of solidarity was our way of declaring our intent!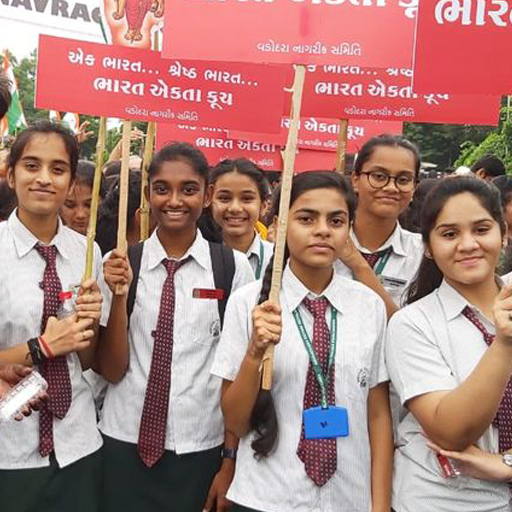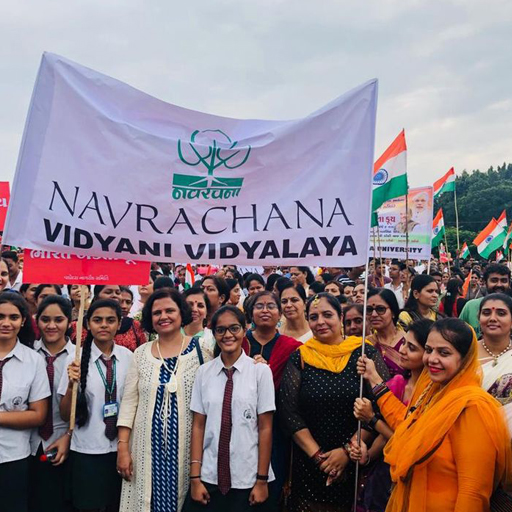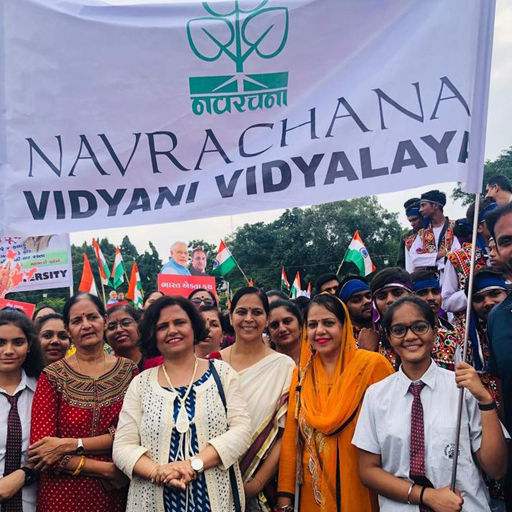 Practicing mindfulness…
A three day Yoga Meditation Session on 'How to Live' by representatives from the Sri Sri Paramhansa Yogananda Satsang in July 2019.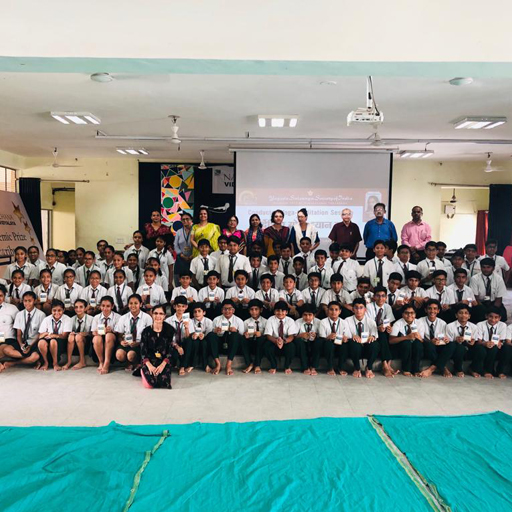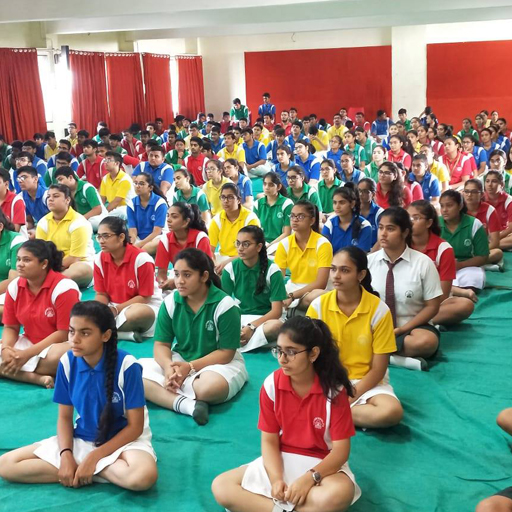 Celebrating Sovereignty virtually!
Navrachana Vidyani students, staff, and parents connected on-air to celebrate the 72nd Republic Day with great fervour and joy, today. In the morning, Principal Dr. Archana Mishra, the Co-ordinators, and a few staff members assembled on the school ground to honor the occasion. The event commenced with the unfurling of the Tri-colour followed by the soulful rendition of the National Anthem, Jhanda Geet and Saare Jahaan Se Acha.
Although virtual, the entire school joined in the celebration as the video of the event was streamed in each class! In her address, Principal Dr. Archana Mishra made the intensely significant point that "even though the pandemic might have confined you ( students) to your homes, it can't confine your spirits". She concluded by quoting 3 great leaders- Dr.BR Ambedkar, Pandit Jawaharlal Nehru & Former President Dr. APJ Abdul Kalam- each of which exhorted Indians to uphold the sovereignty of the nation and to continue being proud citizens of this great nation. The students had an unforgettable time celebrating Republic Day virtually as their teachers arranged for them fun-filled but meaningful activities like sharing facts, drawing, pop quiz, singing and playing patriotic songs, all centred around the theme of Republic Day and its significance.

Undoubtedly the entire celebration was a tribute to the spirit of patriotism and to the founding fathers of our Constitution and sent out a strong message of Brotherhood, Peace and Prosperity!
Jai Hind!
Smt. Savita Ben Memorial Gujarati Prachaar Prasaar Abhiyan 2019 : An endeavour to popularise our Mother Tongue
We organized a multi-event competition which featured 'Bhavai', Gujarati Folk Dance, and Gujarati Folk Song categories.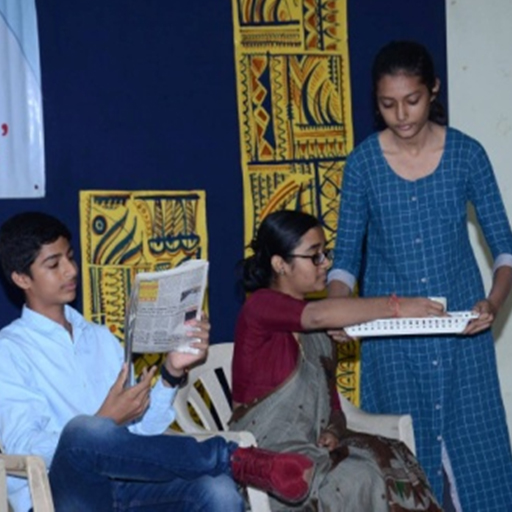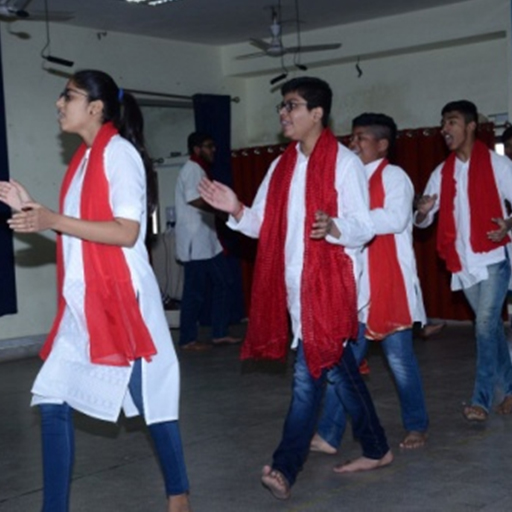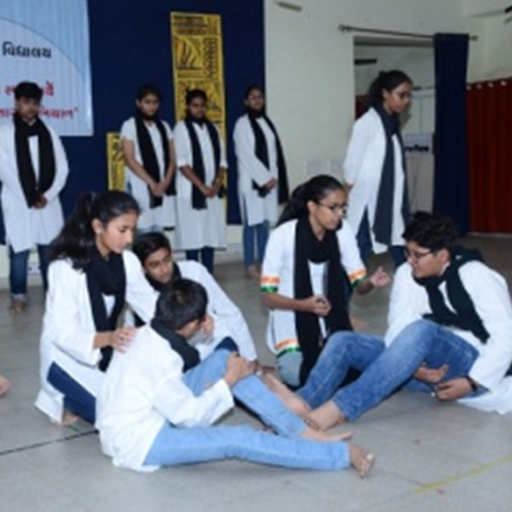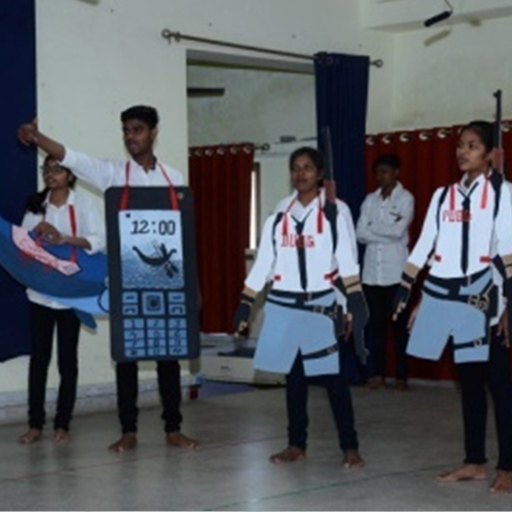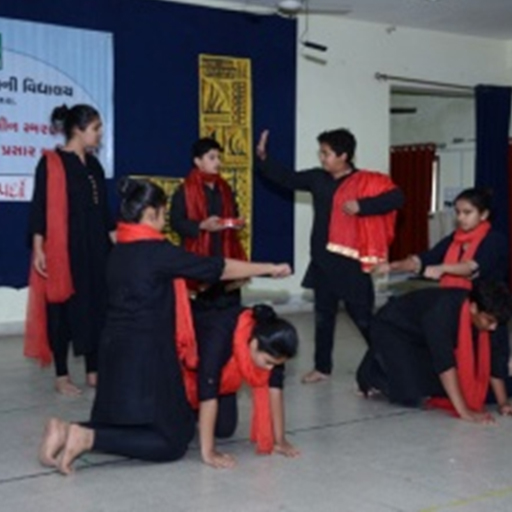 Glimpses from the competition featuring Bhavai, Gujarati folk song and Gujarati Folk Dance!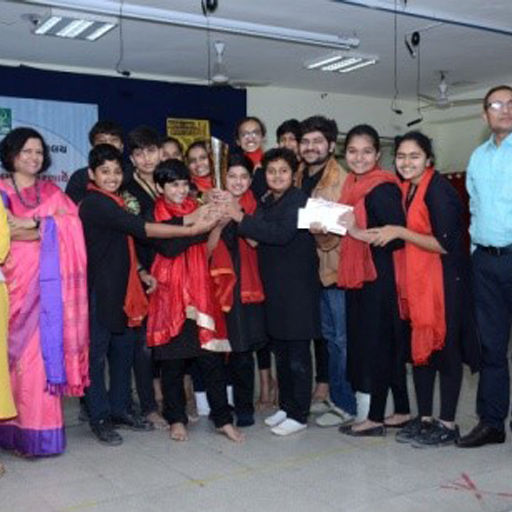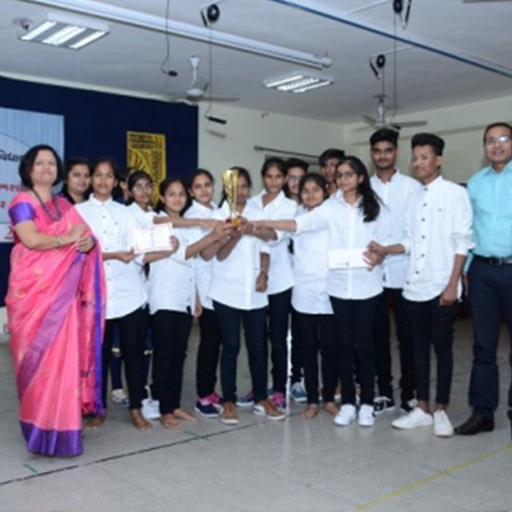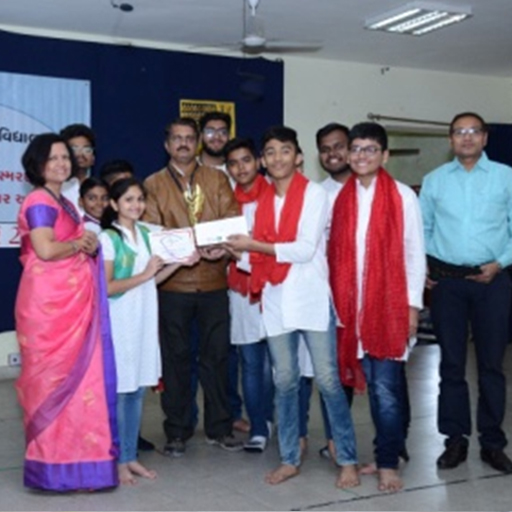 The Prize winners of the competitions
SAVITABEN AMIN GUJARATI DIVAS CELEBRATIONS
Popularising the mother tongue
Navrachana Vidyani has been organising various events for both teachers and students as part of its ' Gujarati Prachar and Prasaar Abhiyan' in memory of Smt. Savitaben Amin – Founder Navrachana Education Society. As a part of this ongoing campaign, a multi-event competition which featured 'Bhavai', Gujarati Folk Dance, and Gujarati Folk Song categories, was organised today.
Many English Medium Schools of the city participated in the various events that were judged by noted aritstes like Maythiliben Desai
(Nartan Kala Kendra Academy) and Nilamben Pathak (Nupur Nartan Academy).
The winners of the various competitions are as follows:
Folk dance competition: 1st prize clinched by Baroda High School while the 2nd went to Navrachana International School, Vasna.
Bhavai: 1st position clinched by D R Amin Memorial School while the Runner-up was Navrachana Eklavya Model Residential School, Vejalpur.
Teachers too participated in the event in the Poem Recitation category wherein Ms. Raksha Sisodiya (Navrachana School, Sama) bagged the first position while Mr. Ajay Paagi (V.M English Medium School, Halol) was second and Ms. Komal Hariyani (BHS Alkapuri) stood 1st in the Self-composed Poetry competition. Also, being the host school Navrachana Vidyani did not compete for the same.

The event culminated with Chairperson-NES Tejal Amin and Trustee-NES Sandhya Gajjar giving away the prizes to the very deserving winners whose mesmerising performances definitely served to highlight the rich and colourful cultural heritage of Gujarat.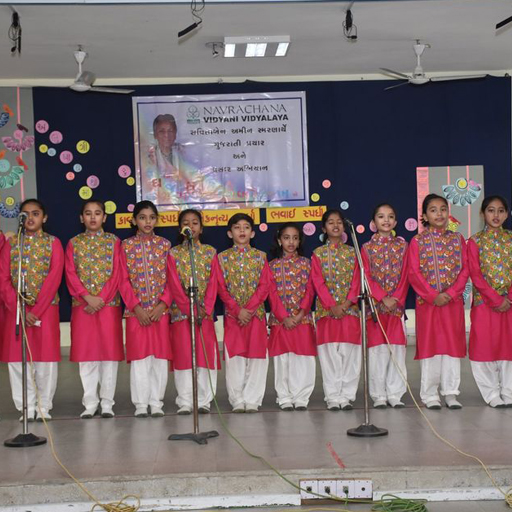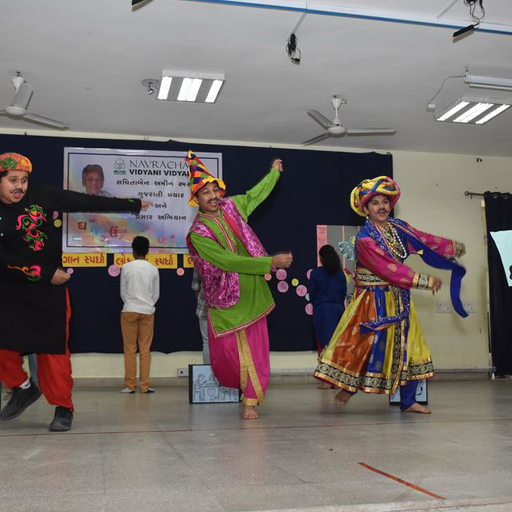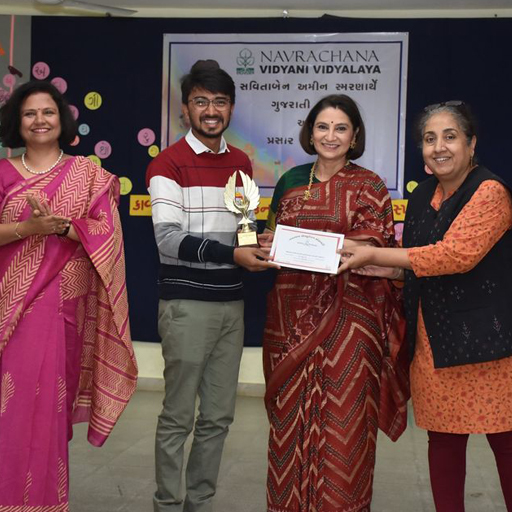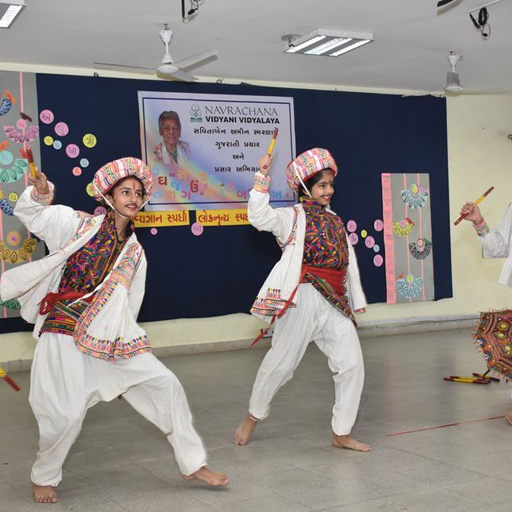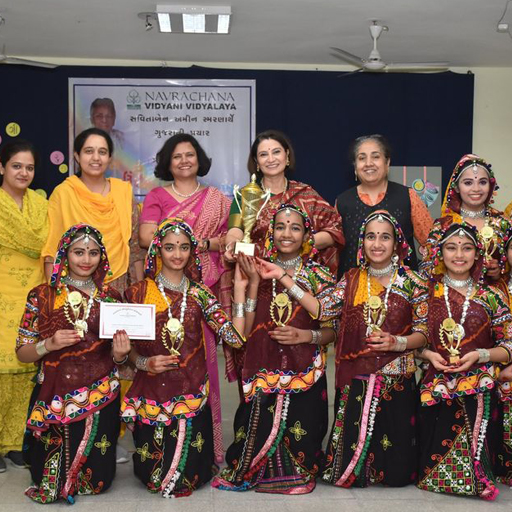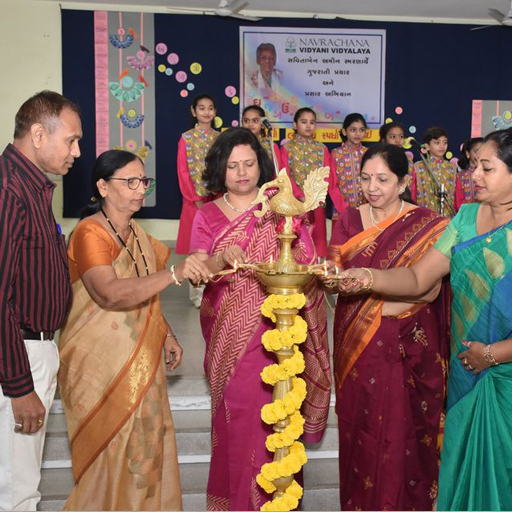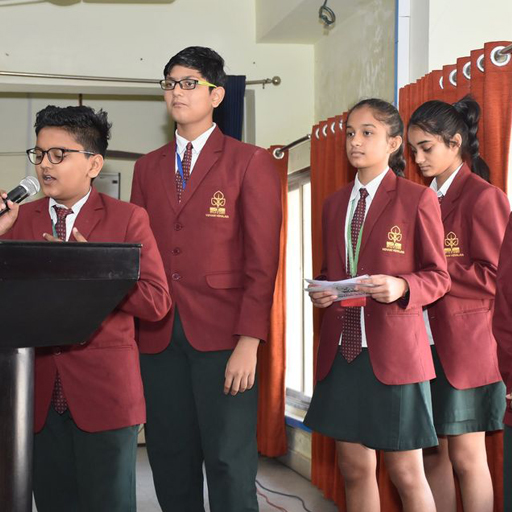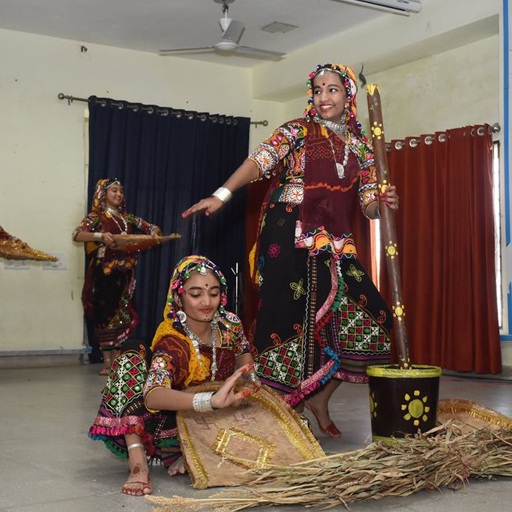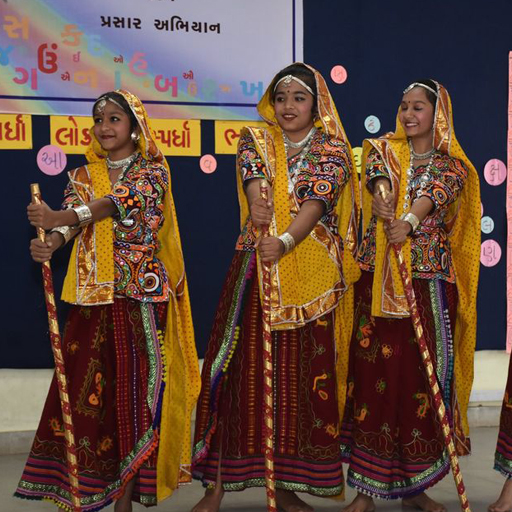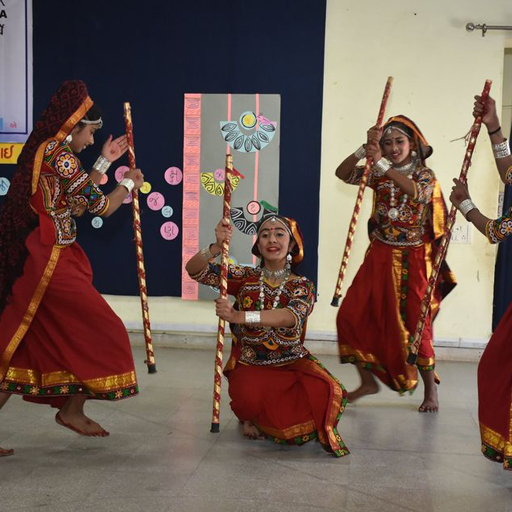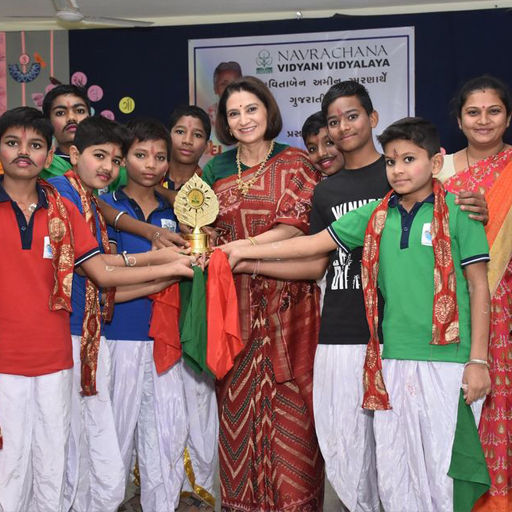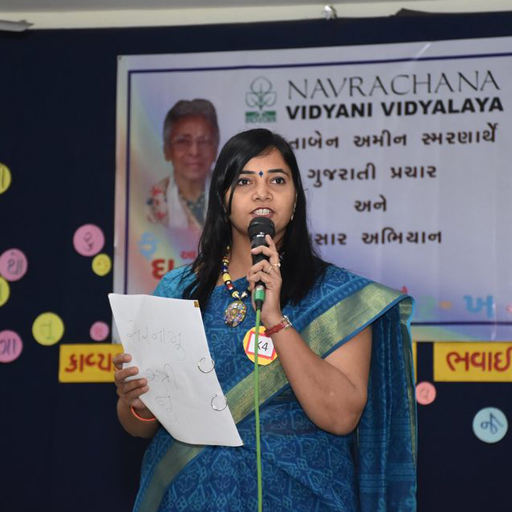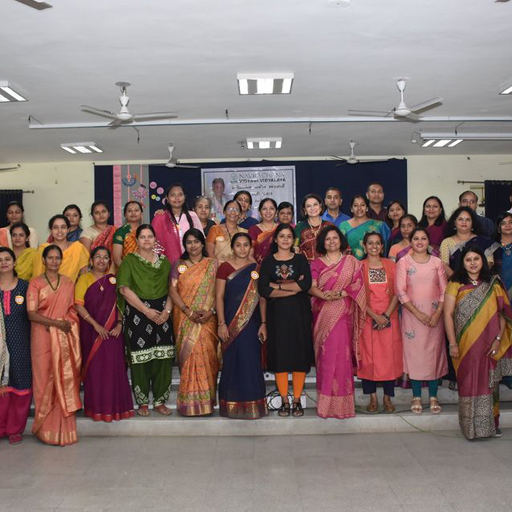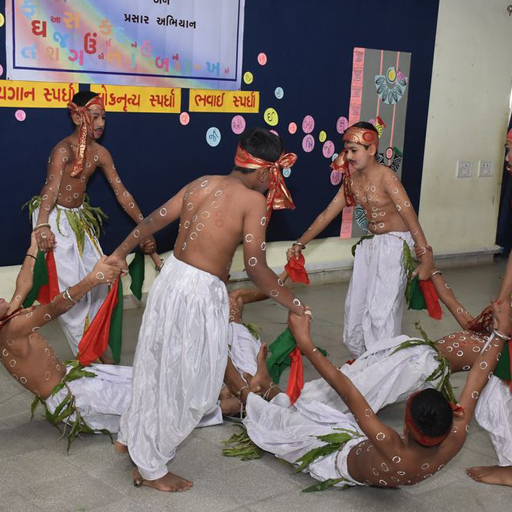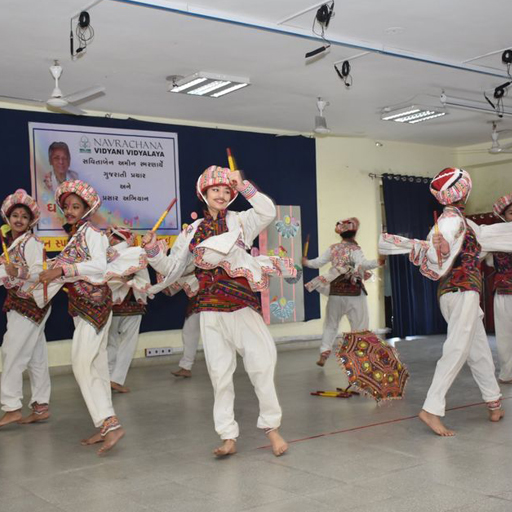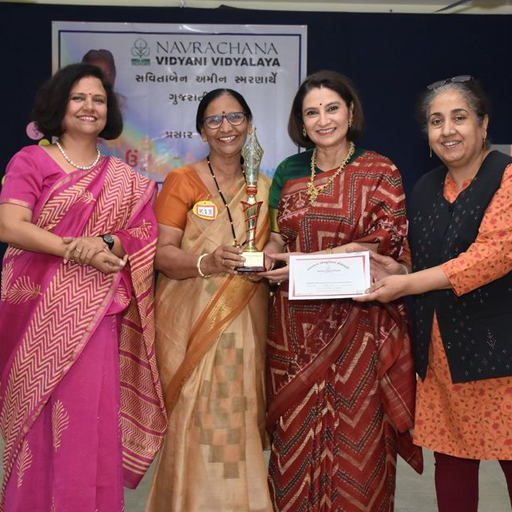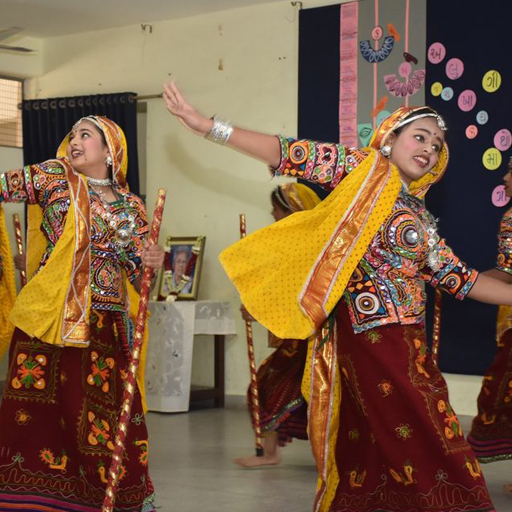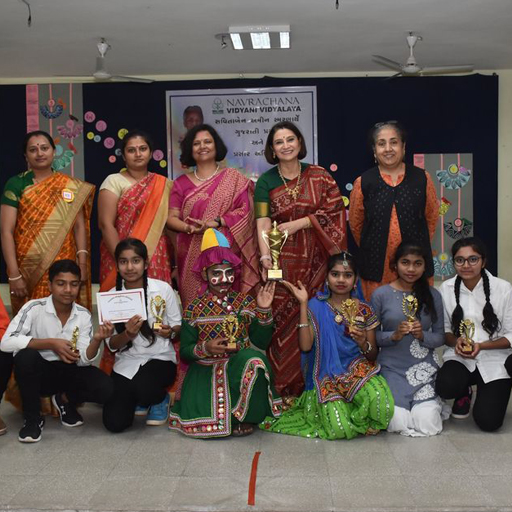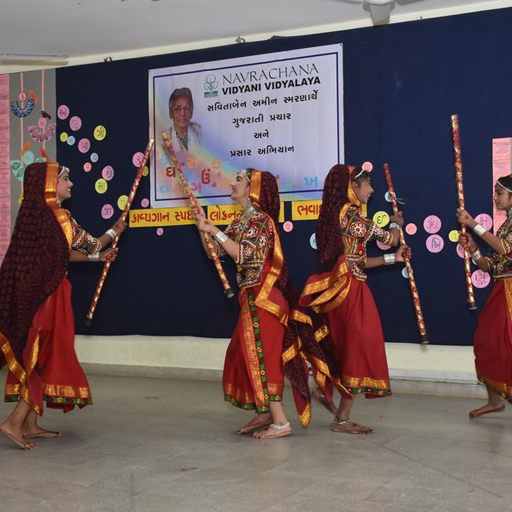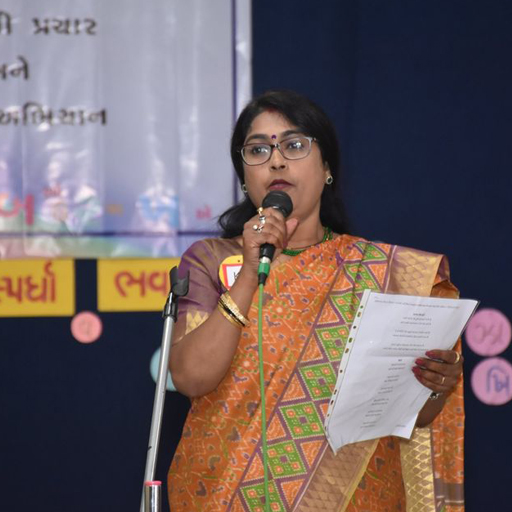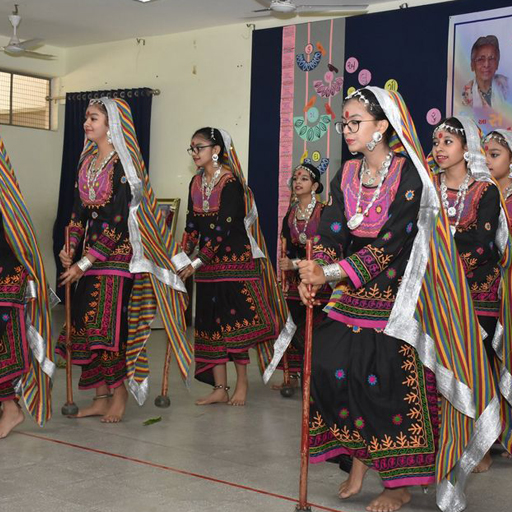 Cultivating Indian culture through Art
Navrachana Vidyani hosted an interactive lec-dem organised by SPICMACAY (Society for Promotion of Indian Classical Music and Culture Amongst Youth) for classes 9, 11 and 12 on Aug 30.
Resource Person Rani Khanam (renowned Kathak exponent, Choreographer and Guru, Founder Director-AAMAD Kathak Dance Centre) demonstrated various dance movements through footwork, hand gestures and facial expressions. She also talked at length about the history of the Kathak dance form and its various gharanas along with emphasising the need to instil appreciation for Indian classical dance forms amongst today's youth.
Rani ma'am was accompanied by vocalist Mr. Shuheb Hasan and tabla maestro Mr. Ajeet Kumar Mishra, both eminent artistes who have performed on the global stage. Together, Rani ma'am and her team enthralled the audience and also brought to life the students by constantly interacting with them.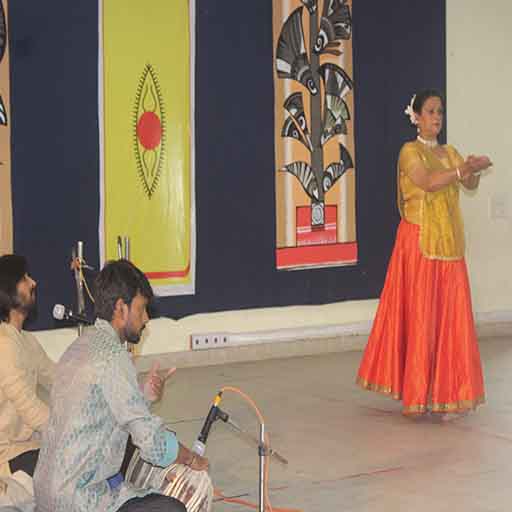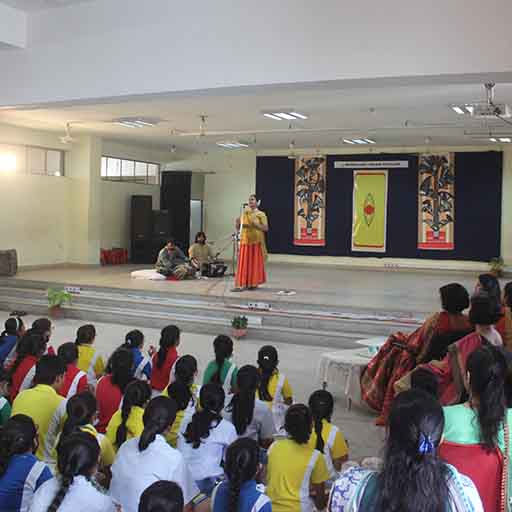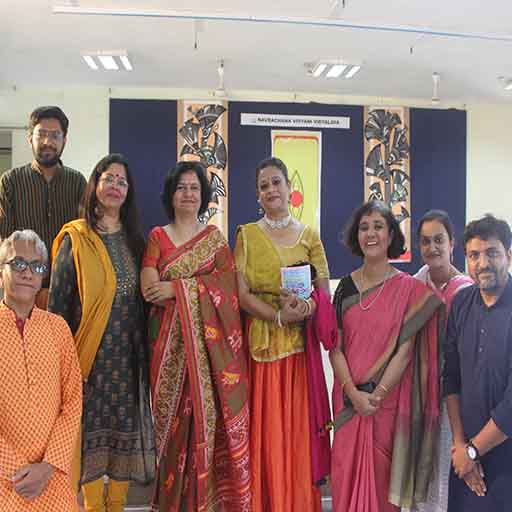 Art that resonates …
Vidyanians of Std. 8, 9, 11 & 12, had the privilege of attending a performance of 'Pandavani', presented by its world renowned exponent, Padma Vibhushan awardee Dr. Teejan Bai!
The 'Pandavani' is a folk singing style involving narration of tales from the ancient epic Mahabharata and also involves musical accompaniment. This session at Navrachana Vidyani was facilitated by SPIC MACAY (Society for the Promotion of Indian Classical Music and Culture Amongst Youth), a voluntary youth movement that promotes Indian cultural heritage.
After the conclusion of the performance, there was an interactive session wherein Dr. Teejan Bai enlightened the audience about the 'Pandavani' genre and also answered queries posed by some of the students regarding her long and illustrious artistic career. She also reminded the students that as future citizens of this great nation, it becomes their responsibility to nurture and carry forward India's rich cultural heritage and for this they should take up any art form of their choice to ensure its continuance.
The occasion was further uplifted by the presence of Chairperson-NES Tejal Amin, who is also well-known as an art aficionado herself, and Navrachana School Sama Principal Mrs. Suprabha Menon and students and teachers from other NES Institutes. They too expressed their pleasure at being able to witness a performance by an artist of such international standing on the Navrachana Vidyani stage itself!
Programmes such as these are definitely needed to make young people aware of the varied and rich hues of Indian culture and that the onus lies on them to keep it alive for generations to come!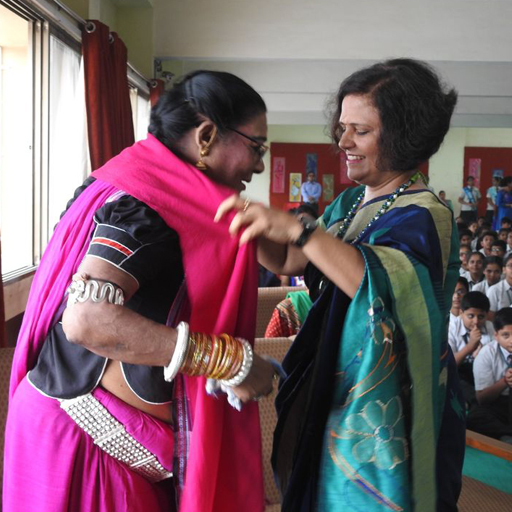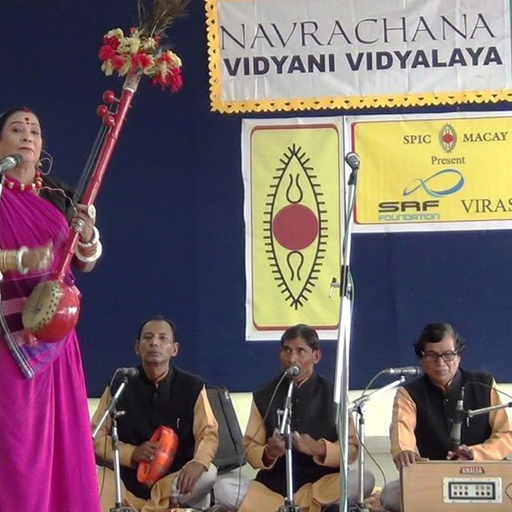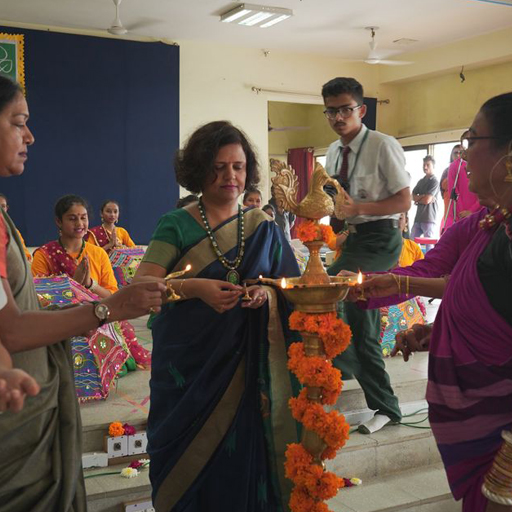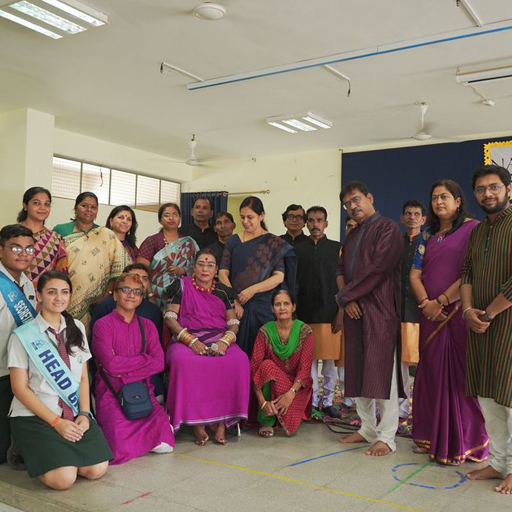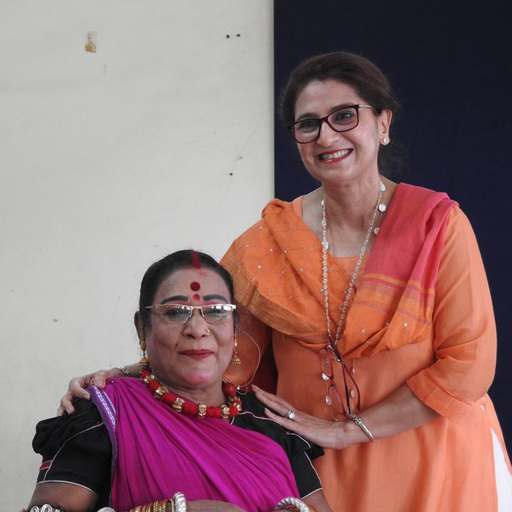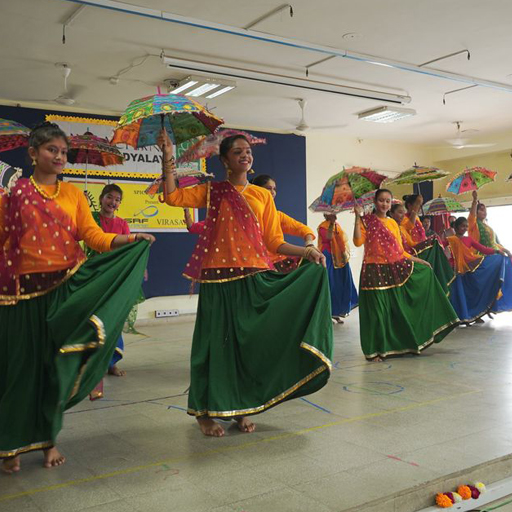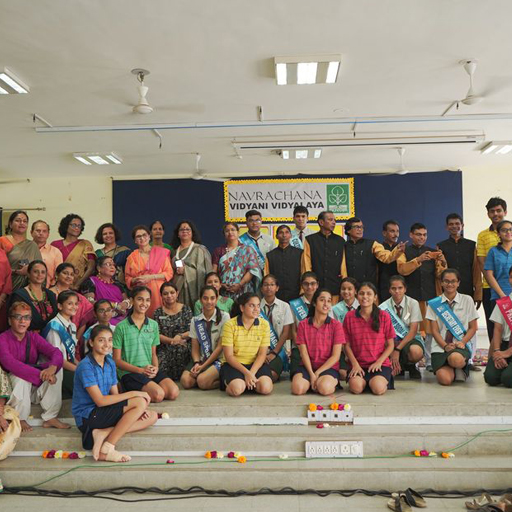 A time to bond …
On July 30, a few students of Navrachana Vidyani Vidyalaya, Navrachana School and NEEV, along with their respective Heads – Principal Dr. Archana Mishra, Principal Suprabha Menon and Head Mistress Geeta Sikdar – together planted saplings in the Jyoti ground as a symbolic gesture meant to demonstrate their united commitment to nurture the environment as well to enhance the bond between these three units of Navrachana Education Society.
Truly a unique coming together wherein not only the environment but relationships too were nurtured!
Good vibes suffused the Navrachana Vidyani campus yet again on August 26 as it hosted its very popular annual student-led event that witnessed a rainbow gathering of sharp and talented minds.
The 3rd International edition of Vidyani Vibes got underway with a parade round the ground by the contingents with each school proudly displaying its flag! In her address, Principal Dr. Archana Mishra wished good luck to all participants, urging them to just focus on doing their best. She also informed the gathering that Vidyani Vibes 2022 centred around the theme of 'Heal The World' in order to develop social consciousness in students. The spectacular mega event resonated with the keen enthusiasm of the contestants as they vied with competitors from different schools of Vadodara and virtually with schools from both across India and abroad. Notably, the event was managed entirely by the Student Council and other Vidyanians and  showcased innovative competitions like 'Mini Tales' 'Sanguine Speakers', 'Hop to the Tune',  'Mummery', 'Wonder World', 'Recite n Act', 'Discover, Tinker and Succour' and lastly, 'Dummy Talk', a competition for teachers.
The closing ceremony saw all the thrill and excitement coming to a head with the revelation of the winners' roster.
The successful 3rd International edition of Vidyani Vibes definitely proved that Vidyanians have it in them to ideate, execute and create wonders with their enthusiasm and intelligence and can also contribute meaningfully to the fast moving globalized and digitalized society.
Celebrating Womanhood…
8th March being observed as 'International Women's Day,' the gentlemen of Vidyani Vidyalaya held a marvellous function for their female colleagues in advance on March 6th which commenced with a warm welcoming of teachers with roses and chocolates. The tone of the programme was perfectly set by the anchor of the show Science teacher.
Mr. Vikas Yagnik who recited some very beautiful 'sher' that encapsulated the life of a woman followed by a graceful dance performance based on the same theme choreographed and performed by Dance teacher Dr. Nilesh Parikh. A few teachers also recited heartwarming poems dedicated to womanhood. The PowerPoint presentation accompanied with the soulful rendition of our Music teacher Mr. Yogesh Rathod took everyone down the memory lane. A sporting session of Antakshari made everyone delighted for the teachers sang to their hearts content.
The event concluded with principal Dr. Archana Mishra giving away the gifts to all staff members and all helper staff. It was a treat to all lady teachers as they rejoiced and celebrated this special day!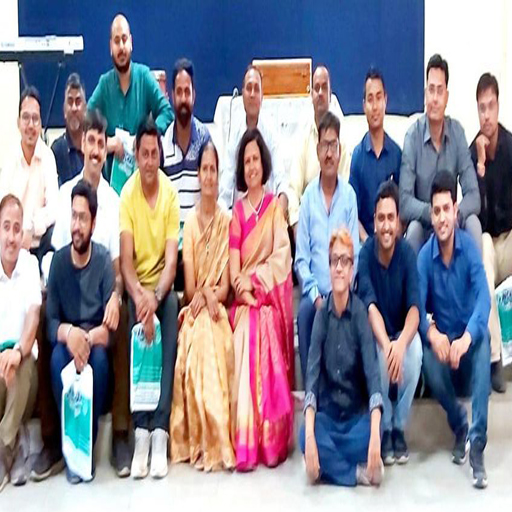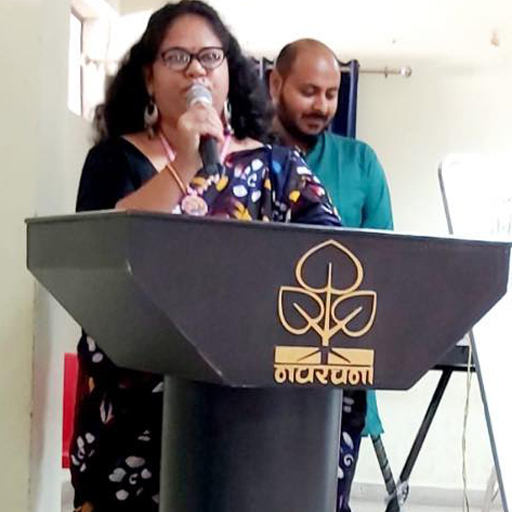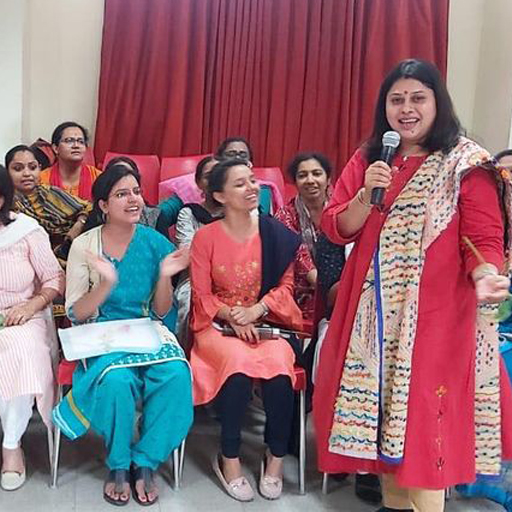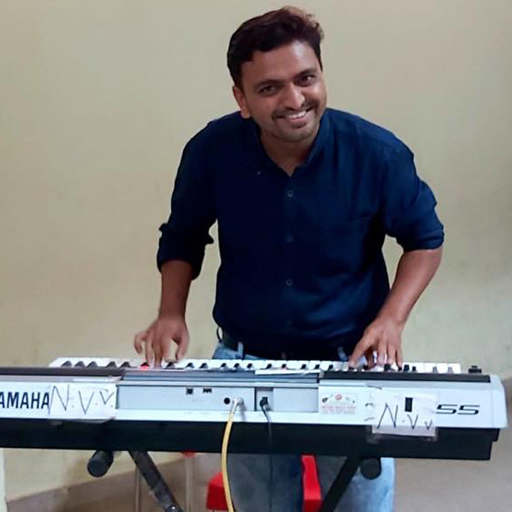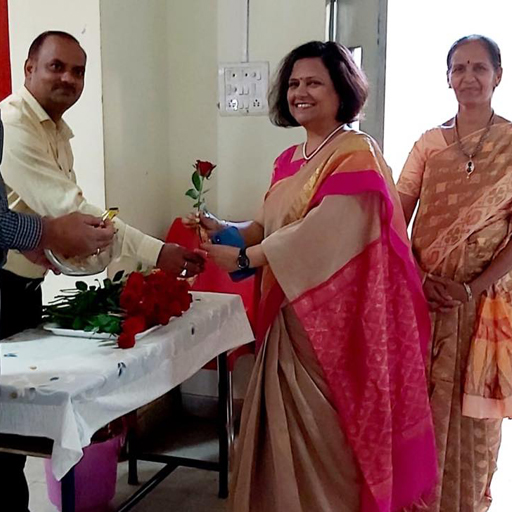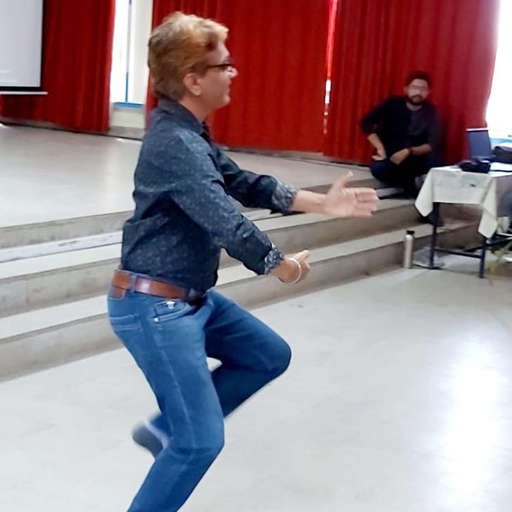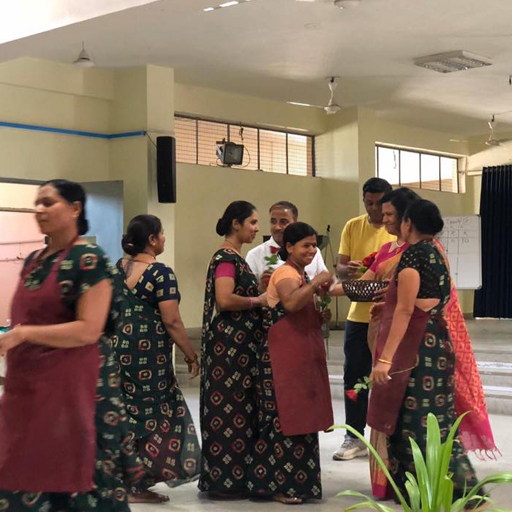 Academic Prize Distribution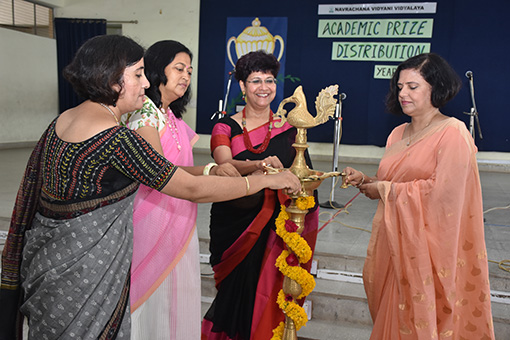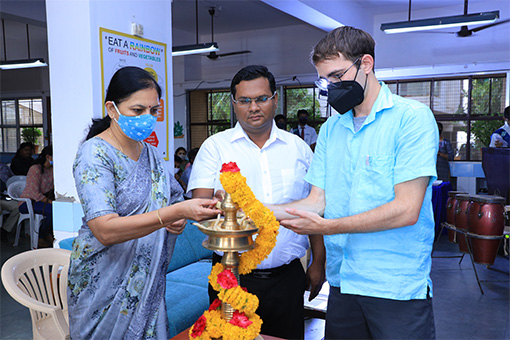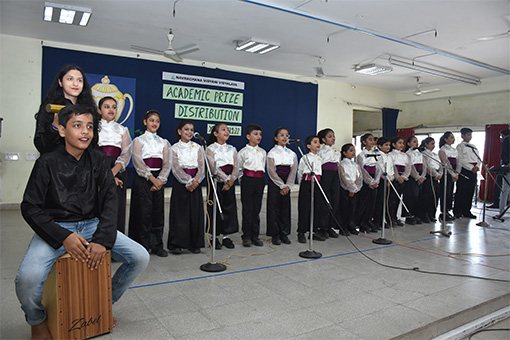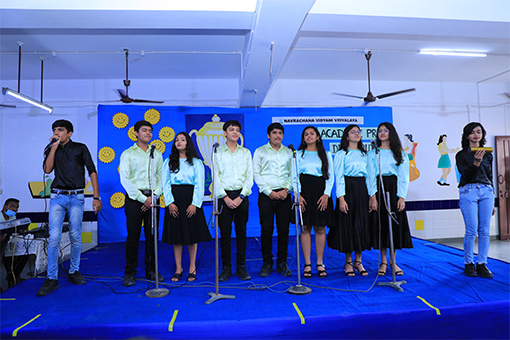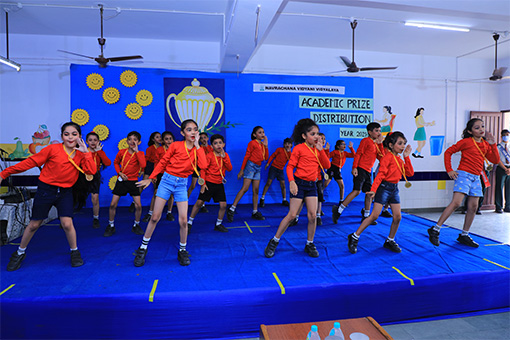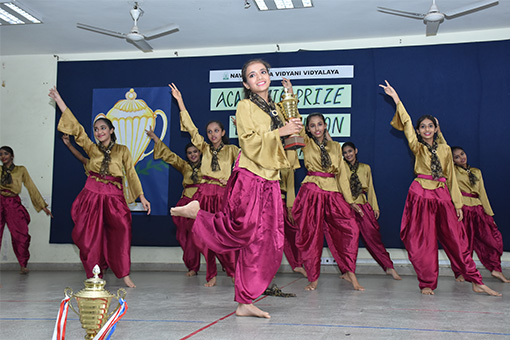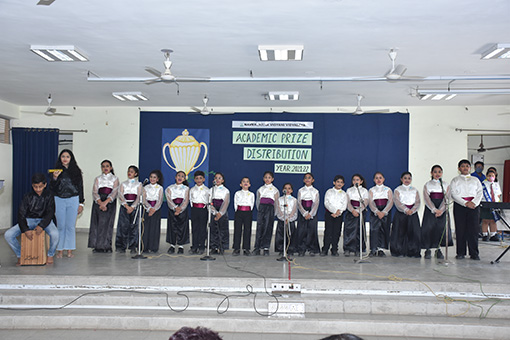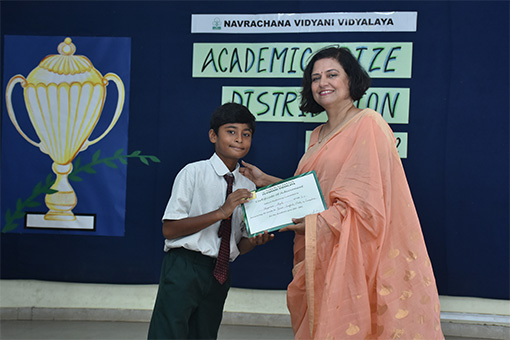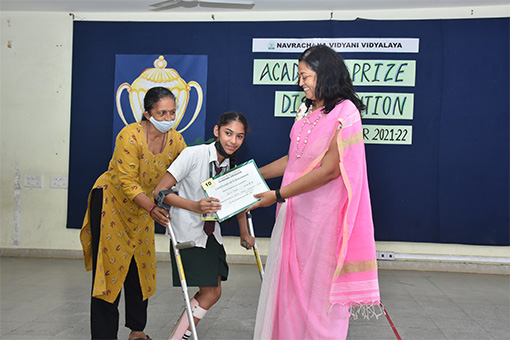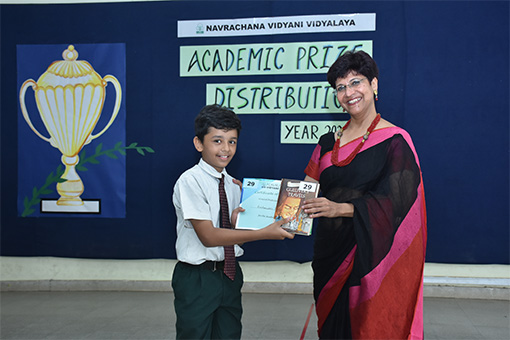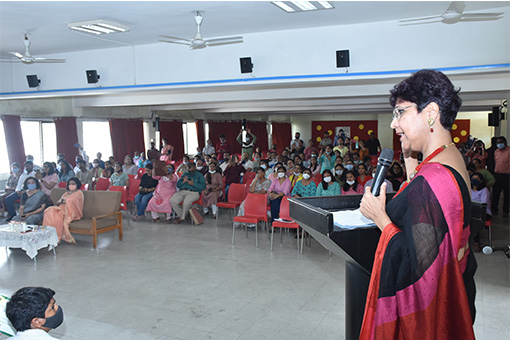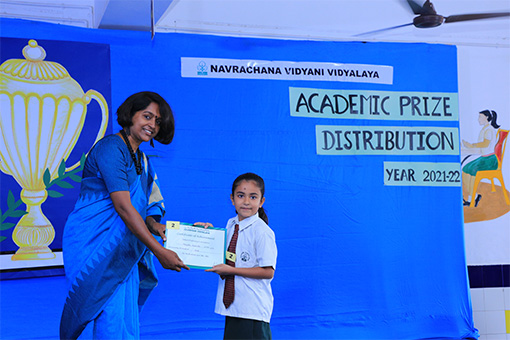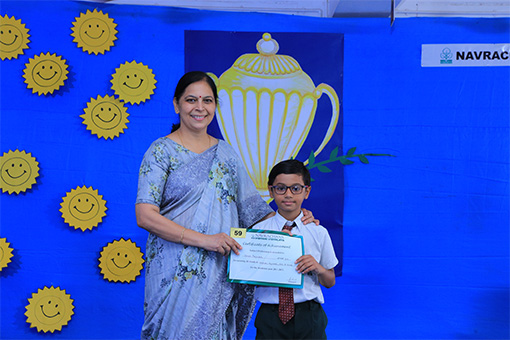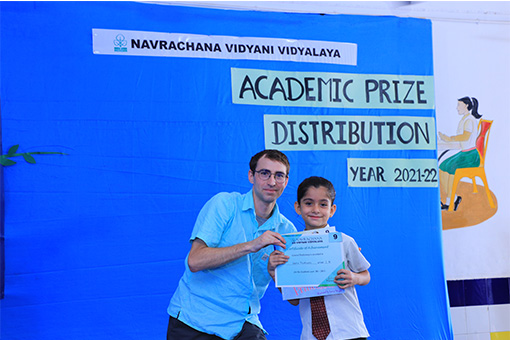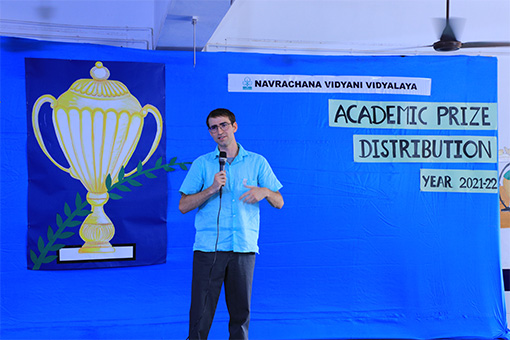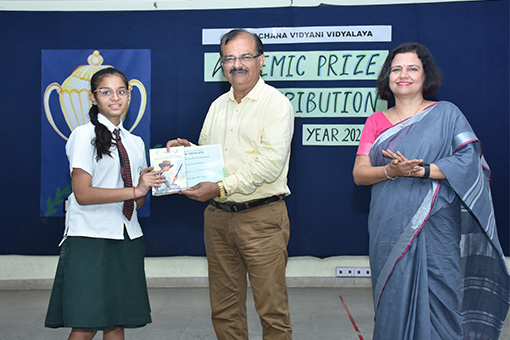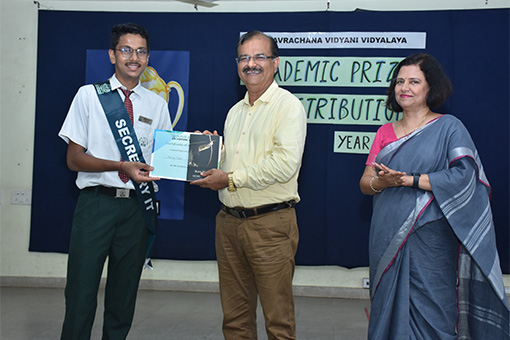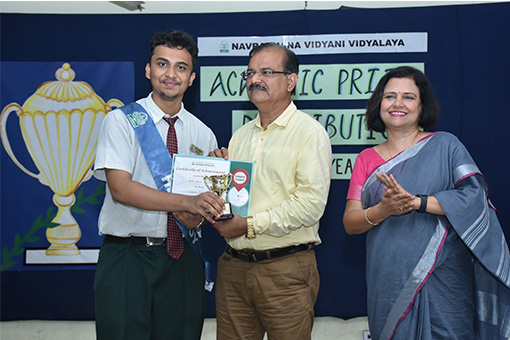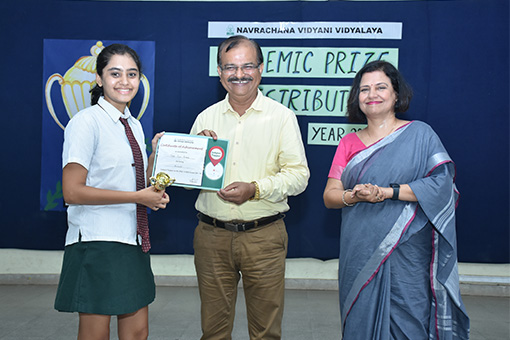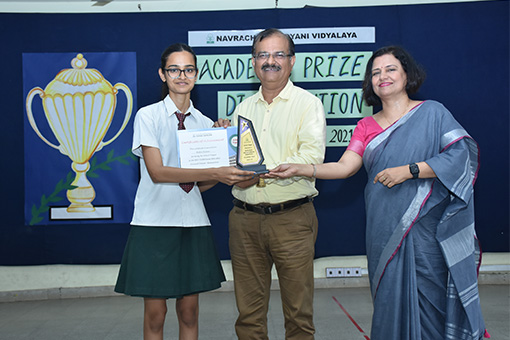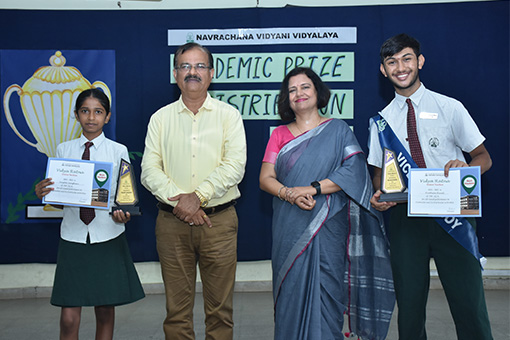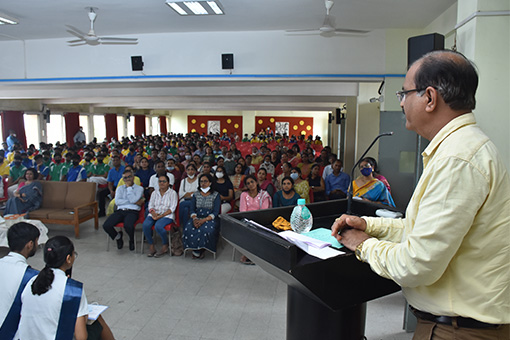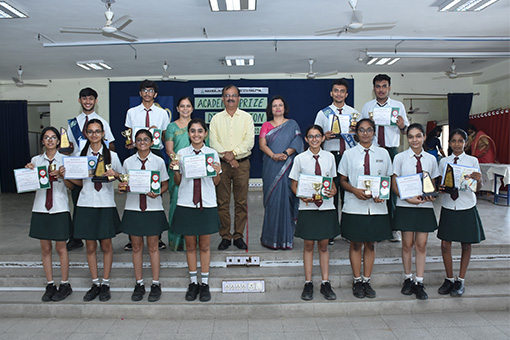 Reaping rich dividends …
Self-belief and hard work always pay dividends and so the Annual Prize Distribution is an event eagerly awaited by students as it marks an acknowledgement of their dedicated efforts. One of the most significant items in the school calendar, the programme was organised in batches over June 29-30.
While Mr. David Sommer (Social Studies Teacher, USA) was the honoured Chief Guest at the event for standards 1 and 2, it was Ms. Kashmira Jaiswal (Vice Principal, Navrachana School Sama) for standards 3 to 5 and Mr. Navnit Mehta (District /Education Officer, Vadodara) for classes 6 to 12. All the three respected Chief Guests dwelt on the integral role of hard work and perseverance in ensuring success and urged students to do their best in whatever field they were interested in. Principal Dr. Archana Mishra too addressed the gathering of proud achievers and their parents wherein she commended the Board Toppers along with the other meritorious students. She also appreciated both teachers and parents for their collective efforts in bringing out the potential of their charges.  As for the prize winners, their beaming faces said it all as they received the rewards of their labour, while the stirring music and dance performances added to the uplifting atmosphere of the whole programme!
Such events definitely serve to boost all achievers to reach new heights even while motivating others to try harder to attain success the next time round!
Anuual Concert 2019

Anuual Concert 2018
Climb every mountain, ford every stream, follow every rainbow, till you find your dream …
An adaptation of the classic movie 'The Sound of Music'
Showcasing Talent :
Annual Class Presentations by Std 1-5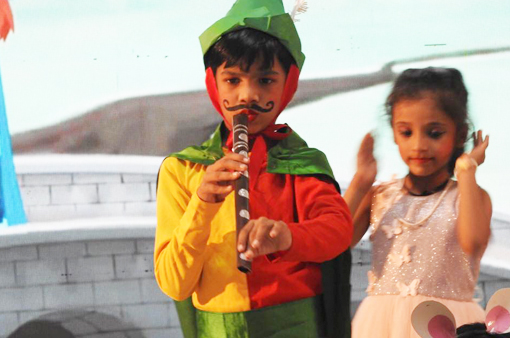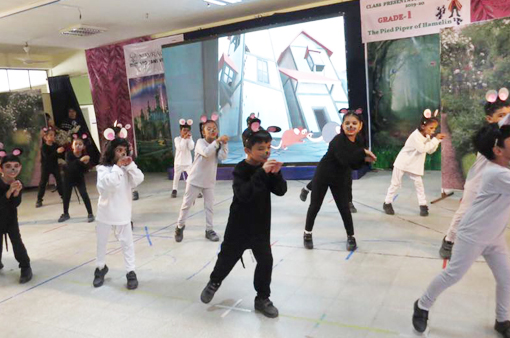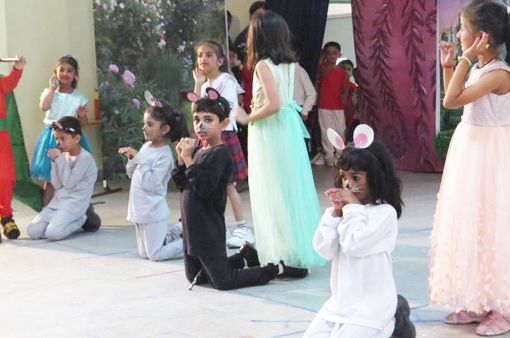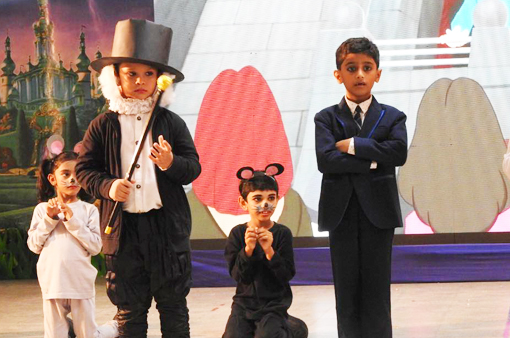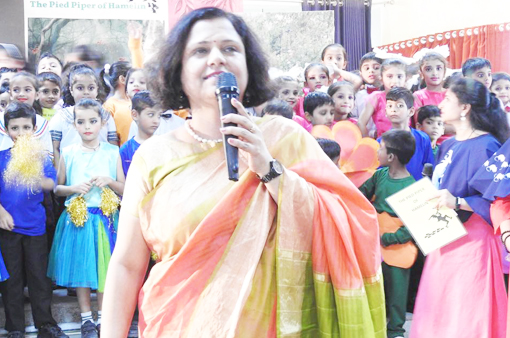 'The Pied Piper of Hamlin' by Std 1
'Snow White and Seven Dwarfs'
by Std 2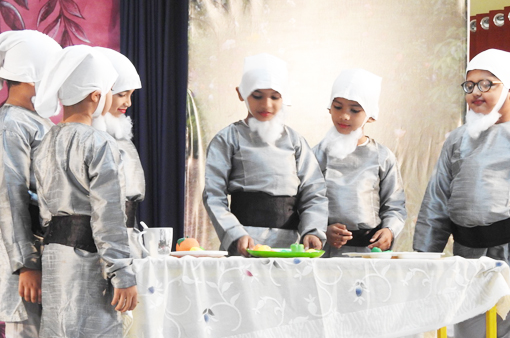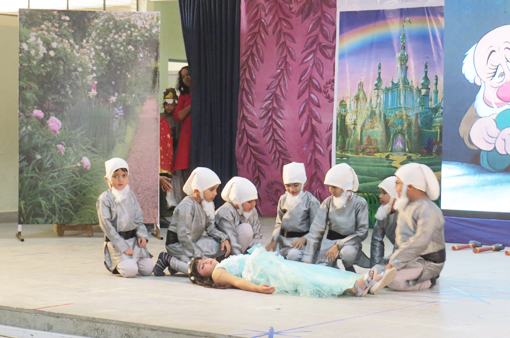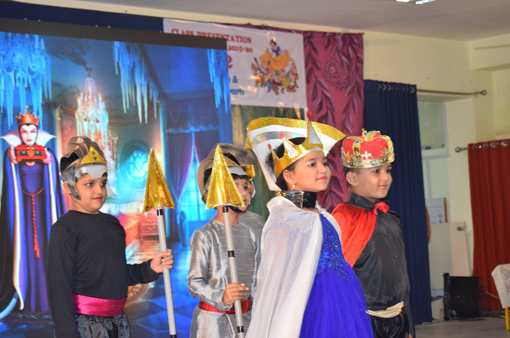 Annual Sports Meet 2019 - 2020

Annual Sports Meet 2018 - 2019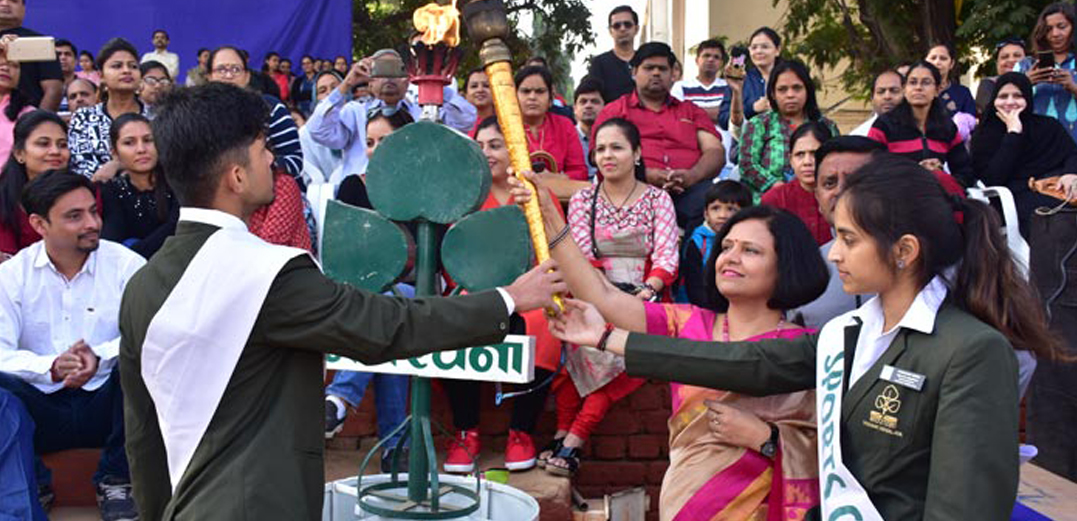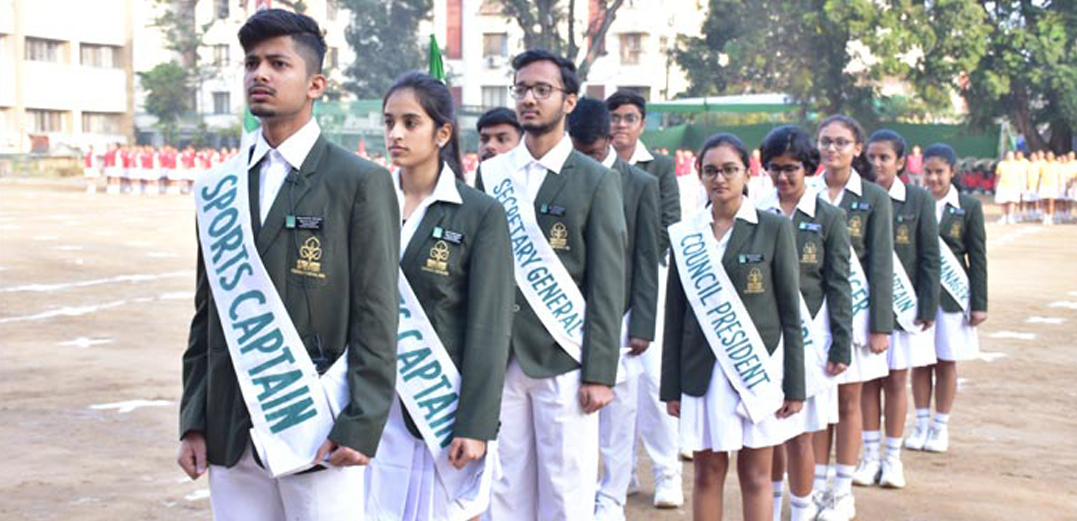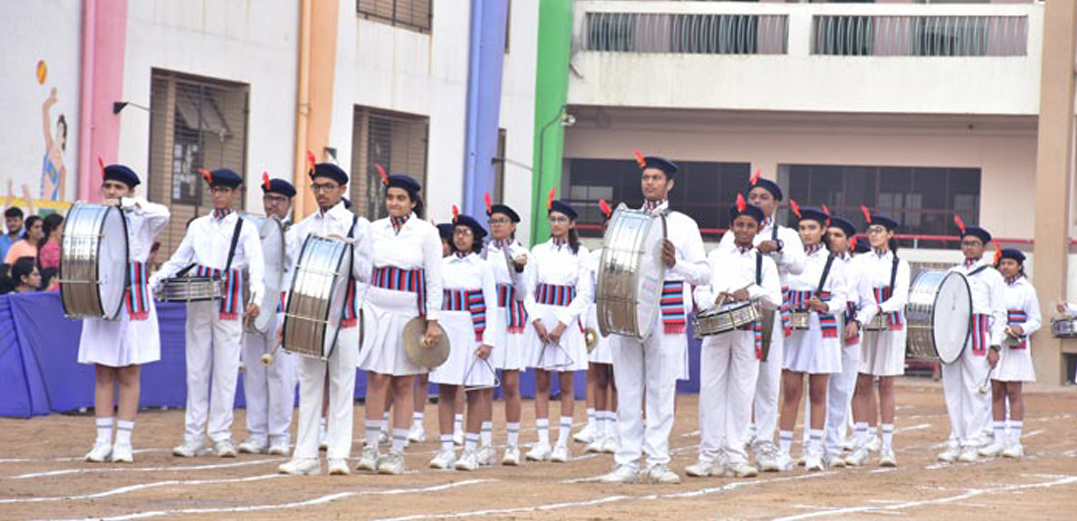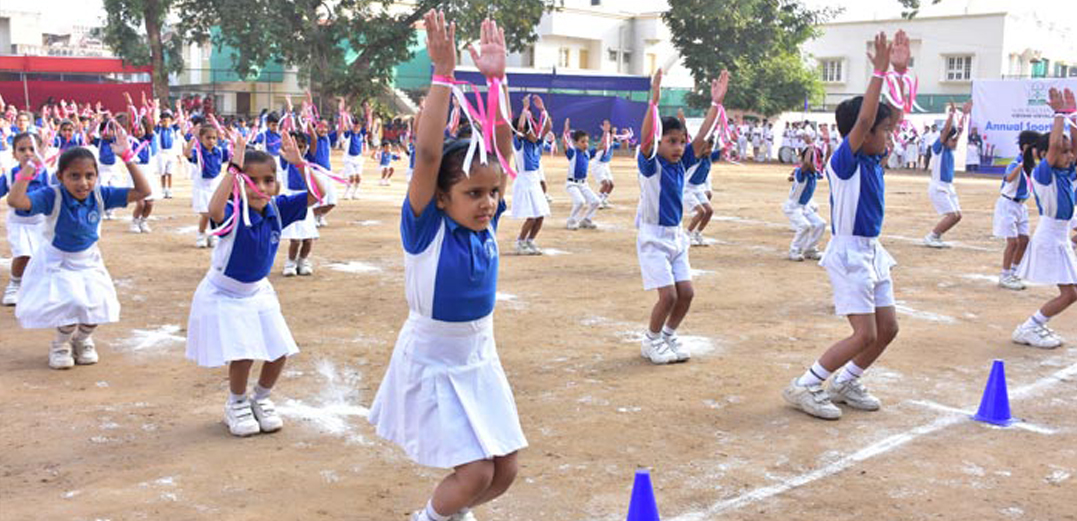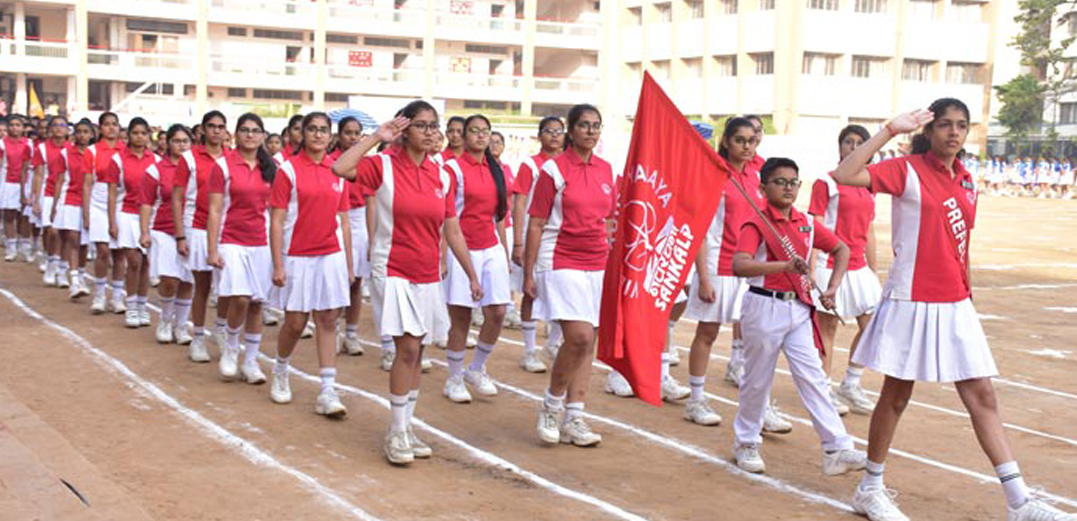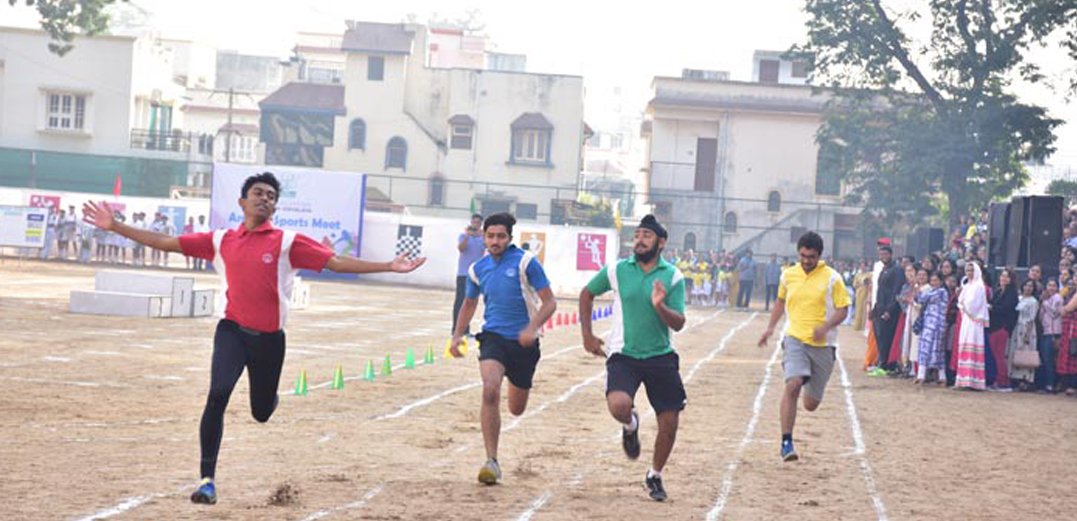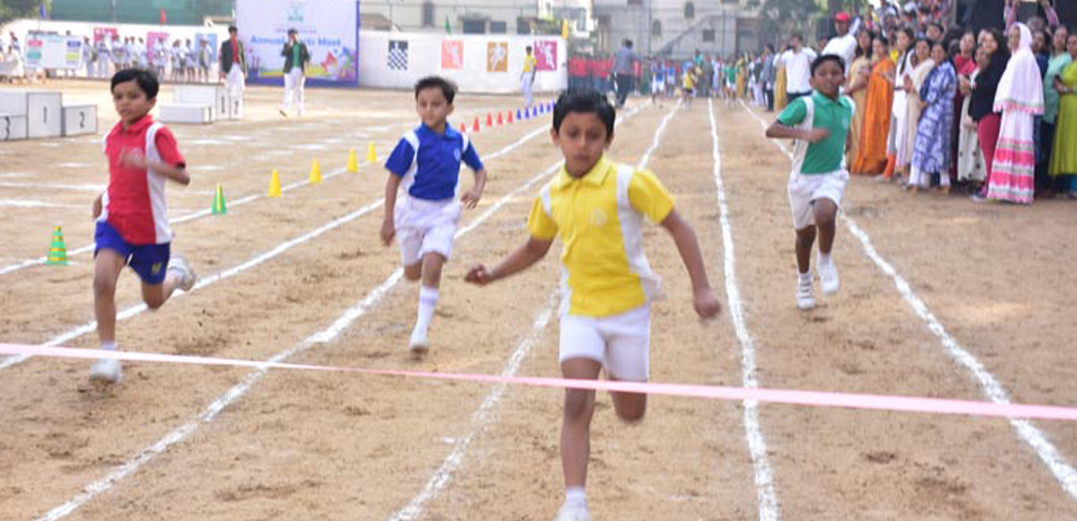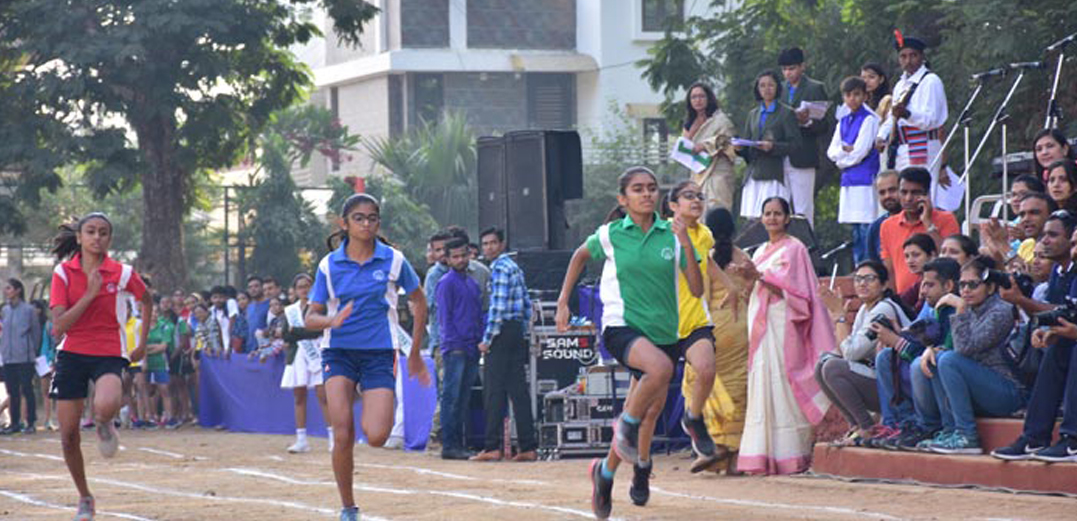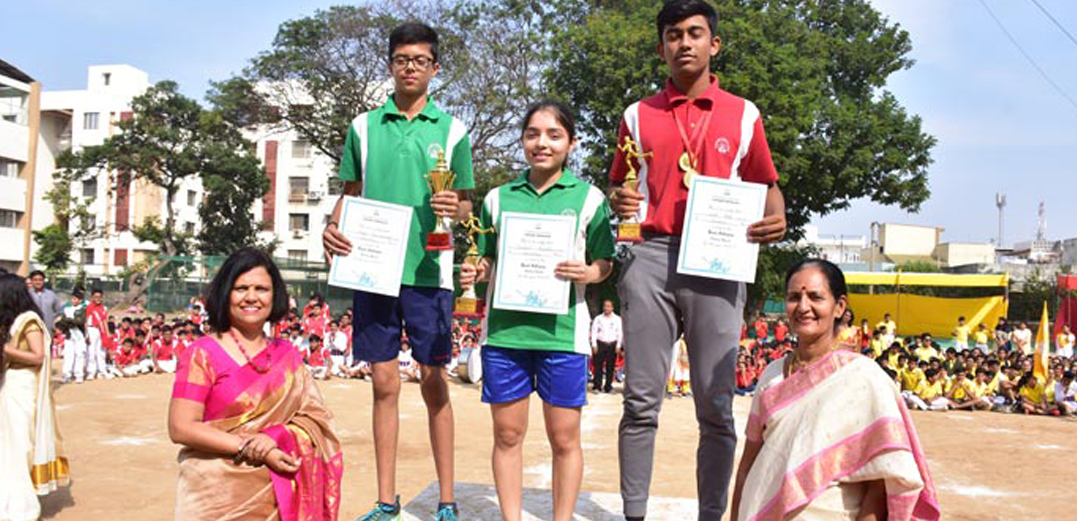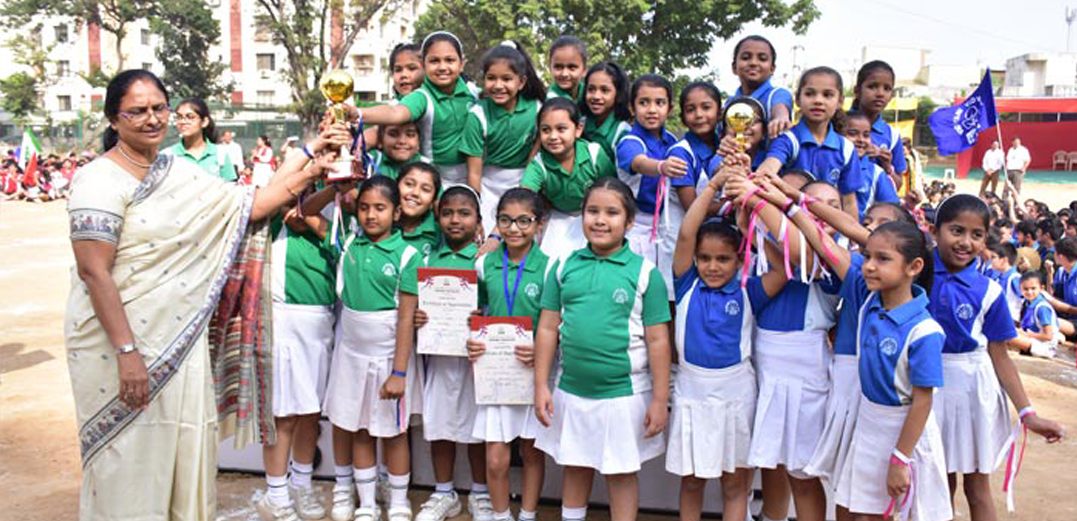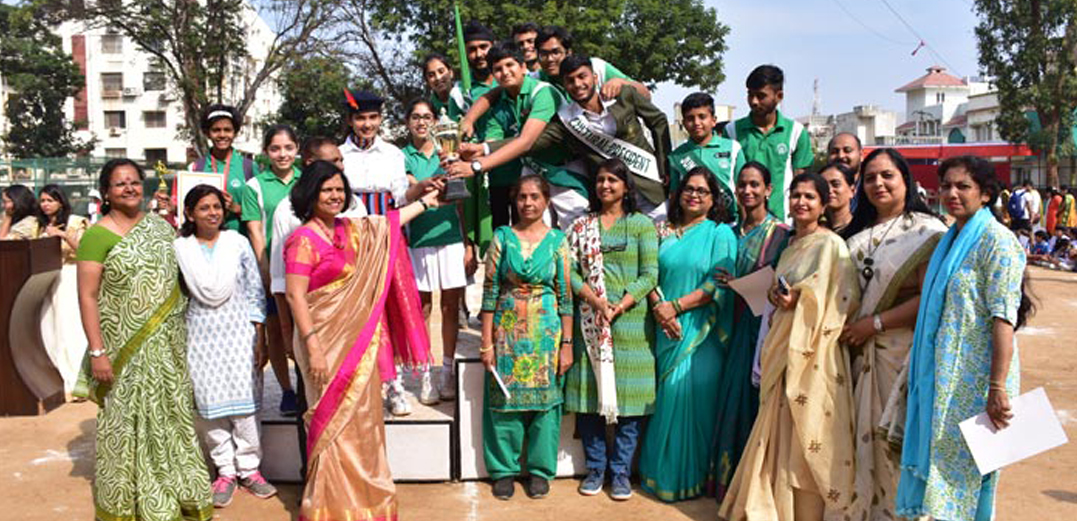 A spectacular, impressive and synchronized March Past by the 4 House contingents, including a special March Past Drill by the senior girls as a tribute to woman power, set the tone for the day. Embellishing the event further were the field displays, the Callisthenic Drill and Zumba Drill, which splattered much musical energy on the ground! But the highs were reserved for the much awaited races. Our fleet footed athletes competed with each other to set the tracks on fire and the excitement levels simply soared. The thrilling performances also aced points to their House tallies and helped in their quest of the coveted Cock House Trophy.
Valedictory 2019-2020

Valedictory 2018-2019
Vidyani Grade 12 Batch 0f 2019-20 were given a heartfelt send off on February 15, 2020 in the Valedictory Function and the Chief Guest of the ceremony was Executive Vice President and Head, Power Plant Business of Larsen and Tubro Mr. Derek Michael Shah.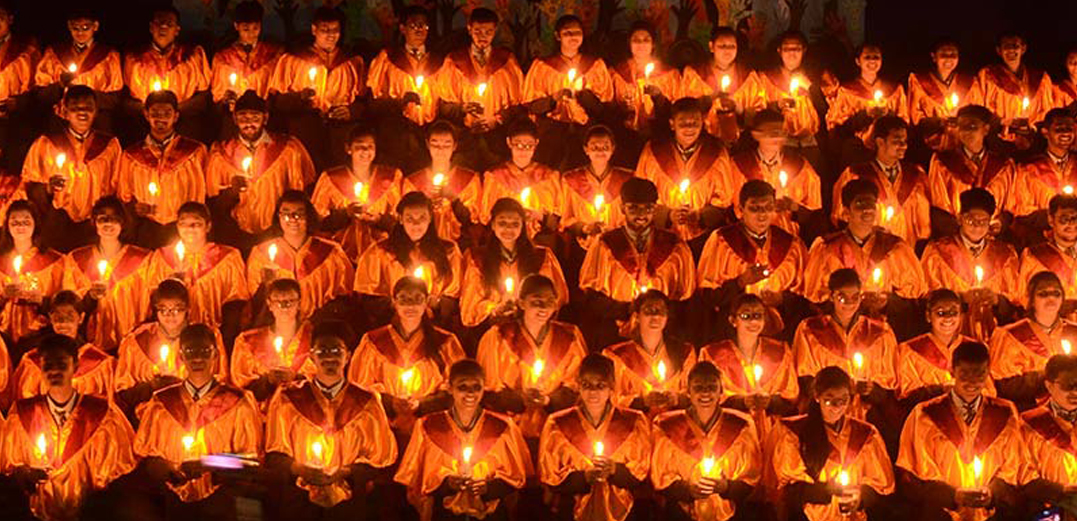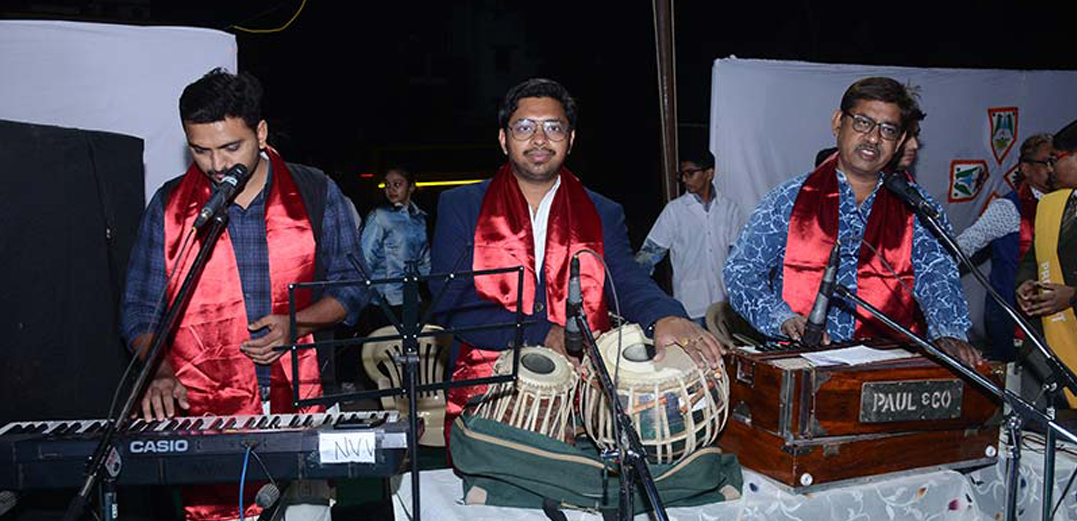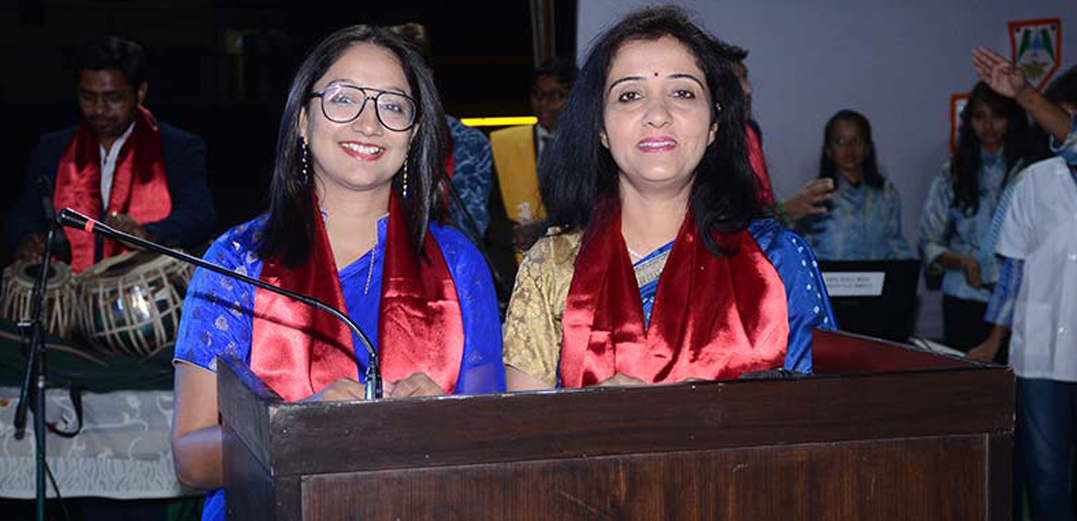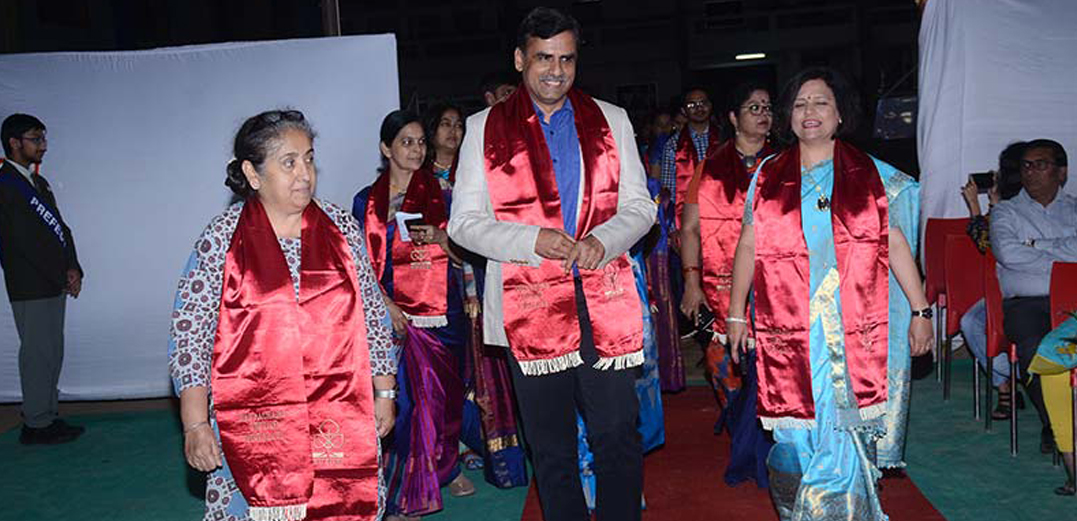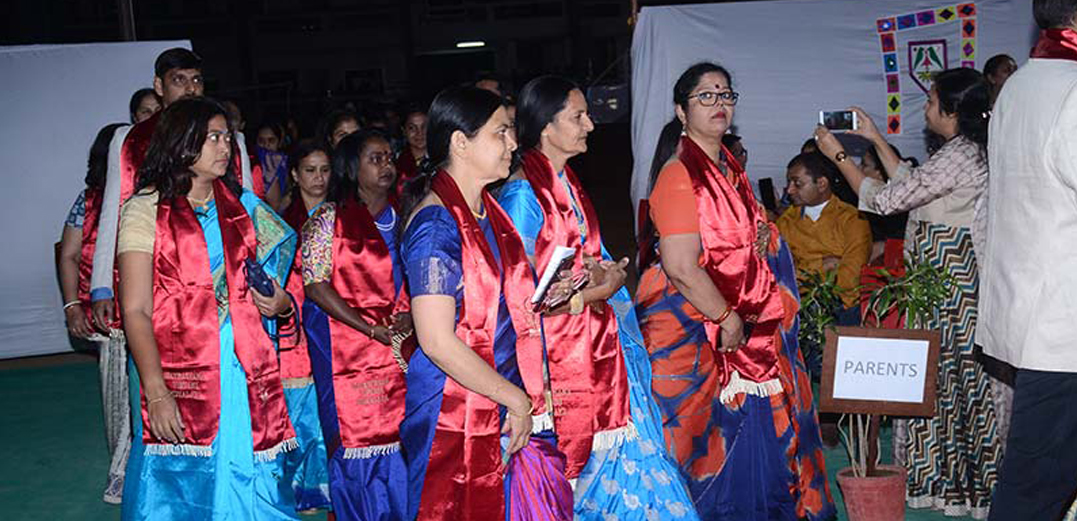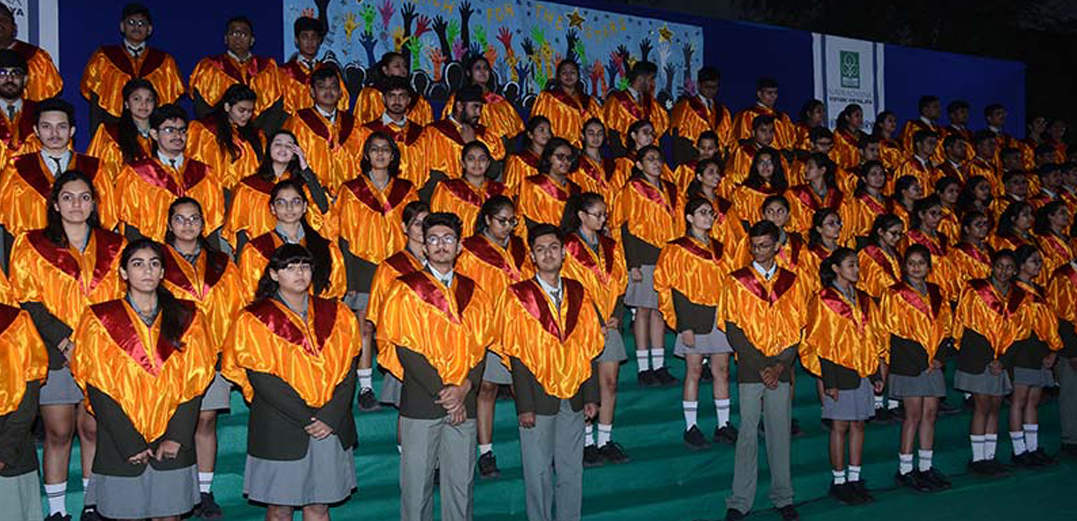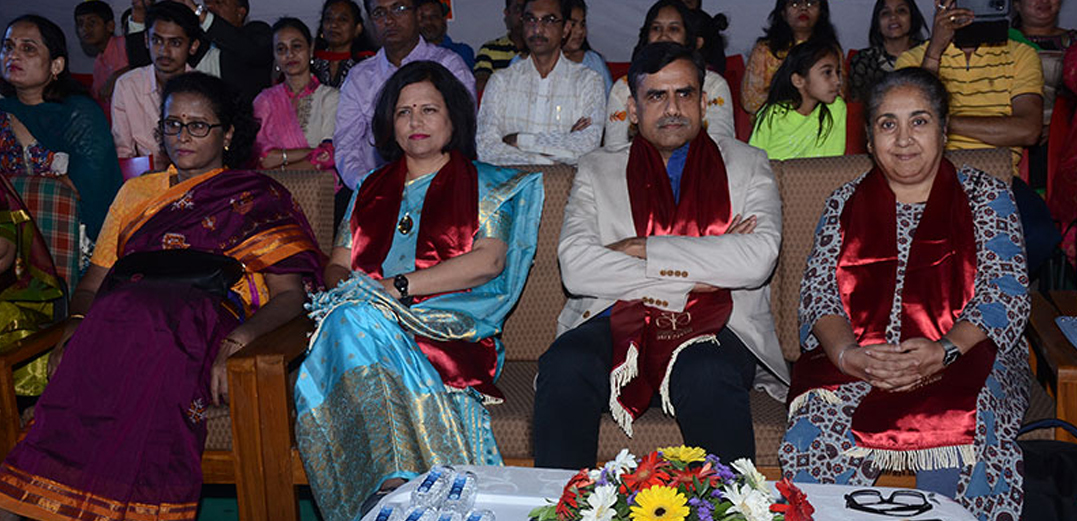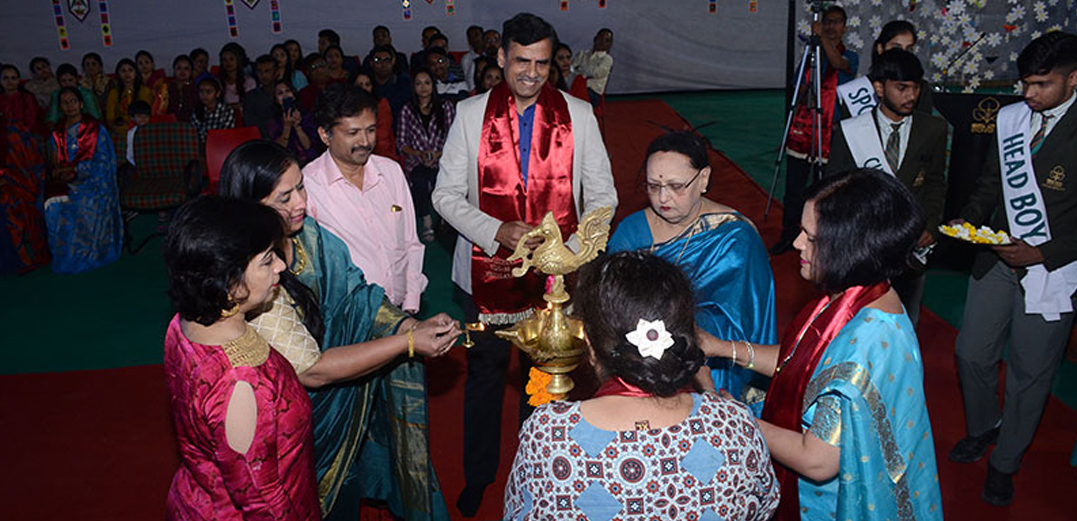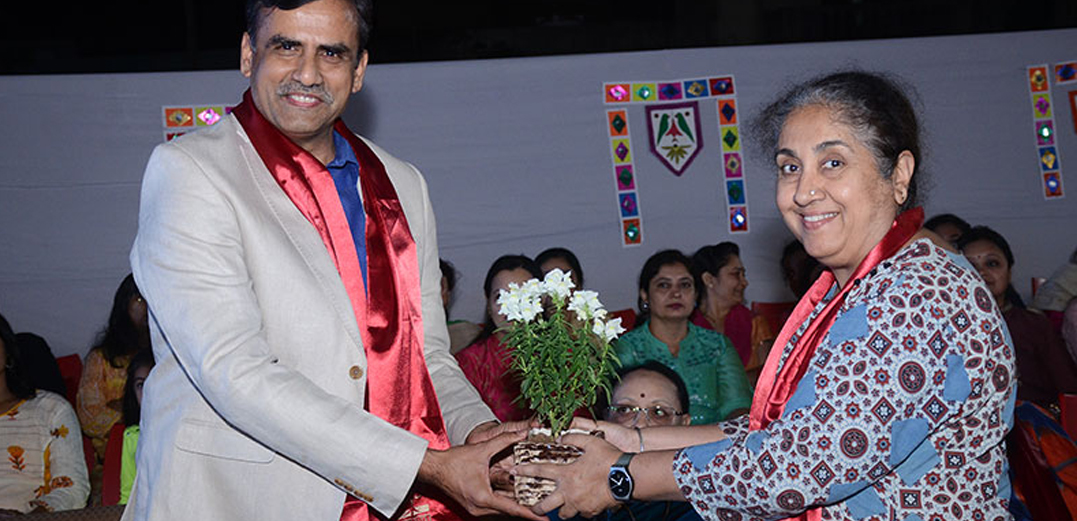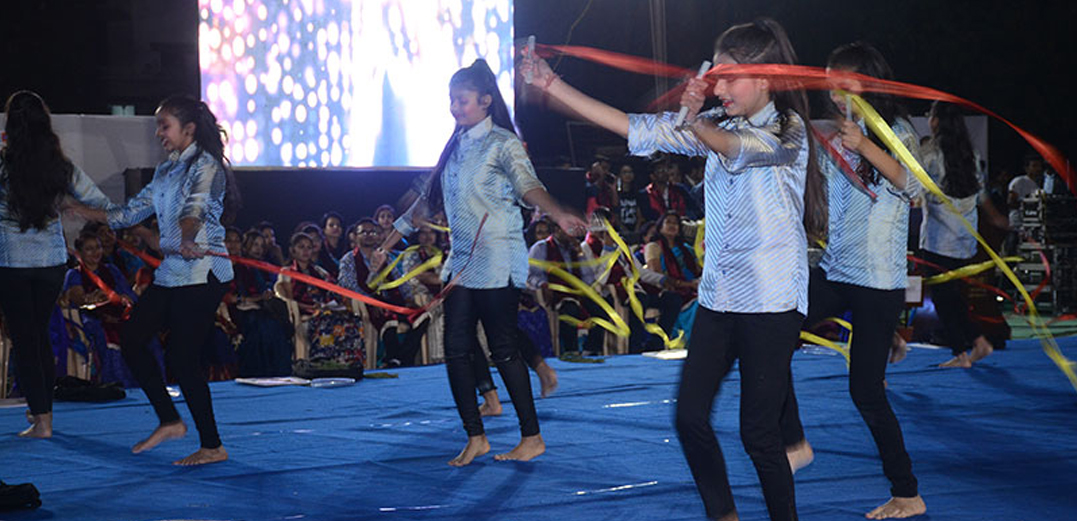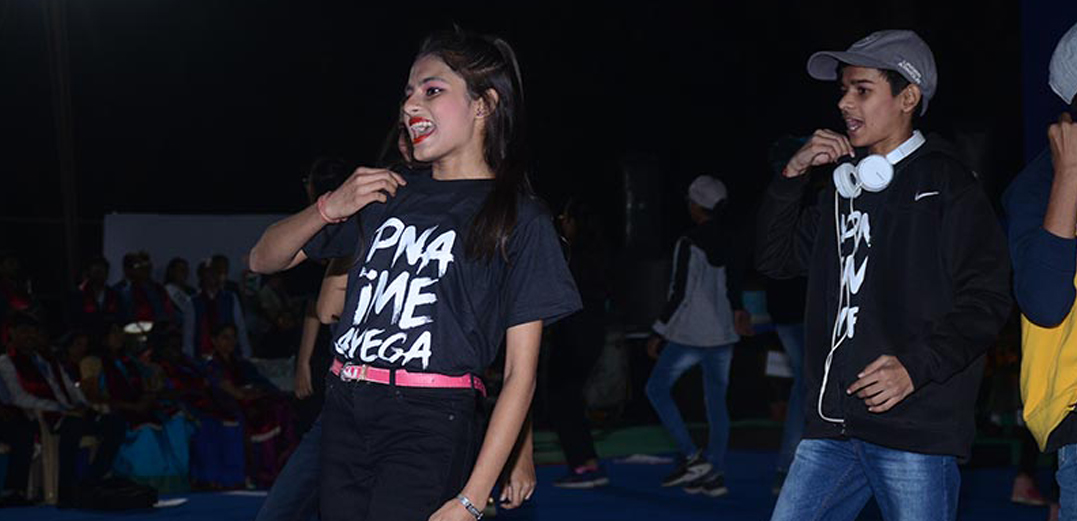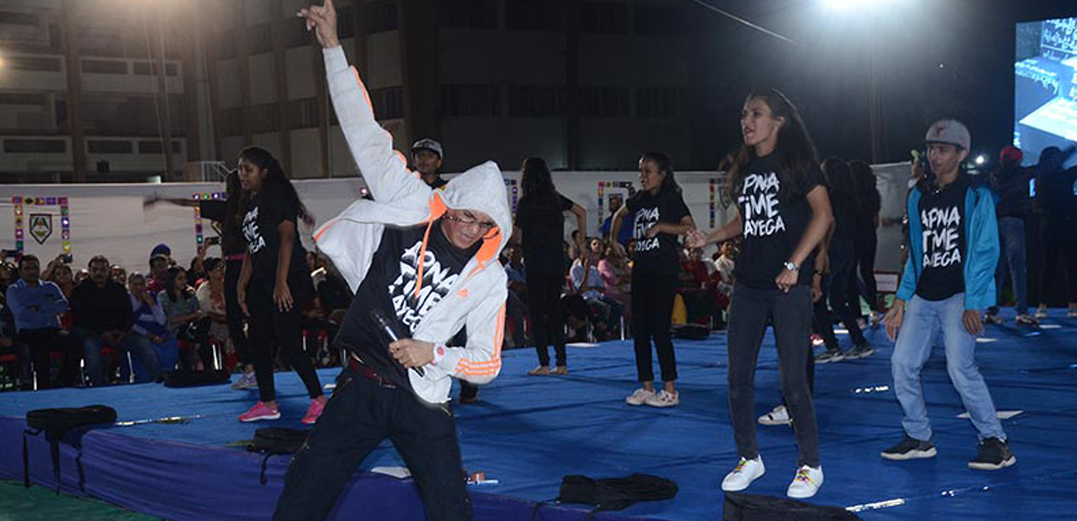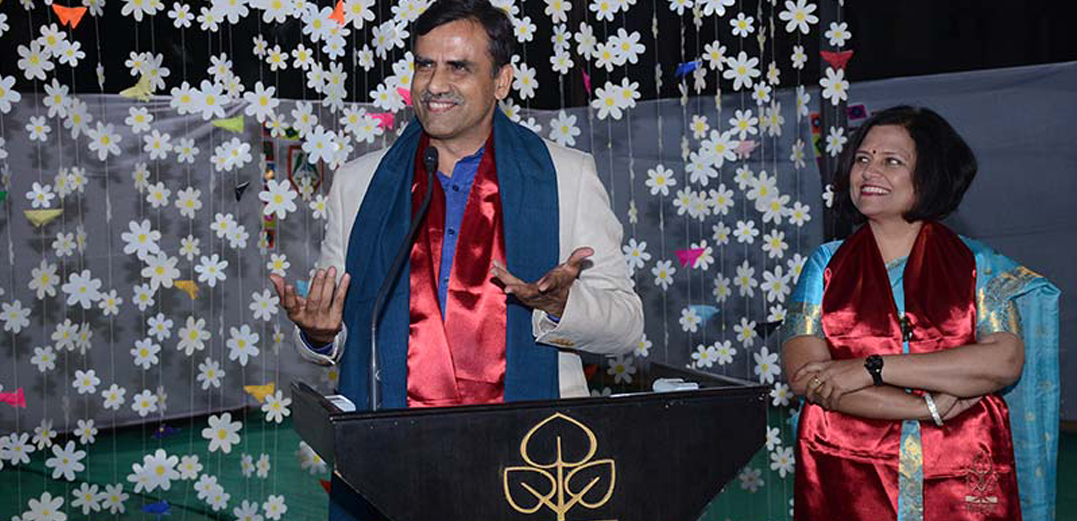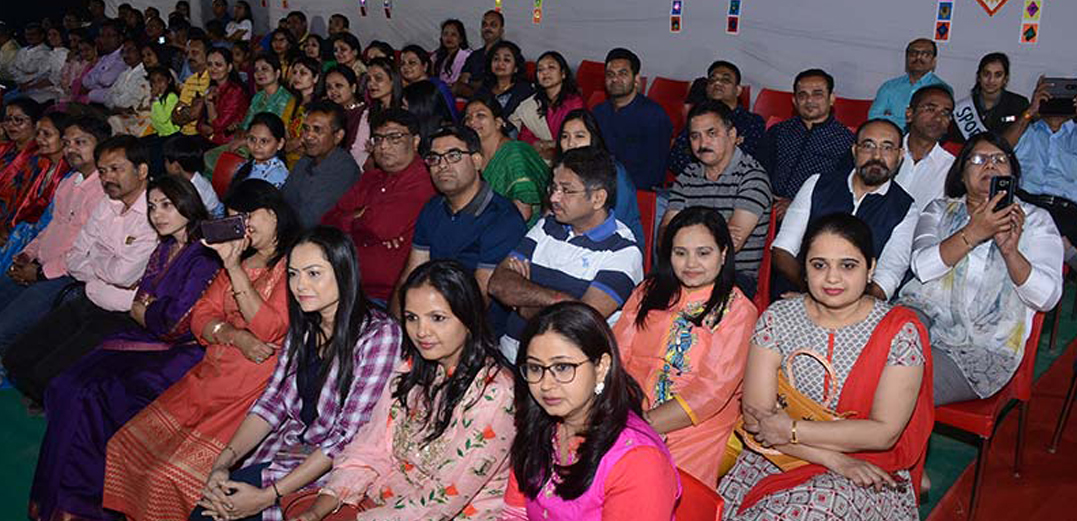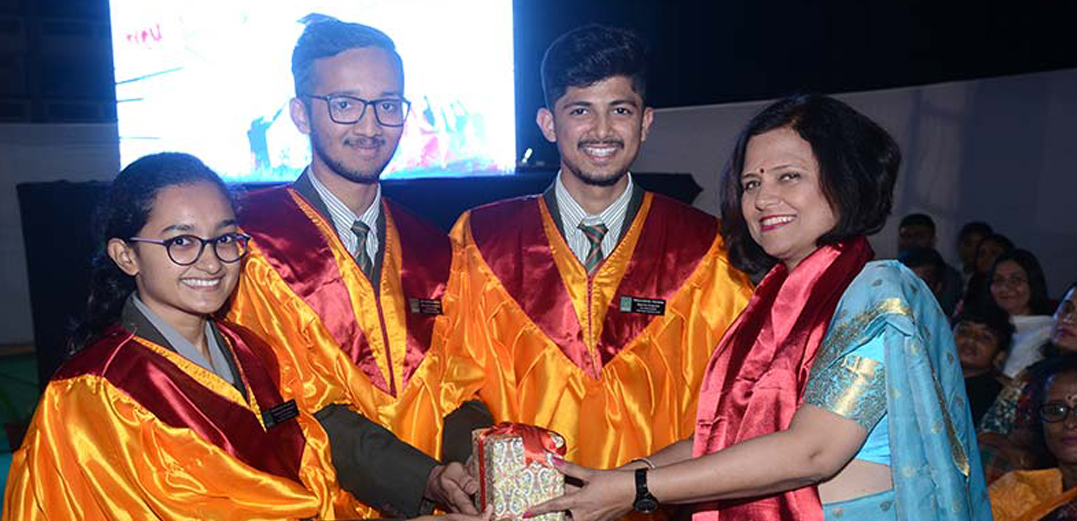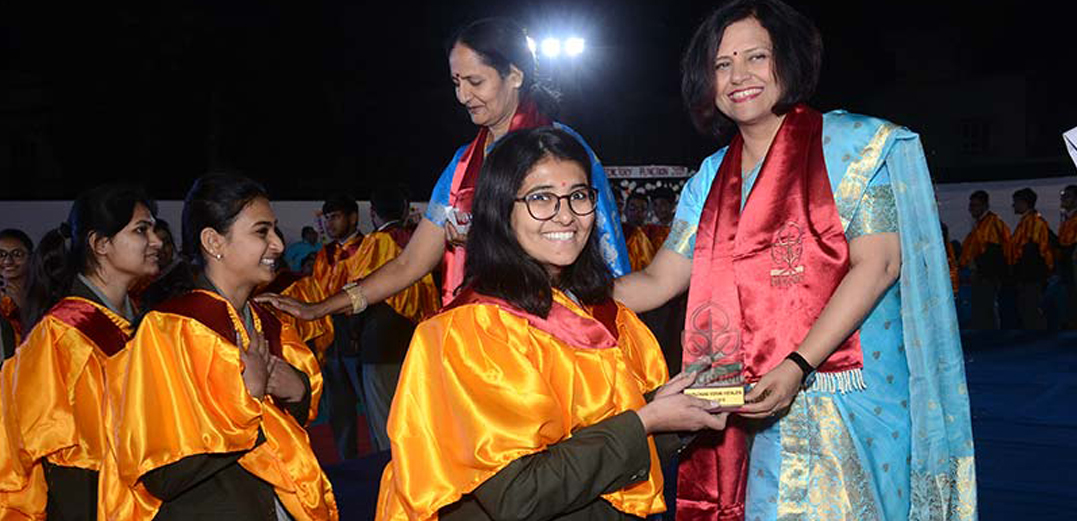 Navrachana Vidyani Vidyalaya fondly bid adieu to the batch of 2018-19 on February 16, 2019.

The function was graced by Chief Guest, Mr. Samir Parikh – Founder, Naman Integrated Management Services Pvt.Ltd., SandhyaGajjar- Trustee-NES, SuprabhaMenon-Principal NavrachanaSama, and Rekha Mishra- Director, NES Resources Development.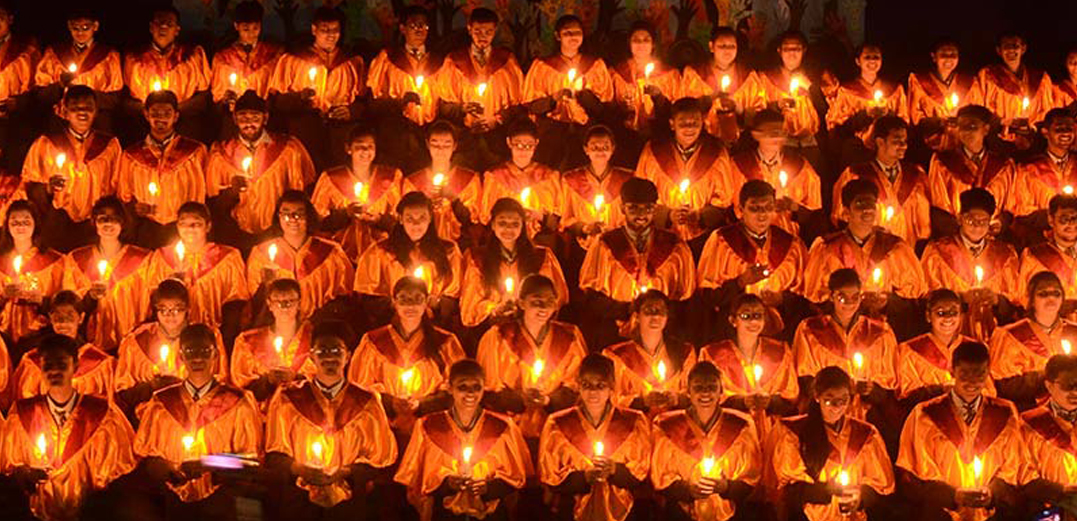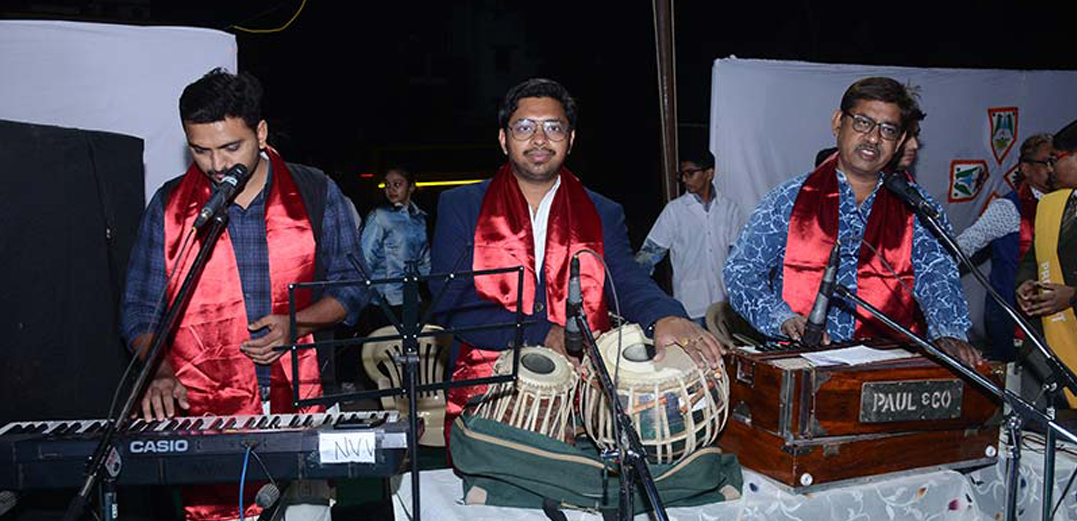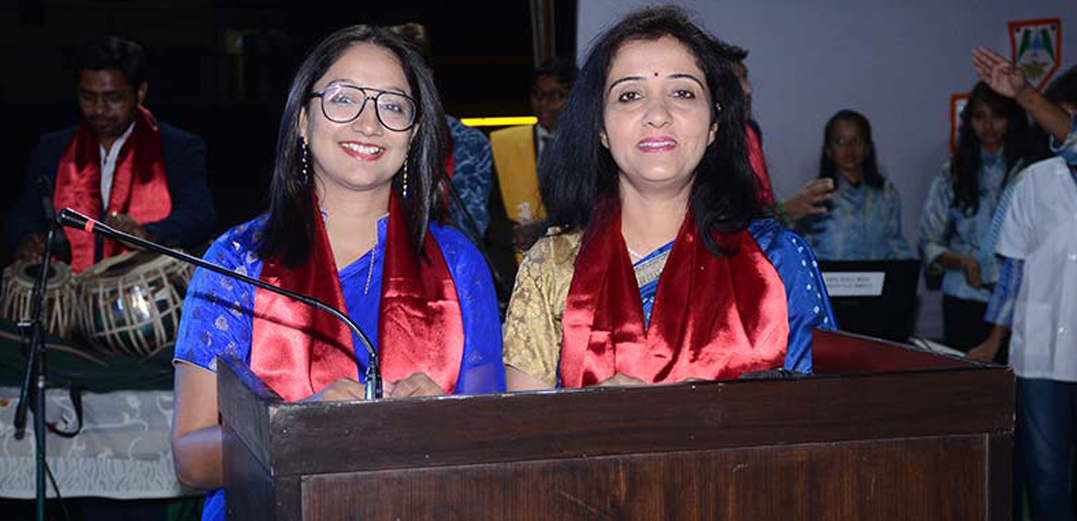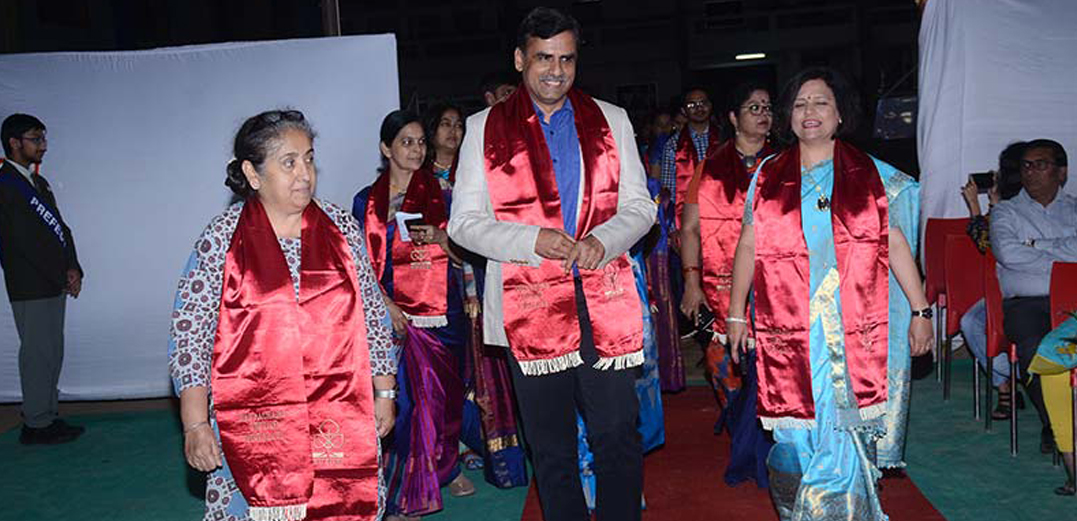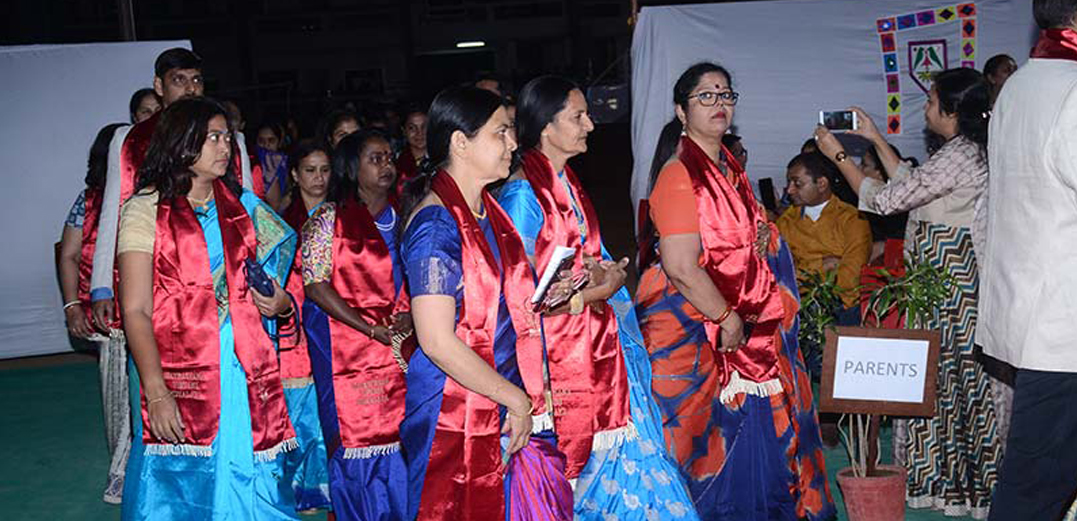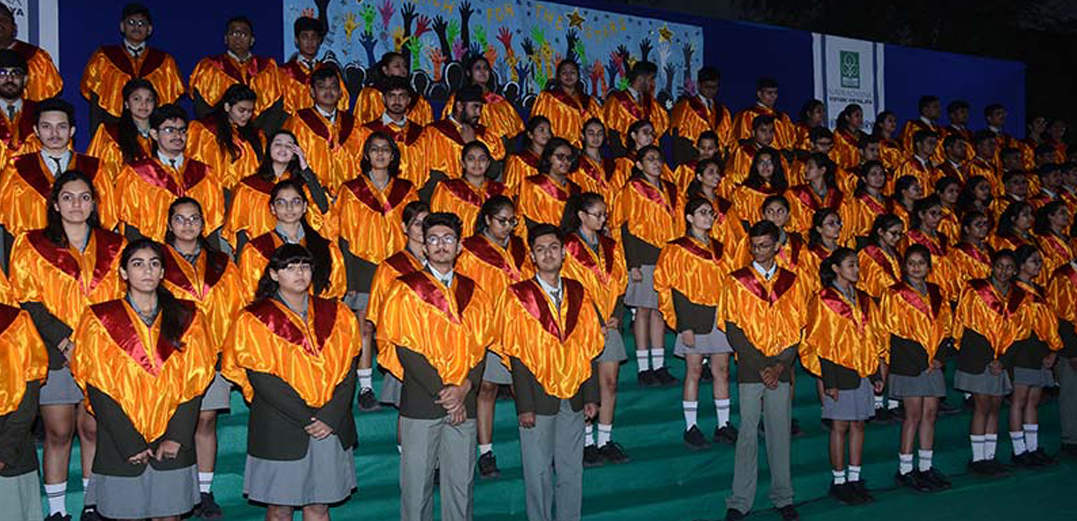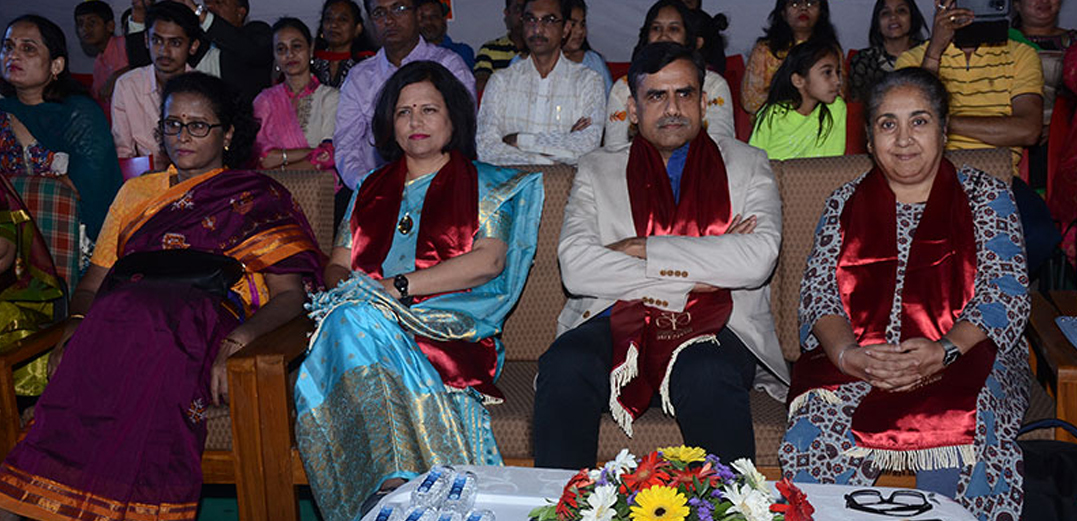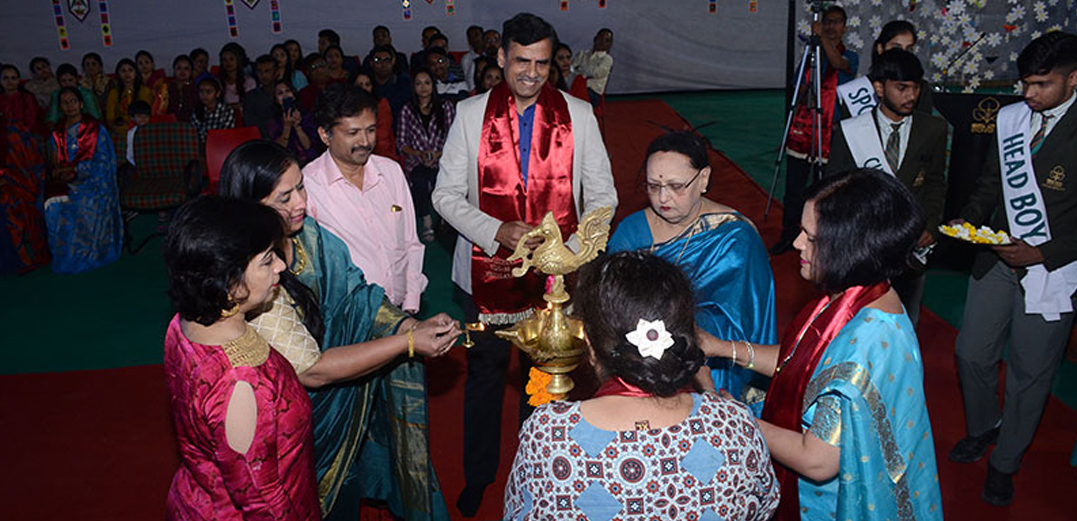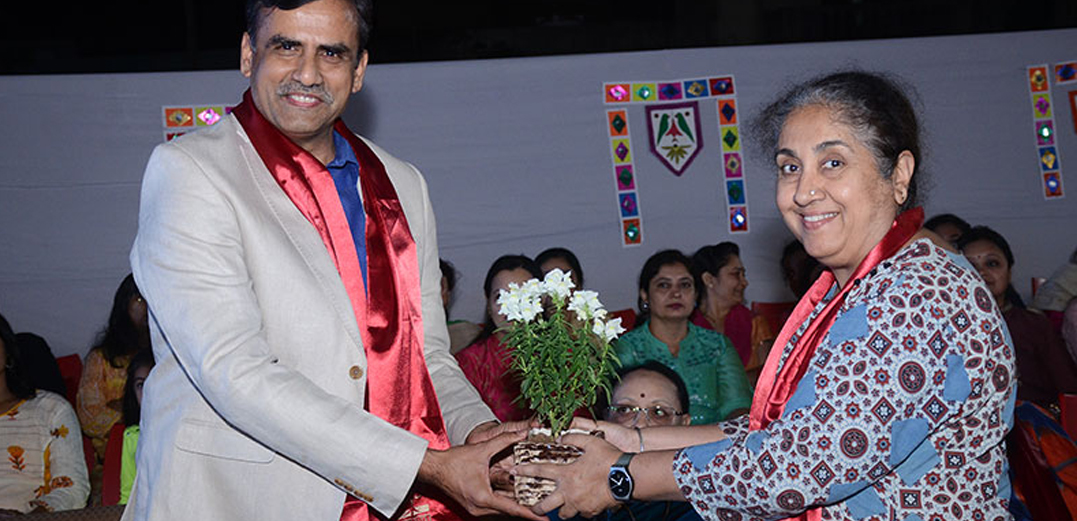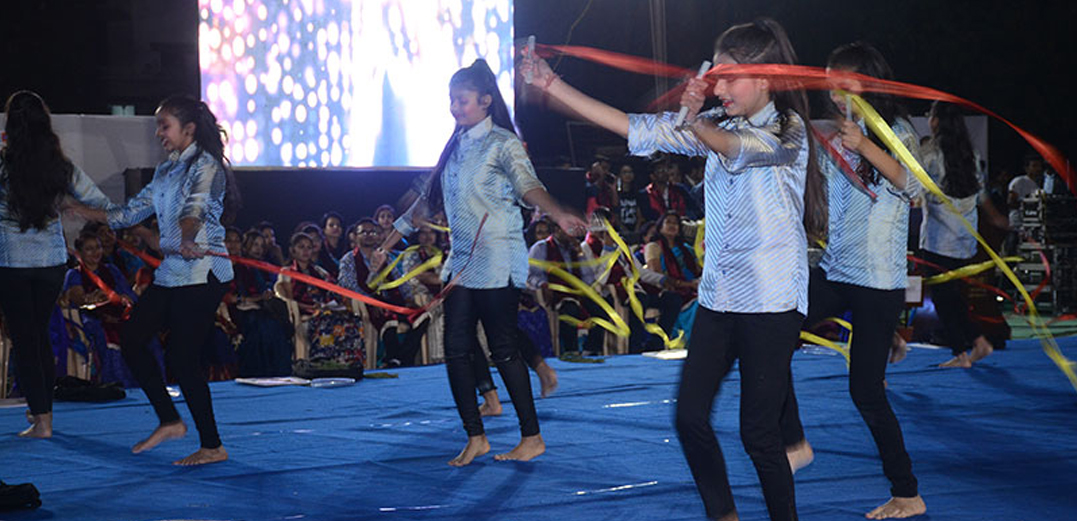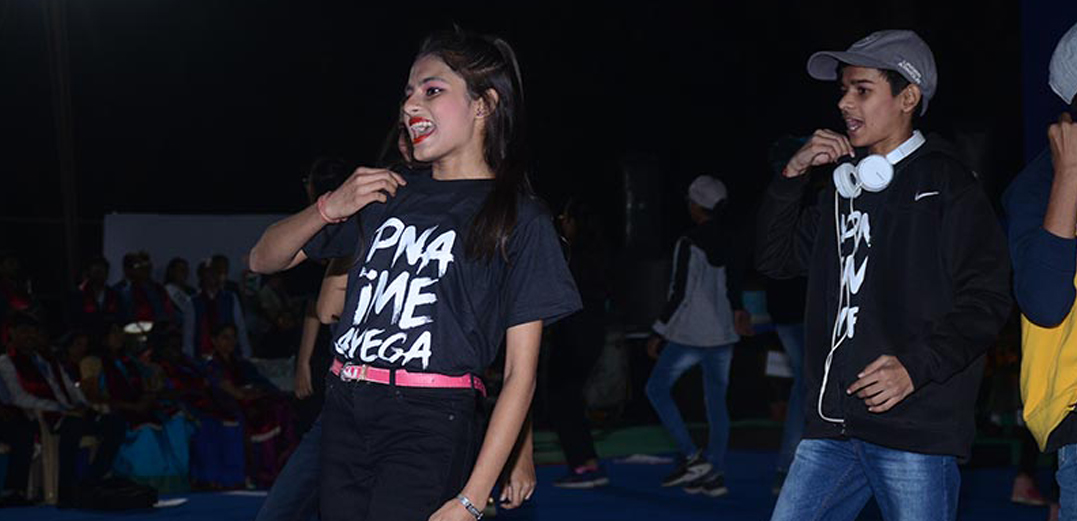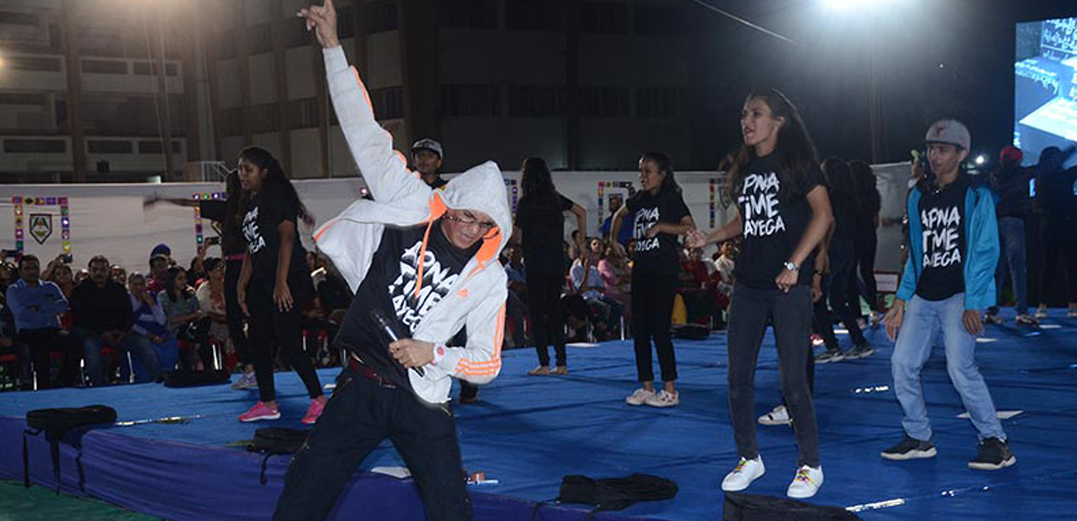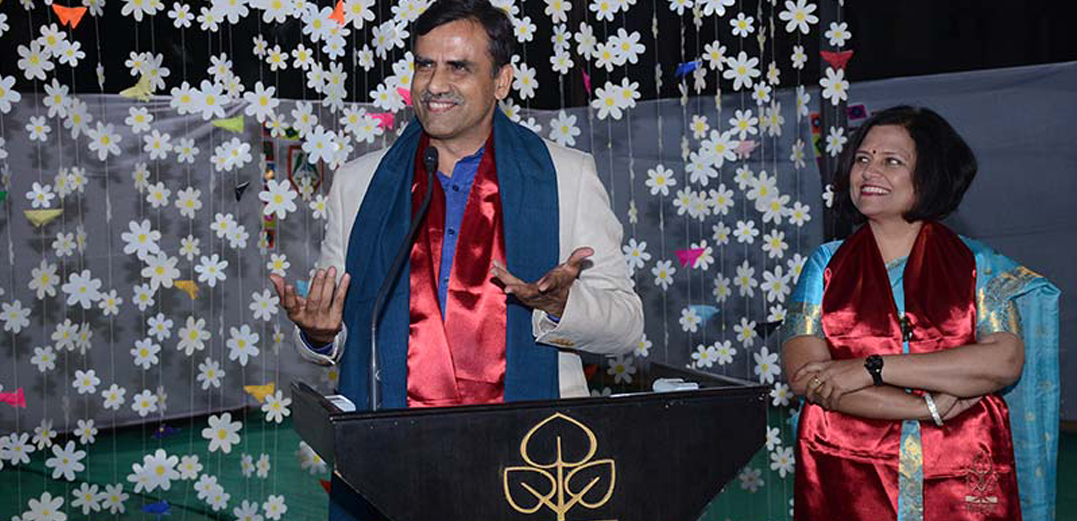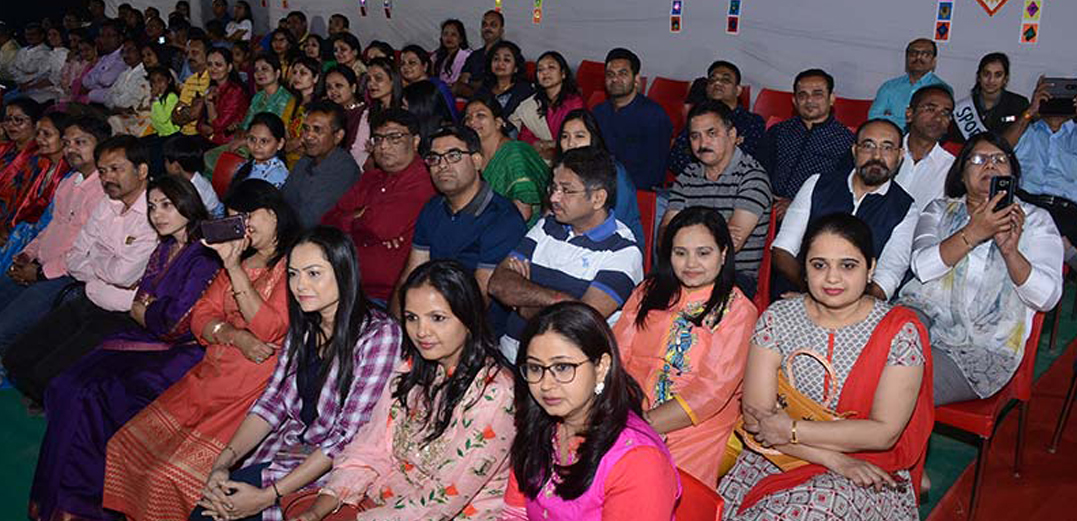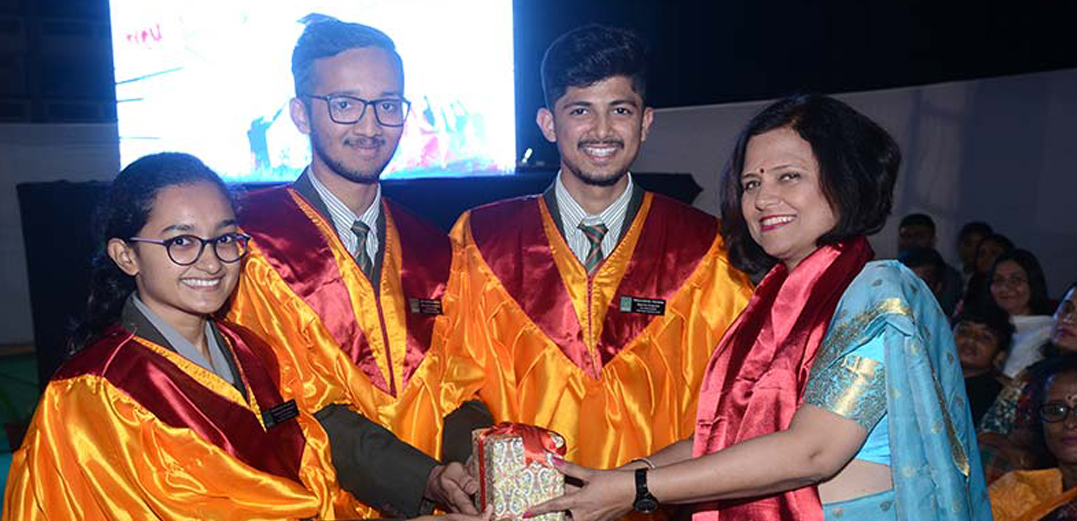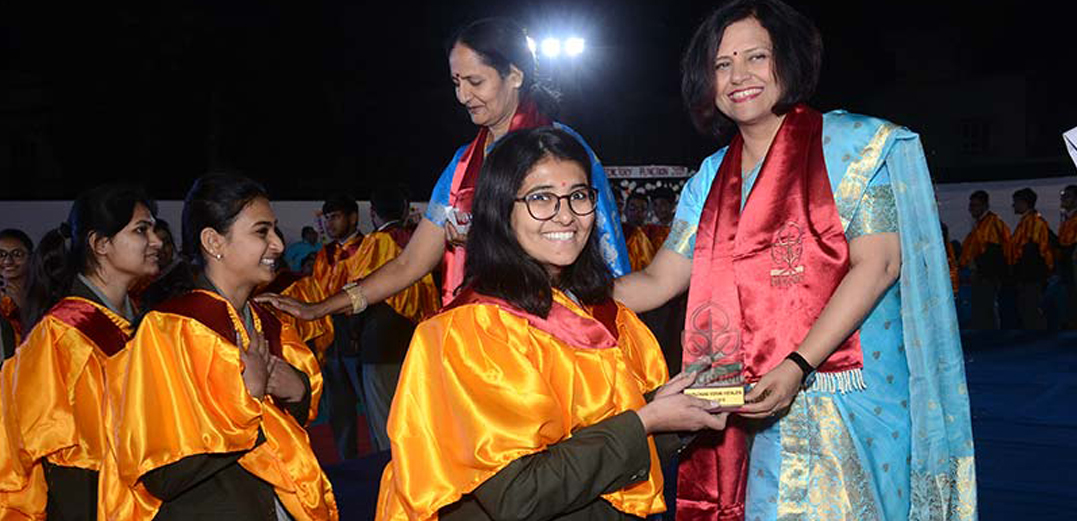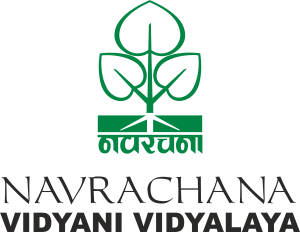 Navrachana Vidyani Vidyalaya School
Address : Near Sama Sports Complex, Sama, Vadodara 390024 Gujarat ( INDIA )
Tel.          : 0265-2792285, 2780539
Email      : vidyani@navrachana.edu.in
Website : www.vidyani.navrachana.in
Back To Top