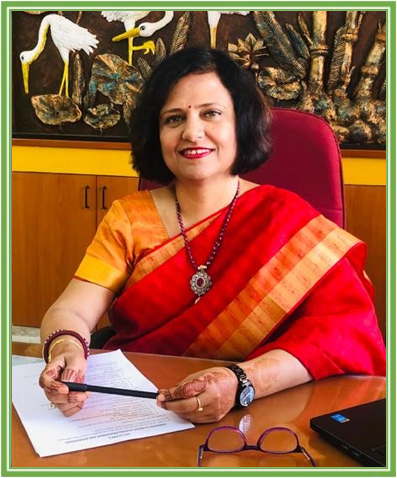 Dr. Archana Mishra
Principal
Navrachana Vidyani Vidyalaya 
Navrachana Vidyani Vidyalaya is a fertile nurturing ground for the new age learners where students are steered towards the gradually evolving scenario of education. The unknown is being explored and the future envisioned. There is a plethora of opportunities for children to discover their talents and realise their potential. We put special emphasis on happiness and well-being of our staff and students. A child with a happy heart and a confident, ignited mind spends a worthwhile childhood in Vidyani and walks out of here with grit and determination to innovate and create.
Looking back at the year gone by I mention with pride that our teachers poured their heart and soul in inculcating values that the children will carry throughout their life. Constant efforts were made to teach various skills in order to bring out the best in children, helping them to be good and confident individuals.
Our students have been making a mark in academics as well as sports bringing laurels to the school each time they compete at District, State and National levels.
Humanity is going through an unprecedented global predicament today. The entire world and each one of us is affected by the coronavirus pandemic. I would like to share your anxiety and preoccupations and express our solidarity with you and your family.
We are fully prepared to take up the challenge that nature has posed before us. The new academic session 2020-21 has started in an online mode, we are connecting with our children through our virtual classes so that the teacher- student bond stays strong.
This process of virtual classes has become the new normal in the lockdown days. The school acknowledges the efforts of both the students and their parents for being receptive to this digital learning and remaining supportive throughout.
Our Chairperson Mrs. Tejal Amin along with the esteemed members of the Navrachana Education Society keep us inspired and motivated with all necessary support so that we give the best to our students who have always been our priority.
This is the moment that calls us to be our best selves in tune with our values and culture. The virus has prompted all of us to gain a heightened self-awareness. The Navrachana ethos promotes compassion and empathy and I am sure that our students would have gained immensely from mutual morale boosting conversations and sharing during the time that they have spent at home.
For us it is important to nurture happy, vibrant students with an everlasting sense of belongingness to their alma mater. While we continue our endeavour to make schooling a wholesome and joyful experience for our children, we solicit the cooperation of the parent body to support us wholeheartedly.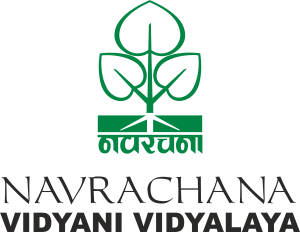 Navrachana Vidyani Vidyalaya School
Address : Near Sama Sports Complex, Sama, Vadodara 390024 Gujarat ( INDIA )
Tel.          : 0265-2792285, 2780539
Email      : vidyani@navrachana.edu.in
Website : www.vidyani.navrachana.in
Back To Top