Initiatives 2020

Initiatives 2019

Initiatives 2018
Braille To Our Blindfold - 2020
The students of Navrachana Vidyani Vidyalaya worked on the project 'Braille to our Blindfold' to stop the spread of misinformation caused by the media in this pandemic times. The main concerning factor that lead them to choose this topic was the pseudo news that people blindly believe in. People are constantly bombarded by the news, both from electronic and print media regardless of knowing their validity and credibility. Media, on the other hand spreads fake news at times trapped by the number game, regarding Covid not knowing the major far reaching impact it has. This news subconsciously settles in people's mind and may cause physical disturbances, mental stress, sleeplessness, depression, headaches, eye strain etc. This alarmed them and they created their own platforms to spread the correct and pragmatic news and being students of humanities, also decided to focus on finding some solutions to mental health problems caused by this INFODEMIC (A term coined by political scientist David Rothkopf, endorsed by WHO). During this project they reached out to all communities by conducting a seven-day activity spree – "HANDS ARE AN EXTENSION TO HEART" consisting of 7 different activities focusing on relieving people of all age groups (9-75 years) from stress and anxiety caused due to the pandemic and spread of infodemic.
They also conducted a workshop for people across the world, where they fabricated their own BRAILLE-aint toolkit consisting of Neurological immunity vaccine (Customizing newspaper art work, on the principle of law of attraction to spread positivity), Oxygen censored mask (An oath to take a deep breath in to contemplate before forwarding or posting any piece of information, practicing yoga and pranayama), Decodex hand sanitizer (An application to monitor screen time and set reminders to put away the gadgets), Banana Spinach Eye-shield (a healthy drink to ensure good health of eyes and an oath to become responsible spectator of news). They created videos in vernacular languages to spread awareness to over 900 rural children whom they connected through an NGO.
Thus, they successfully guided the blindfolded by BRAILLE (B-Balanced news palette R-Reaching out every community A-Awareness against fake news I-INFODEMIC Reduction L-Limelight to positive news L-Limelight to pragmatic news E-End of mental stress due to media).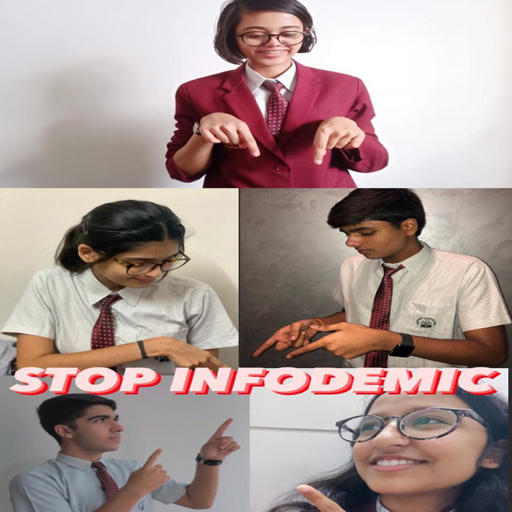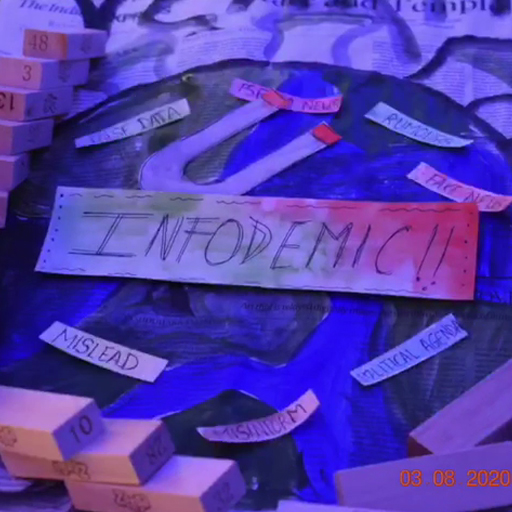 Members:
Dhun Navale -16 years
Gabriel Mistry -18 years
Shreya Sehgal -16 years
Shubham Shah -16 years
Tithi Soni -17 years
Education is the passport to the future, for tomorrow belongs to those who prepare for it today. Education is not bombarding of facts and information, but skill development, skills that need to be realized and developed, and this change in education system has become more important in the pandemic and post-pandemic situation. The Edificators Team, with revolutionary ideas, dared to be a part of this change; their motto: Explore, Engage, Express and Evolve.
They created a website, which had the following content: Logical puzzles to be solved on weekly basis, situation based questions, relive history by recreating characters and challenges for collaborating with friends and family and uploading a video/audio of the same to the site, educational videos on different topics, and a connect to Mental Health Expert so that students could share their problems and get solutions on individual basis.
They posted puzzles for different age groups such as 6-10 years, 11-15 years and 15+ which were based on the application of subjects studied at school and focused on development of critical thinking, logical reasoning, communication and leadership skills, entrepreneurship skills (business skills), etc. They ensured that the activities were fun-filled and doable by each age group.
For solving mental health issues, they organized regular webinars of a small group of students suffering from mental agony with the mental health experts, to create a feeling of being connected, cared and guided as even parents are not equipped to help them.
Through their project, the Edificators Team concentrated on ways to evolve – the evolution of mindset, habits, daily routine, associations, actions, and life; they substantiated that a learner with exploring mind, engaged in fruitful activities with an ability to express thoughts without fear, is there to evolve to the next level – who can face and survive crucial situations like pandemic and lockdown, be empathetic, influence peers positively and become a better human being for the overall benefit of the society and world at large.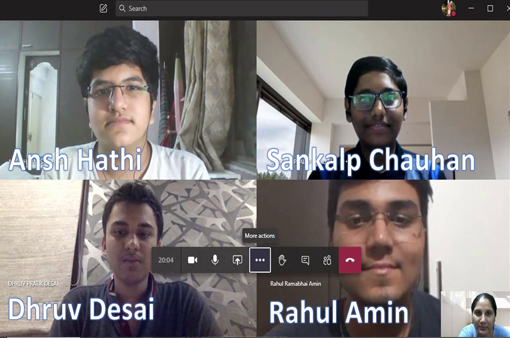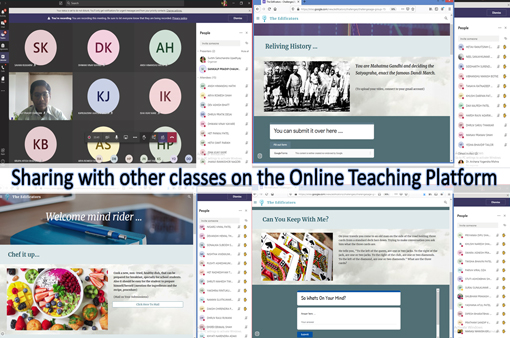 Members:
Ansh Hathi -16 years
Sankalp Chauhan -17 years
Dhruv Desai -16 years
Rahul Amin -16 years
C.S.L.P.C (Corroborating Sustainable Livelihoods In Post Covid Arena)- 2020
The pandemic has critically dislocated its migrant population. Lacking jobs and money, and with public transportation shut down, hundreds and thousands of migrant workers were forced to walk to their villages and hometowns. The CSLPC team's primary concern was the migrants' survival and their safe return to their hometowns along with a stable income.
The team decided to make a website through which they would be able to get a better insight into the skillsets and financial conditions of rural people. They decided to start out slow by creating a single registration list for whose problems they could create a solution which mainly consisted of food and shelter security through economic stability and recognition for their skillset by creating start up through investments that they could gradually pay back, and this could promote rural entrepreneurship.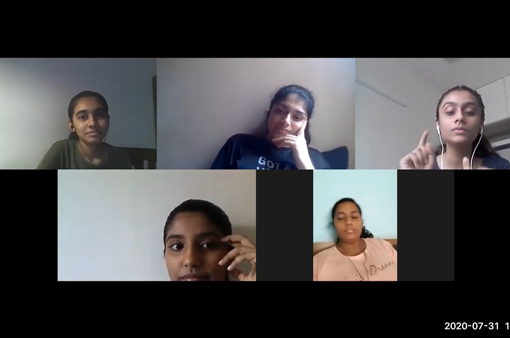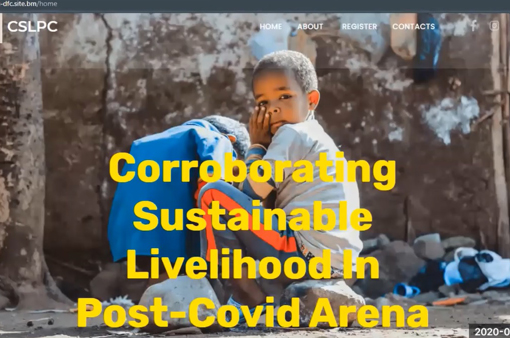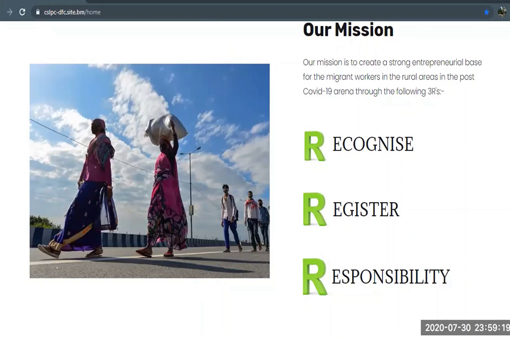 Members:
Dhwani Kayare -15 years
Yashvi Dave -16 years
Hetvi Parikh -16 years
Savani Kulkarni -16 years
Khushi Patel -16
Grand Re-living Connecting-2-Generations - 2019
The Grand Re-living Team felt that it was necessary to bring about a change in the attitude of the society towards the senior citizens. The team felt they can play a radical role if they can explore the treasure trove of immense knowledge these senior citizens have and find a platform to share it with everyone. This would make the senior citizens feel important and improve their self-worth. At the same time, the students would get upgraded with age old remedies. Excited with this idea, the team bonded with the senior citizens, talked to them and started shooting their videos sharing homemade remedies; finally compiled it and made it public.
Their vision was to give importance to senior citizens, and not limiting it to celebrating one day as Grandparents' Day, but giving them the love, respect and attention that they deserved; which could bring about a difference. They felt, this way it was possible to get healthier families, happier relationships and a united world.
Their movement #Connecting-2-Generations successfully bridged the gap between two generations and created a win-win situation. The response of the senior citizens, people with whom they shared grandparents' videos was very rewarding, and all believed that their idea will lead to a change in the society for the social upliftment and betterment of all the existing generations.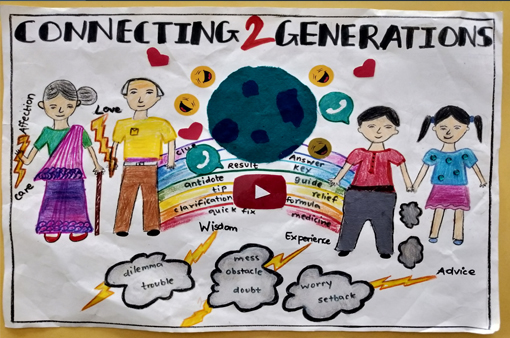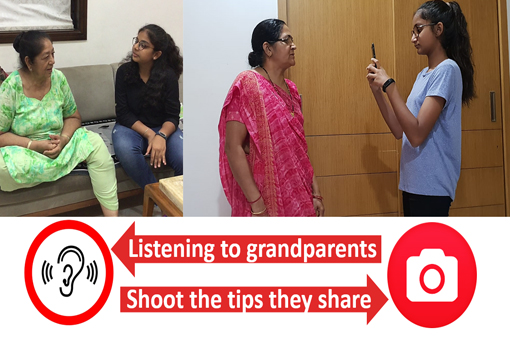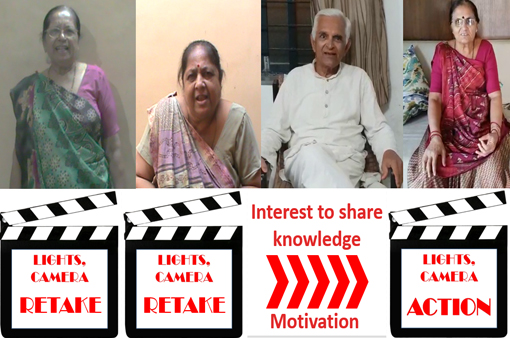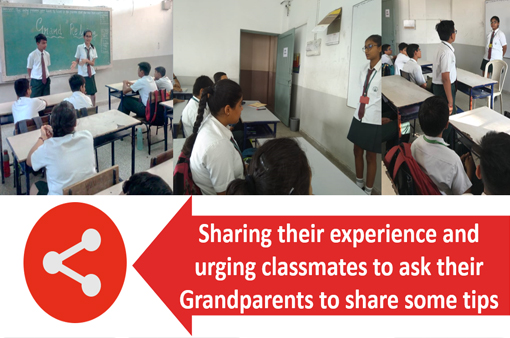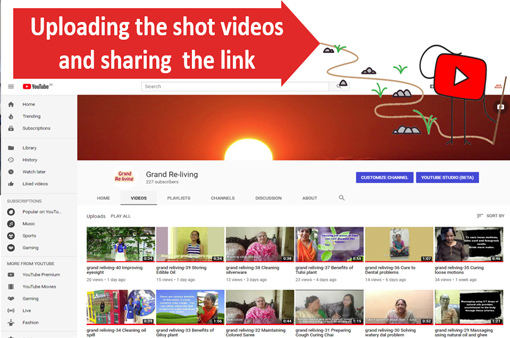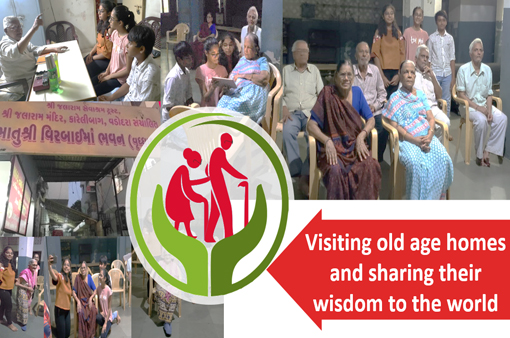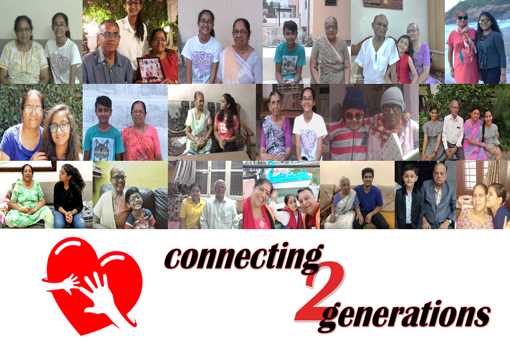 Members:
Aayesha Kawrani – 13 years
Dhairya Kharadee -13 years
Shaily Mulani – 13 years
Shyam Patel – 14 years
Pari Patel –  13 years
Rejection is a universal and omnipresent problem affecting all the age groups. It is an inevitable subject which if not dealt properly with, can lead to bigger concerning issues such as Substance Abuse, Inferiority Complex, Depression, Anxiety, Eating Disorders, Aggression, Self-Harming Tendencies, Stress, Interpersonal Conflicts and in worst cases that may lead to suicides.


The E=MC2 team felt that the root cause of all the mental issues was REJECTION. They brainstormed and came up with the conclusion that among all the age group rejection affects teenagers the most. For knowing the reason behind rejection affecting teens the most, the team took various interviews of parents, psychologists and teenagers and came up with various ways that could help to overcome rejection. The team started implanting these effective ways in the school as well as the society hoping to provide an accepting environment for teenagers and strengthening them internally.


'Share And Care Committee' in which they had a group of 5-6 school teachers who talked to the students facing rejection, twice in a month.
'Sharing Matter Box' in which the students who faced challenges in expressing themselves felt free to speak up their problems and the end of the week, the box was checked, a talk was arranged to solve and understand their problems.
'Focused Group Discussion' wherein the members of E=MC2 team talked to the students and tried to notice the group thoroughly to know if any of the student was facing rejection and supporting the same.
'Empathize and spread awareness about Self-Acceptance' here the students of higher secondary were shown documentary videos on self-acceptance.
'Team Building Games' were organized to change the attitude of the individuals towards each other and promote the acceptance by the group members.
'Addressing the Students' during the School Assembly of the issues and ways of dealing with rejection were taken up. Through this project, the team could successfully reduce 'unhealthy groupism', thereby creating a very positive and accepting environment.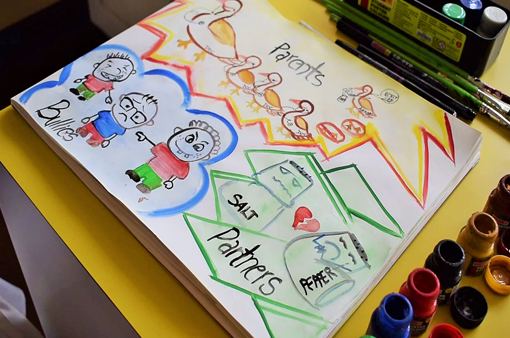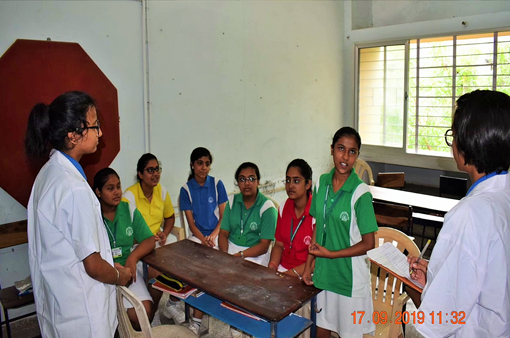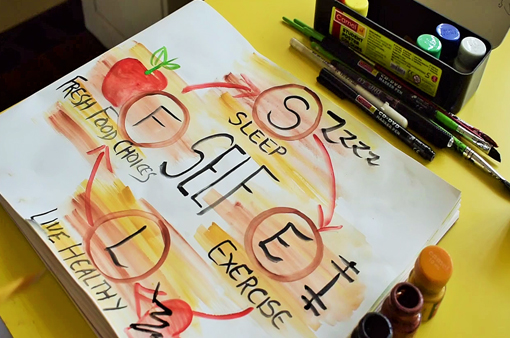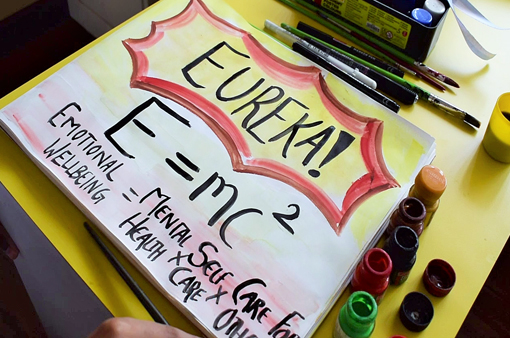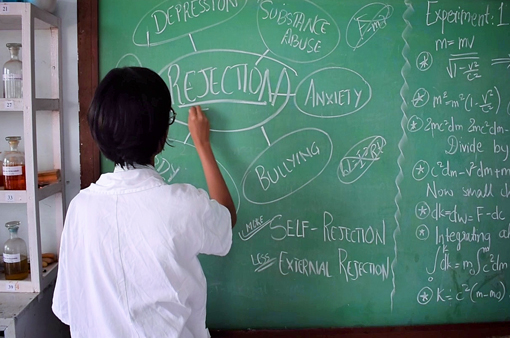 Members:
Aayesha Kawrani – 13 years
Dhairya Kharadee -13 years
Shaily Mulani – 13 years
Shyam Patel – 14 years
Pari Patel –  13 years
India is facing a waste management problem. To solve this problem, the team of students took up TRASH INTO CASH project. They worked on the complete cycle: the trash that would be collected from the people, would be sent to manufacturers for recycling, in turn they would get some money which would be given to those who provide their trash.
The team designed a prototype, which had four sections to segregate the waste: Metal, Plastic, Wet, Dry. There was a sensor placed outside each section which could ensure that the waste was added to the designated section. The waste was then measured and according to the current price the customer (person who provides the trash) would get the points in the registered card and these points could be further used by the customers.
Waste collection and segregation was the problem chosen to work upon because most of the garbage that is thrown is actually recyclable but since people don't separate the different kinds of waste, the recycling becomes difficult which thereby leads to polluted land and water and diseases.
The team felt that with this machine installed, amount of waste thrown on land will decrease, job opportunities will increase and it will bring down the poverty level to some extent. They shared their project with their neighborhood and successfully instilled the concept of waste segregation. The team aims that this machine be fitted behind the VMC vans to ensure cleanliness and proper segregation of waste which could be scaled for usage in different cities of India.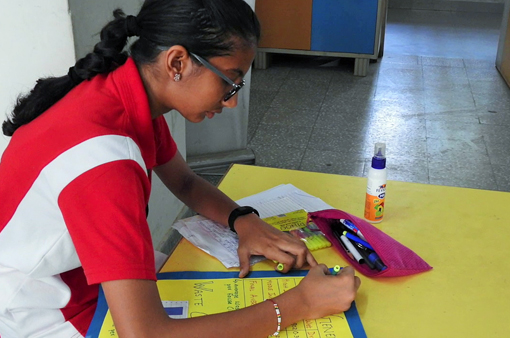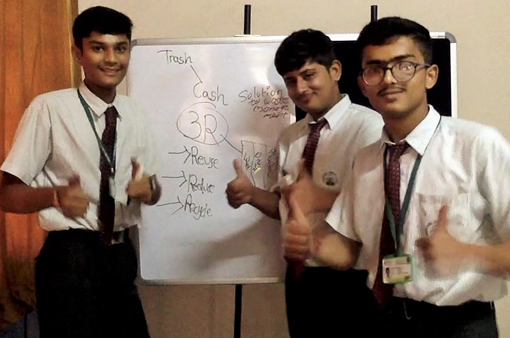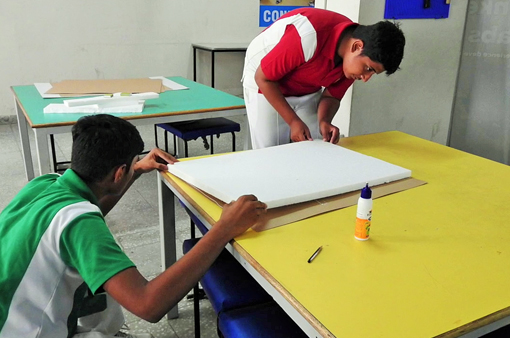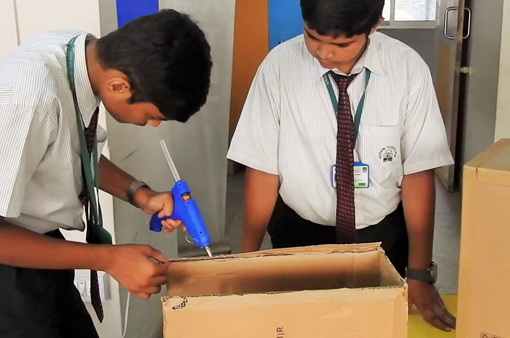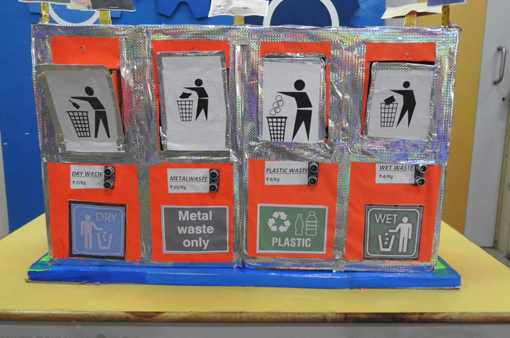 Members:
Aayesha Kawrani – 13 years
Dhairya Kharadee -13 years
Shaily Mulani – 13 years
Shyam Patel – 14 years
Pari Patel –  13 years
Carrying on from their 'Mission Million Trees' drive, the Vidyani environmental crusaders from across all classes are now involved in the #MissionZeroCarbon project wherein they are going all out to reduce our Carbon footprint!
This team of 'Carbon Crusaders' has built an 'Oxygen Wall', a wall that features a vertical garden of money plants which give off Oxygen both day and night. Further, these plants, along with other saplings planted all over the premises, also greatly enhance the beauty of the school campus by giving a fresh green hue to railings, corridors and all nooks and corners! And since the planters being used are discarded plastic bottles, the project also addresses the humongous problem of plastic waste management in its own way.
The Navrachana Vidyani team of Carbon Crusaders are campaigning in various schools and government bodies of the city, besides educating their peers, friends and families too, to spread the word on the need to reduce our carbon footprint and make efforts to increase the vertical green cover, thereby reducing heat from the surroundings.  
Firm in their belief that each step counts, and that no move to green our planet is too small, our tribe of young environmental activists are doing everything they can to involve more and more people in their crusade to plant as many saplings as they can in a concerted effort to reduce the Earth's carbon burden and also adding to greenery and coolness, thus reducing heat from the surroundings.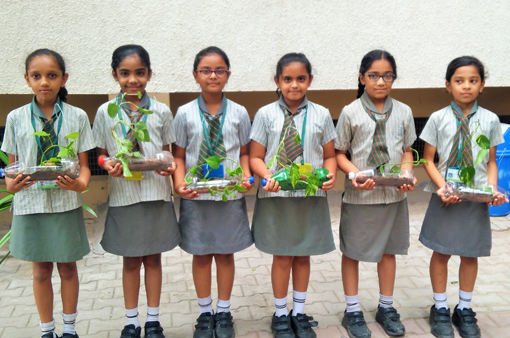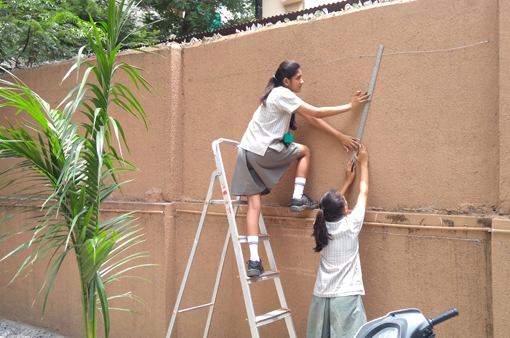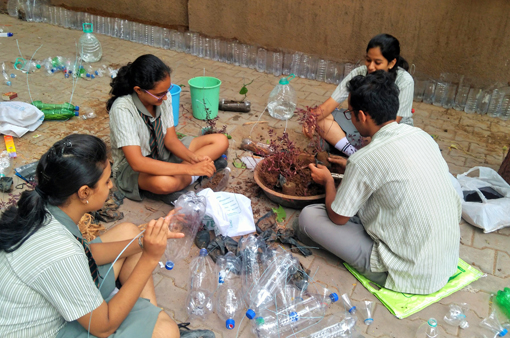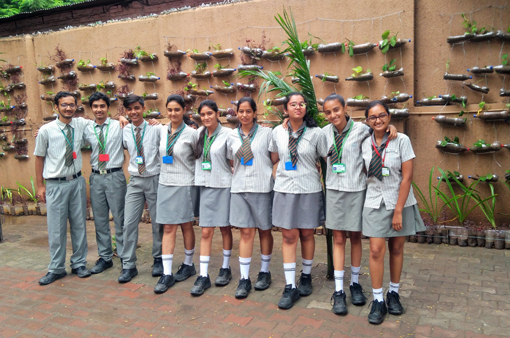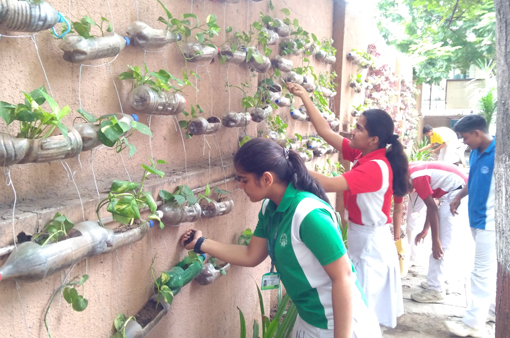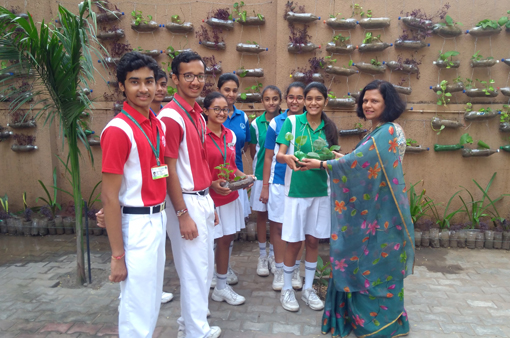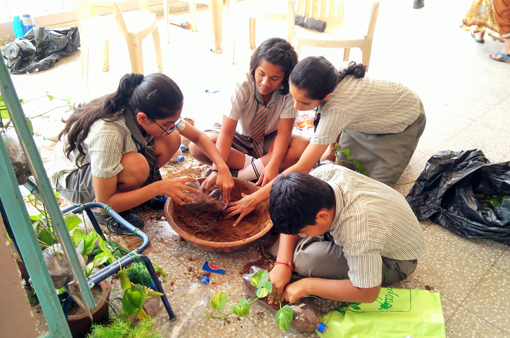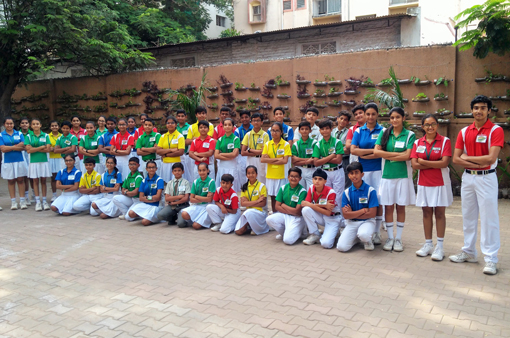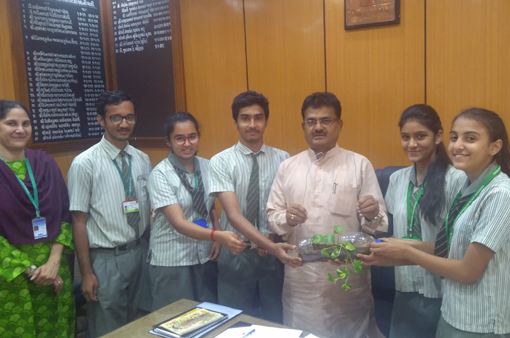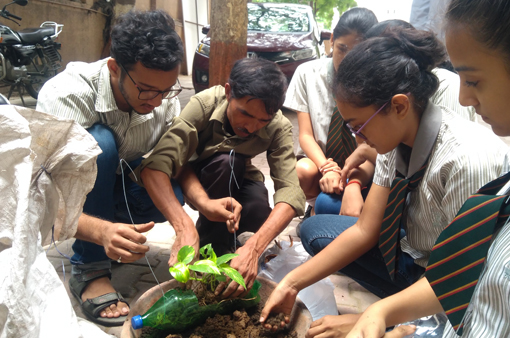 Members:
Jay Maheshwari – 17 years
Mrunalee Chitaliya -17 years
Zalak Rewar -16 years
Thiya Chaudhari -16 years
Yashvi Shah – 17 years
RO Water Recycling - 2018
India being the 2nd most populous country with over 1.3 billion people living here has only 4% fresh water of the world. Nearly 600 million people face high water stress and 2,00,000 people dying every year, the nation needs a much better water solution or demand for potable water will outstrip supply by 2030.
The team felt that the inadequate water supply seemed a much more serious and alarming of all problems faced today. They came up with a solution that just might change the way waste water supply is used.
They designed a system that used waste water generated from RO water purifier to do many household works that might otherwise require fresh water.  With each toilet flush consuming approximately 9 litres of water, they designed and implemented a system that would deviate the waste water from the RO to the toilet. The system was also extended for watering plants.
The team thereby spread the awareness of reusing over 56 litres of waste water (an average family use) generated from RO filter to complete daily chores.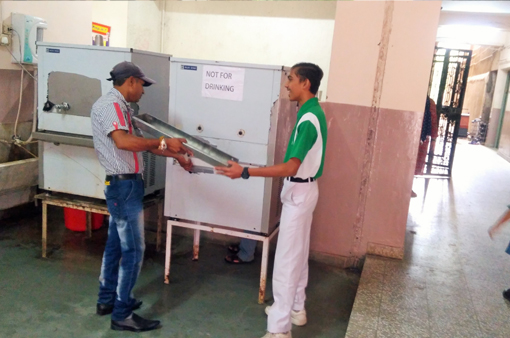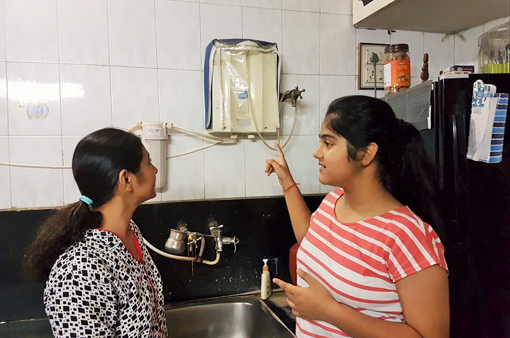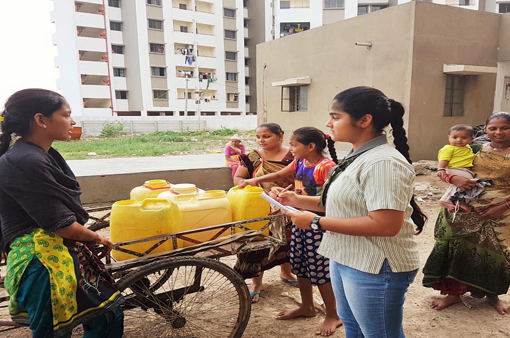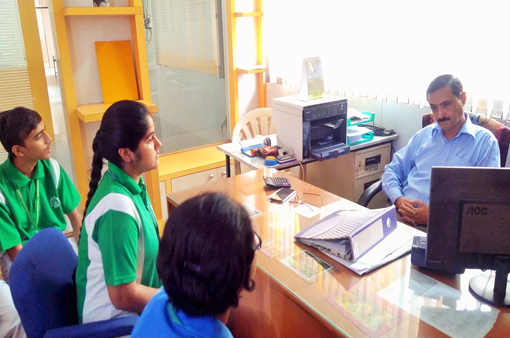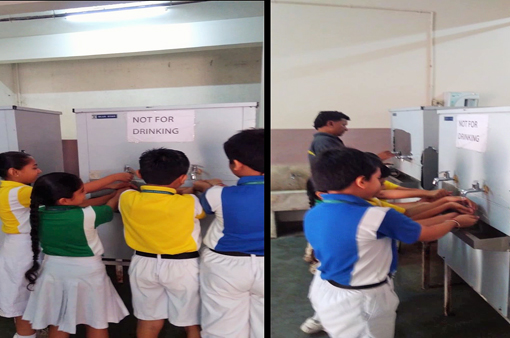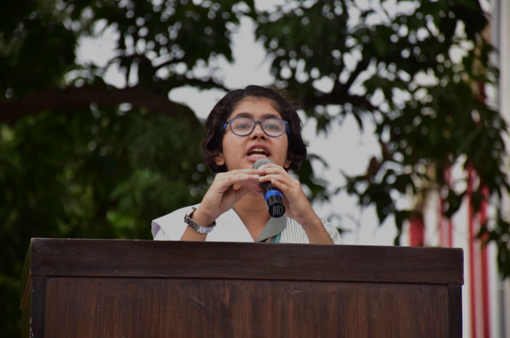 Members:
Siddharth Purswani – 16 years
Jatan Dadhania – 15 years
Kavish Shah – 16 years
Sanya Rughwani – 15 years
Prerna Griglani  -15 years
All living organisms are affected by the excessive use of plastic. Particularly marine animals can get harmed by ingestion of plastic waste or through exposure to chemical within plastics. 
The team's primary concern was that plastic being non-biodegradable, either its use should be reduced or it should be recycled. They felt that the plastic bottles can be used to make handy stools which can be gifted to the vendors. 
They collected bottles from the students of school and their neighborhood along with some waste foam sheets and cardboard. The bottles were arranged in a circular fashion and stuck to each other with the help of adhesive tape and then it was covered with a cloth.  The stools made where checked for strength and durability before gifting to the vendors. 
The team successfully fulfilled the following goals: Recycling plastic bottles thereby reducing the amount of waste sent to landfills and conservation of natural resources such as timber.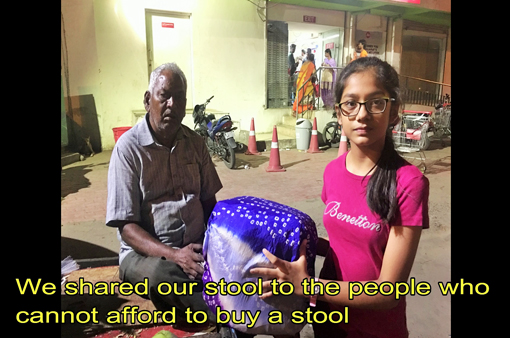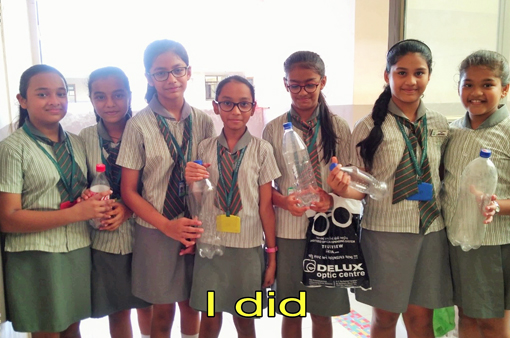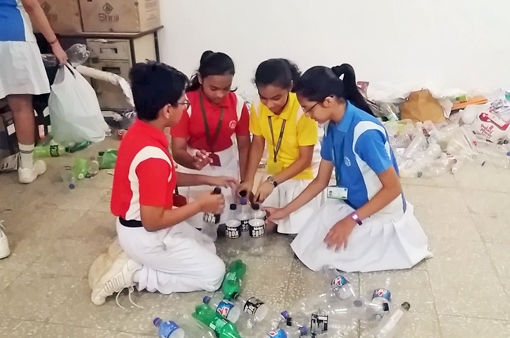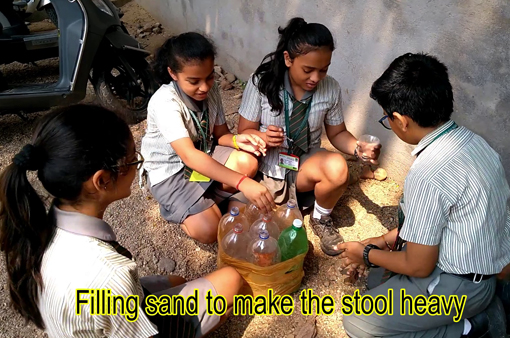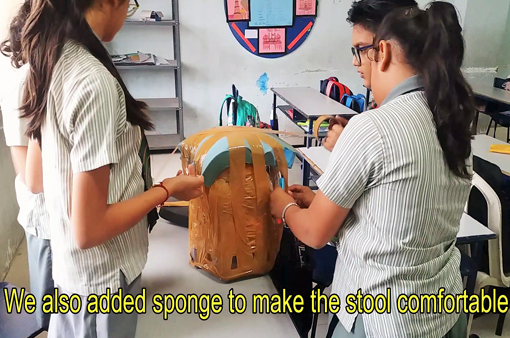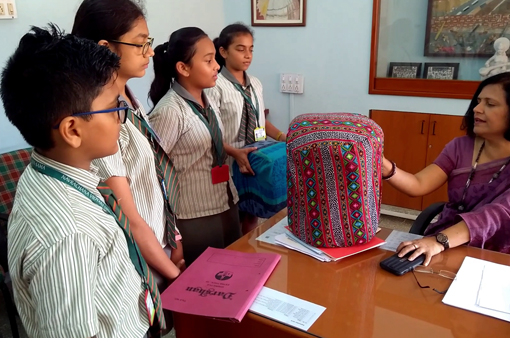 Members:
Parmar Parshva – 12 years
Shah Purva -12 years
Sheth Sanskruti -12 years
Thakkar Vainavi -12 years
Chauhan Sankalp -14 years
L.O.T.U.S - Low Cost Organizer Tracking Useful Solar Energy - 2018
To resolve the problem of frequent electricity cut-off and dreaded electricity bill the team felt one should switch over to the solar energy. When they visited solar manufacturing sites and suppliers and also local residents who are using solar panels they got to know that most of them were using rigid solar panels.
Many questions came to their curious minds such as what will happen at that time when sun rays are not perpendicular to the solar panel, what will happen to the solar panel if there will be a hailstorm?
After a brainstorming session and lot of research they came to the conclusion of making dual axis solar tracker along with rain sensor to increase the efficiency of the solar panel. The students designed the prototype of dual axis solar tracker, then decided the components required for making solar tracker like Arduino UNO, servo motors, Light dependent resistor, jumper cables etc. After 3-D printing the parts required for the project, students assembled it and started programming the microcontroller.
Once the prototype was ready, students went to share it with Engineers of the same field, faculty members of Maharaja Sayajirao University and solar panel manufacturers and suppliers. They also showcased their idea and prototype with other school teachers and students.
The team thereby promoted the use of renewable energy (Solar Energy) and also designed to maximize the output from solar panel.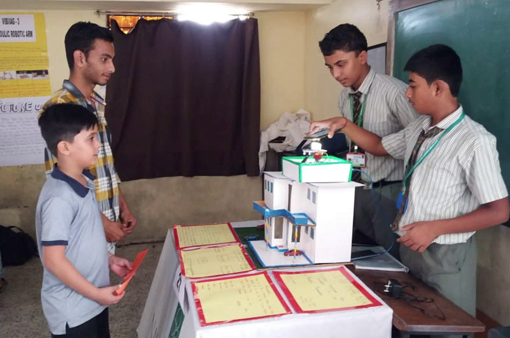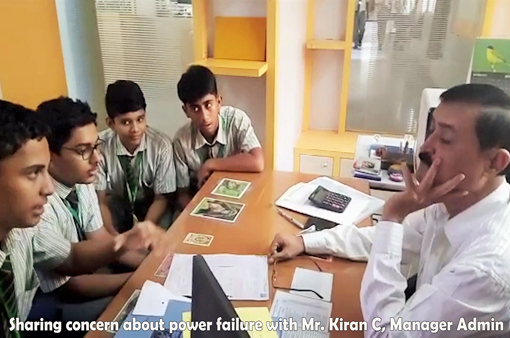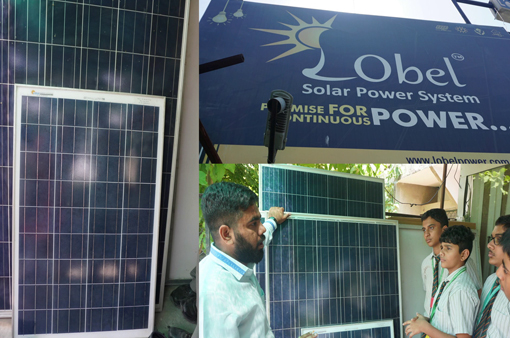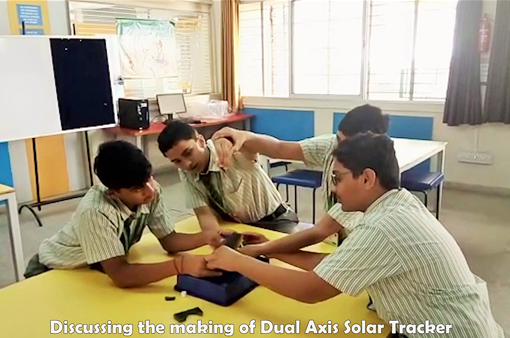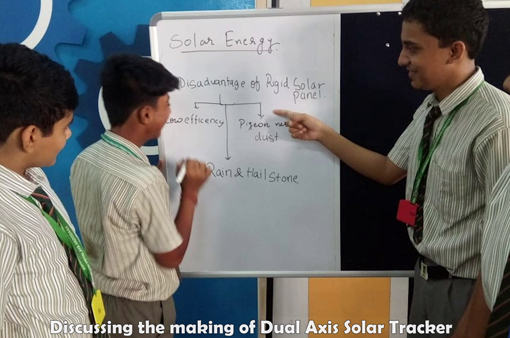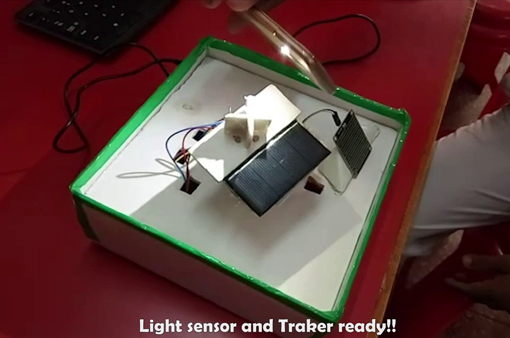 Members:
Rajput Devasya- 13 years
Naik Vedant-14 years
Desai Dhruv- 14 years
Joshi Priyanshu- 14 years
Clean Drinking Water problems are faced by the people marooned during floods who are left without clean drinking water and electricity over a long period, Villages/areas where there are no water treatment plants/tapped water supply and areas with shallow wells and tube wells, with unsuitable drinking water.
The team worked on designing a water purifying straw using simple available materials which was effective, portable and suitable for multiple use (since it could be back flushed). Their project was a major step towards eliminating water borne diseases like Jaundice, Typhoid, Cholera that are majorly caused due to drinking contaminated water.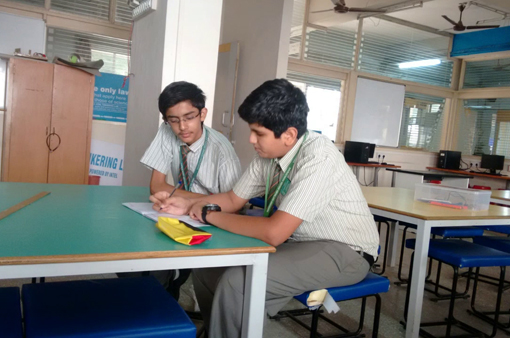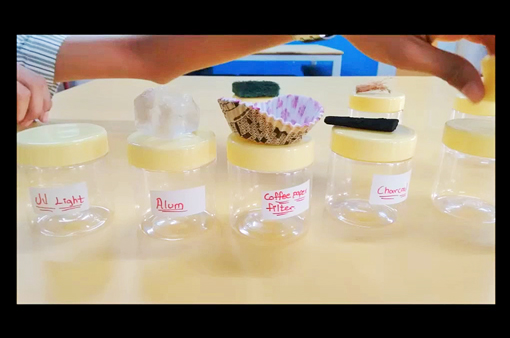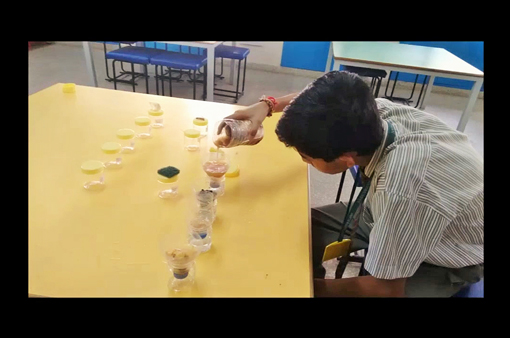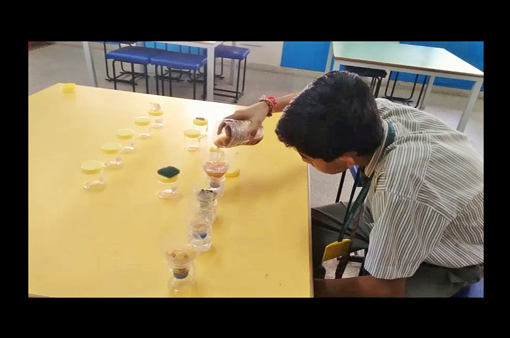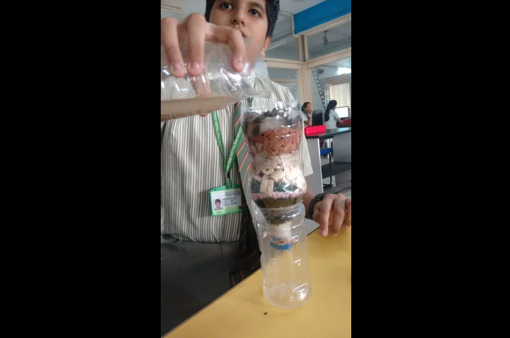 Members:
Ansh Hathi- 14 years
Siddharth Mehta – 14 years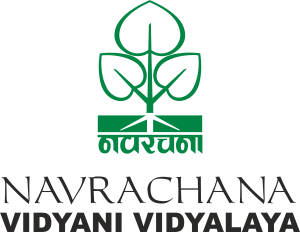 Navrachana Vidyani Vidyalaya School
Address : Near Sama Sports Complex, Sama, Vadodara 390024 Gujarat ( INDIA )
Tel.          : 0265-2792285, 2780539
Email      : vidyani@navrachana.edu.in
Website : www.vidyani.navrachana.in
Back To Top